Real Estate Taglines and Slogans
Real estate is a crowded field. But with the number of buyers purchasing homes through real estate agents and brokers growing 18% since 2001, there's plenty of work for hungry realtors everywhere.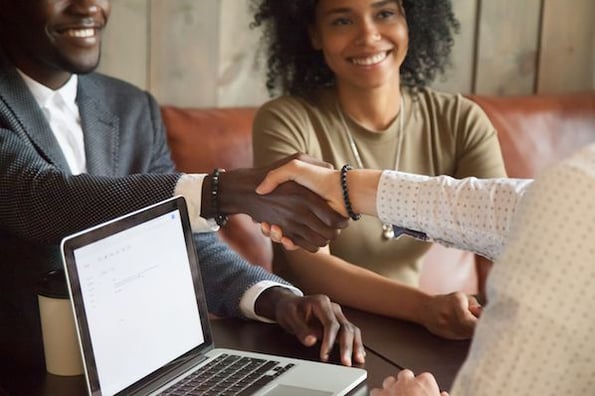 What matters is your brokerage or personal brand sets itself apart from the rest of the noise. How do you do that? A great tagline or slogan is the perfect place to start. Fortunately, we've gathered 21 of our favorites to spark your own head-turning idea below.
Whether you're starting a real estate business or simply need to give your brand a refresh, you're sure to find the inspiration you need.
Real Estate Taglines
You pay realtors because they have reach and proven results, and the Noble Black Team wants you to know it's extraordinary at both. It helps that the results-driven sentiment here drives home the abstract idea of "extraordinary reach"
This New York, Hamptons, and South Florida brokerage recently unveiled its simple, new slogan. It fast forwards our thinking past the open houses, packing, and moving trucks straight to the good stuff: being home.
Buying a home is a life-changing experience, so shouldn't your real estate agent be a life changer? This simple slogan packs a powerful punch.
All they've done is outline what the homebuying process should be. But by stripping away the difficult parts so many of us dread, they've done the unthinkable: make homebuying sound fun.
5. "Full-Service Agents, Modern Technology" -Redfin
Over the last few years, real estate has gotten a reputation for being a bit stale and in need of disruption. With their slogan, Redfin clearly states they're ready to meet the needs of the modern buyer.
Whether buying or renting, finding the right place to live is a personal and unique experience. This trendy company helps New Yorkers search apartments, find roommates, apply, and pay. The idea of finding a nook of your own is one that many of us can relate to, and Nooklyn is smart to use it to their advantage.
Better Homes & Gardens encourages its clients to expect more from their realtor -- and promises they're up to the challenge.
8. "Let us Guide you Home" -Compass
Who doesn't feel overwhelmed by real estate? For many of us, a home is the biggest purchase we'll ever make. Compass' slogan offers the security we desire during the homebuying process: someone to guide us home.
9. "Everyone Deserves the Opportunity of Home" -New Story
This charity pioneers solutions to address global homelessness. The key to this slogan is that home is so much more than a building. It's a place to feel safe, connected, and at rest.
10. "Homes that Match" -RE/MAX
At the end of the day, we want a home that matches our lifestyle. RE/MAX knows that and promises clients their agents are ready and waiting to help find the perfect fit.
While their current slogan is "Inspired by purpose, driven by passion," I actually prefer the older iteration above. Sharing your passion with clients and asking what sparks them in return is a wonderful way to get people thinking aspirationally and establish an immediate intimacy.
For many of us, buying a home is a dream -- and one that's not easily attainable. Coldwell Banker's slogan welcomes those of all budget's, promising to help them achieve their dreams.
With every move, we want our situation to improve, our life to become better, and our home to become more beautiful. Bond captures the aspirational nature of real estate with this simple slogan.
Want to immediately dissuade unqualified buyers from engaging with your business? Use a tagline with a clear nod to your focus on high price points. It's bold, upfront, and sure to turn the right heads.
One visit to their website and it's clear Seven Gables is setting itself apart by being hyper-local or "Seriously Local" as their homepage reads. Want an expert in the area? You'll likely feel right at home with this company.
16. "Defined by Service & Expertise" -Long and Foster
Want customers to immediately understand your business values? Put them in your slogan. That's what Long and Foster did. By defining what they're about, they immediately communicate what their customers can expect.
This tri-state area real estate company addresses the undercurrent of mistrust some buyers have with realtors and leads with a very down-to-earth slogan.
A recent study by Credit Suisse reports "Over time, family-owned companies very structurally outperform in every region, every sector, and for small and larger companies." So, William Raveis is smart to tap into our innate preference for family-owned businesses by leading with it in their slogan.
19. "Exceptional Properties. Exceptional Clients." -Kerwin + Associates
Complimenting the client is always a good idea and Kerwin + Associates knows it. Their target audience is a luxury-seeking clientele, which is also subtly communicated with the nod to "exceptional properties."
So good, they're on this list twice, Halstead hits on the aspirational side of real estate with this tagline. Most of us have been moved by a piece of real estate. We see ourselves curled up by the fireplace or hosting friends in the backyard -- and this tagline tugs at those feelings in a subtle yet motivating way.
21. "Client Focused. Results Drive.™" -Dolly Lenz
New York City broker Dolly Lenz shares her commitment to clients and results with her real estate slogan. It's simple, goal-oriented, and immediately conveys that her values are her clients' best interests.
Choosing the right slogan or tagline for your real estate business can be hard work. Take a much-needed break with these motivational, relatable, and funny real estate quotes every agent should read. And once you've rolled out your slogan, share it with new clients. Here are 15 unexpected ways to generate real estate leads and 10 real estate email templates to use today.