Social media is used by businesses across all industries to reach their target audience members. For example, you might hear about a company using Instagram to market their products, LinkedIn to share industry expertise and insights, or Facebook Messenger to respond to customer service queries.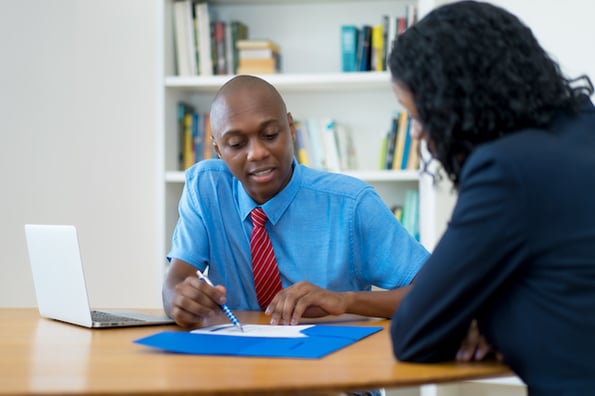 Less frequently do we hear about social media being used by sales reps as a way to identify, connect with, educate, nurture, speak to, and convert prospects — this process is known as social selling.
We wrote this article to help you gain a better understanding of why training your reps in social selling is so important and how to go about doing so.
What is social selling?
Social selling is the process of using social media platforms and their networks to add more prospects, opportunities, and information to your pipeline. It entails finding, connecting with, nurturing, and even converting prospects and members of your target audience through one of the many social media platforms (e.g. LinkedIn, Instagram, and Twitter).
An important distinction to make here is that social selling is not social media marketing.
Social Media Training for Sales Reps
Why is it so important to train your sales reps in social selling? And what benefits will you get out of training reps in social selling? We'll answer those questions next.
Why is social selling training important?
According to Statista, there are over 3.6 billion people globally who use social media. With that statistic in mind, think about how many qualified prospects are already interacting and engaging on these platforms. The best part? You and reps already have access to all of these platforms. You just need to know how to effectively reach and connect with those people.
Just take it from HubSpot Business Development Manager Jose Martin, who incorporates social selling in his workflow:
"I've found social media to be a great medium to add a ton of value at scale — which, in turn, has allowed me to accelerate relationship-building with partners and customers in our Startups ecosystem. It can be as simple as Retweeting, sharing a post on LinkedIn about a partner's Demo Day, or sharing or commenting on a customer's Funding Rounds latest post/information. The key is to genuinely be passionate about helping others and knowing in the long run, you'll reap what you sow."
To drive this point home, here are some more examples of the many benefits of training your sales team in social selling.
Benefits of Social Media Training for Reps
Drive organic traffic to your website and content.
Increase engagement on the social platforms your target audience members are on.
Boost your visit-to-lead ratio.
Build deeper connections and relationships with prospects.
Meet qualified leads where they are.
Show your target audience that you care about the same type of content that they do.
Tailor your current content so it resonates with your target audience and gets more engagement.
Next, let's get into the steps involved in training your reps in social selling.
How to Train Your Sales Team in Social Selling
Make sure reps have and maintain a strong social media presence.
Provide education on the three C's of social selling.
Encourage reps to make social selling goals.
Introduce reps to your social personas so they know who to target.
Promote rep-to-prospect connections and interactions on social media.
Encourage continued alignment and communication between Sales and Marketing.
Provide reps with relevant and educational content to share on their social accounts.
Offer tools to help streamline and optimize social selling on your team.
Measure individual and team-wide social selling success.
1. Make sure reps have and maintain a strong social media presence.
For social selling to be effective, it's important that your salespeople are active on social media. Think about it this way — why would a potential customer trust a rep if there aren't any recent posts or interactions on their profile? Posting, interacting, and engaging on social is how reps will remain relevant and top-of-mind among leads and social followers.
As for the content that's being shared on the profiles of reps — it needs to be highly-valuable to potential customers. Potential customers will be more likely to engage with a rep who has information that's helpful to them.
Lastly, rep profiles should complement the greater brand's social profiles. This consistency makes for a seamless UX, and even more importantly, makes interactions and outreach from reps to customers feel more professional and trustworthy.
2. Provide education on the three C's of social selling.
When training your sales team in social selling, provide education on the three C's of social selling. Understanding these three elements of social selling will help reps be successful while using the strategy.
Context: Reps should establish context around who they are and their purpose on social by maintaining their profiles and identifying, engaging, and establishing strong relationships with qualified prospects.
Content: Reps should share valuable content for prospects and followers on social media. This content may include images, videos, ebooks, blog articles, and infographics.
Collaboration: Maintain open lines of communication between all reps who are social selling so they can leave a consistent and on-brand impact on prospects that feels professional, thoughtful, and valuable.
3. Encourage reps to make social selling goals.
Similar to any business strategy, it's important to make goals for social selling. For instance, a rep may set a goal for how much time they're going to spend on social selling during any given period of time — maybe they want to spend six hours over the next month prospecting on LinkedIn and Instagram.
Or they might want to set a goal for an approximate number of qualified leads they identify and reach out to during a quarter. No matter the goal, setting one (or multiple) targets related to social selling will encourage reps to hone in on those efforts and measure them appropriately.
4. Introduce reps to your social personas so they know who to target.
Your social personas are very similar to your buyer personas. The only difference is that they're your buyer personas on social media — meaning, you may have slightly different and more specific personas on social than those you'd have for your business.
To better understand what I mean by this, here are some questions to ask yourself while creating social media buyer personas:
Which platforms are your personas active on the most?
Which types of posts are your personas interacting and engaging with the most?
What types of content do your personas want to see, engage with, and share on social?
What verbiage is most appealing to your audience on social?
What are the needs, wants, and challenges of your social prospects and followers that can be answered and resolved on social?
How would your followers and prospects want to be approached by a rep on each platform?
If you're wondering about the best way to approach the creation of your social personas, you can use HubSpot's Make My Persona tool. You might also tap into your current audience by sharing a survey with them to ask about the ways they spend their time on different platforms and what type of social content is most valuable to them.
Lastly, you can also look at the social accounts of your competitors to review things like their content, posting frequency, and interactions.
5. Promote rep-to-prospect connections and interactions on social media.
Reps know the importance of building relationships with prospects — this is how they promote a feeling of trust and familiarity between themselves and prospects. When reps take the time to get to know and interact with prospects on social, prospects see that reps care about them on a personal level, value their opinions, and want to support them.
For these reasons, encourage rep-to-prospect connections and interactions on social — these actions will naturally lead to stronger and deeper bonds. Not to mention, there are many ways to interact and connect with prospects across social platforms today such as likes, tweets, retweets, re-posts, mentions, shares, direct messages, posts, stories, videos, and lives.
Rather than simply having reps stay active on their social accounts by posting updates and stories frequently, reps can foster deeper connections and engagements with prospects on social by:
Reacting to prospects' posts and responding to their comments
Sharing valuable content with prospects via post, comment, or direct message
Sharing, or re-sharing, a prospect's content or post
Giving a prospect the opportunity to connect with one of your internal experts on a topic they mention they're interested in or struggling with
Offering a prospect the opportunity to connect with them outside of social media so they can have a deeper discussion about a topic (e.g. over Zoom or a phone call)
For instance, Colleen Hayes, a MidMarket Account Executive at HubSpot and the CEO of Prezence, says the following about her use of LinkedIn and Vidyard for social prospecting and selling:
Here's another example from HubSpot's Aditya Kumar, who's the Head of Growth and Partnerships in SEA & India (HubSpot for Startups) — he likes to initiate and foster connections with prospects on LinkedIn and Twitter.
He says, "I use short videos on LinkedIn and Twitter (more so on LinkedIn) to bridge elements of trust, branding, and engagement... for instance, on some posts, I've received over 50 RSVPs for a webinar. This content also attracts other folks who are already on these social channels and could be good fit for my partnerships, or network or startup founders whom I can link up with."
Here's an example of one of Aditya's LinkedIn videos:
This is just one example of successfully building those connections and relationships with prospects over social and how they can lead to success on a larger scale.
6. Encourage continued alignment and communication between Sales and Marketing.
One of the most important parts of any successful social selling strategy is Sales and Marketing alignment. And this isn't a department-head to department-head thing — this is an everyone thing. Your leads and customers benefit when Sales and Marketing work together and collaborate to meet their needs on all levels.
Examples of the things Sales and Marketing need to align on when it comes to social selling include:
What content reps will use, incorporate, and share while prospecting and making connections on social
How to plan, create, and consistently produce high-quality and valuable content for your social personas
How to measure the cross-team success and overall effectiveness of your social selling strategy
A Service Level Agreement, or SLA, (a quantified analysis between Sales and Marketing that helps keep both departments accountable) will make it easy to ensure all of the above happens so Sales and Marketing are, and remain, on the same page.
Another way to promote cross-team collaboration between Sales and Marketing is to have a central location in which members from both teams can contribute their ideas, content, plans, and anything else related to the business' social media and social selling strategies.
This can be as simple as creating a Google Doc where members of both teams dump their ideas. Then, once a month, host a cross-team meeting to discuss which ideas are the best. From there, Marketing can regroup to talk about how they can create the best content for reps to share with prospects on social, and Sales can talk about ways to share that content and boost connections on social.
In addition, Sales and Marketing might establish a shared editorial calendar so sales reps know when new bundles of content and/or campaigns come out — this way, they won't ever miss the perfect opportunity to share a link to an ebook, podcast, or blog post with a prospect.
7. Provide reps with relevant and educational content to share on their social accounts.
Reps are bound to interact with prospects on social via comments, posts, and content they share. They're also likely going to want to share content created by your internal teams like Marketing and Product, knowledge base articles, and demos.
For this reason, arming reps with these resources will streamline the process of social selling and empower reps to offer prospects the level of value they want to.
Here are some ways you can achieve this:
Create a content engine or content base for team use and collaboration.
Establish a thought-leadership committee to produce and share content on a regular basis.
Make a knowledge base where reps and customers can refer to content.
Create an educational series (like HubSpot Academy) to teach prospects about topics your team has expertise in.
8. Offer tools to help streamline and optimize social selling on your team.
There are a number of tools and software you can use to make social selling a simpler and more streamlined process. For example, a shared editorial content calendar that marketers can update and sales reps can view is exceptionally helpful so everyone is on the same page about what new content is available and when.
Here are some more examples of tools that can streamline the social selling process:
Platform analytics tools (Instagram Insights, LinkedIn Analytics, Facebook Analytics, etc.)
Other sales enablement integrations and add-ons, like GetAccept (which integrates seamlessly with your HubSpot CRM)
Additionally, once reps become more accustomed to social selling, you can ask for their feedback on which tools work well and what you might want to invest in.
9. Measure individual and team-wide social selling success.
Lastly, measure your success. This should be done at the individual/rep level as well as at a higher level, across the entire sales team. You may also analyze the success of your collaboration and SLA with Marketing.
Similar to most analyses, the metrics you focus on and data you collect will be unique to your team's social selling goals and your target audience. However, here are some examples of the metrics your team, and/or individual reps, may track:
Number of connections with qualified leads made
Number of followers (or Connections) gained
Engagement on a rep's profile
Number of follow-ups that occurred after initial connections were made on social
Number of social connections that led to a conversion
Most-shared information and/or content
Most-commonly used platform by reps for social selling
These insights are important as they can help you improve your social selling strategy in the future, build deeper and more accurate social personas, and tailor both rep and business social accounts to the needs and interests of your target audience.
You might also ...
Have each rep keep track of their success on individual platforms' analytics tools (e.g. Instagram Insights, Facebook Analytics, LinkedIn Analytics).
Connect a sales executive's (or your CEO's) social profiles to your social media software to track engagement.
Keep track of all analytics for your business's social media accounts (if your social media team isn't already doing so).
Train Your Reps in Social Selling to Grow Better
When you train your reps in social selling, you'll have a better chance of, and ability to, tap into a large group of potential customers and qualified prospects that exist on different platforms.
These social connections can lead to long-term business relationships, more conversions, a boost in brand awareness, greater customer loyalty, increased engagement, and more. So, work through the steps above to ensure your reps are trained in social selling to begin reaping its benefits.