You've definitely heard the age-old adage 'the customer is always right' — but if you've worked in a customer-facing role, you know, well, that really isn't always the case.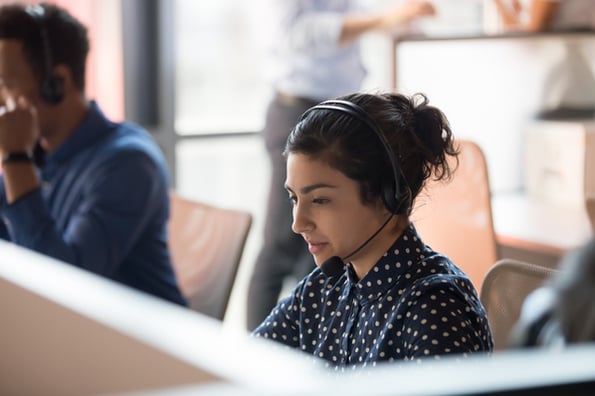 For those who haven't, acting as though the customer is always right looks like addressing customers' needs without telling them they're wrong, especially if you think they are. That can look like giving a customer a refund after they've clearly finished a dish they've claimed not to like, or saying things like 'Ok, I'll fix this for you just this one time.'
When I worked my first job at an ice cream store, I experienced this first hand. You'd be surprised how often people requested a new flavor because their vanilla ice cream didn't taste like the usual vanilla ice cream, even though no changes were made to the ingredient list. I felt bad wasting food, but I granted their requests.
I was encouraged to do this because satisfaction was crucial to making customers regulars. It's not like there was a deficit of ice cream parlors to choose from if they weren't satisfied with our service.
While it was a regular practice for me to embody the phrase at my first job, I've worked others where I was instructed to refer people to the manager when customers made certain requests, where they would go on to explain why sales were final, and there were no exceptions to be made.
Considering that the phrase is so controversial, does it provide any sort of value to businesses? And where exactly did this phrase originate? In this post, we'll answer these questions and give advice on dealing with situations where you think the customer isn't right while still prioritizing their satisfaction.
Is the customer always right? A Brief History
Marshall Field introduced the concept in 1893 when he founded Chicago's first department store, Marshall Field's. He instructed his retail employees to give priority to customer satisfaction, no questions asked. Overseas, Henry Gordon Selfridge opened the first department store in London, following the same principle. Both men emphasized that complaints were to be taken seriously so customers wouldn't feel exploited.
Although it was a novel idea at the time, their strategy worked. Customers were not used to being treated with that level of care, and they flocked to the stores in response. Fields and Selfridge realized that their business success depended on their customers' level of satisfaction while shopping at their stores.
Almost 100 years later, César Ritz introduced the motto to the hospitality industry when he founded The Ritz Carlton Hotels. His mantra was "Le client n'a jamais tort," which means the customer is never wrong. Ritz is famously noted as having said, "If a diner complains about a dish or the wine, immediately remove it and replace it, no questions asked."
Like early department stores, Ritz Carlton Hotels saw similar success. The chain gained popularity because visitors knew that hotel staff always guaranteed their satisfaction. Guests were catered to, and they became loyal customers in response.
Basically, subscribing to the mindset that the customer is always right means that businesses shouldn't spend time questioning the legitimacy of customer complaints. Instead, employees focus their energy on troubleshooting issues, and delighting customers with solutions.
We Asked Real Service Employees: Is the Customer Always Right?
While it's undoubtedly an attractive model for customers, do service workers actually believe that customers are always right? We asked HubSpot employees on the Customer Success team this exact question. They gave their opinions on the phrase, along with their own personal customer service philosophies.
Set Customers Up for Success
Throughout most of his career, Customer Onboarding Specialist Moussa Darwich truly believed that customers are always right. But, after having worked in customer support at HubSpot, he subscribes to a more modern evolution of the old adage. He believes that interactions with customers shouldn't devolve into a question of who is right and who is wrong, but rather be centered on guiding customers down the best path to success.
Darwich explains, "I do think that companies need to be customer-centric, but always agreeing with what a customer says or does is not the right approach. I think the mindset a company needs to have should be less towards 'the customer is always right', and more around setting customers up for success."
His tip for dealing with challenging scenarios? Be empathetic.
During moments of friction with customers, Darwich says the best thing to do instead of debating right versus wrong is showing customers that you're their ally. He likes to tell these customers, "My success is tied to your success."
In practice, this looks like sympathizing with customer pain points and redirecting the conversation towards more achievable solutions. Instead of focusing on who is right and who is wrong in any given scenario, try acknowledging the customer's frustrations, reaffirming that you're on their team, and offering up something you can solve. That might sound like, "I understand that you're not seeing the results you want here -- I know that can be really frustrating. However, I really think we should consider X as an alternative solution. Here are some benefits it might bring you."
Realign Customer Expectations
Customers can sometimes have unrealistic expectations about how a product or service will work. They may be hoping for three different solutions, while the tool they're using is only equipped to give them one. Misunderstanding of expected outcomes can lead them to become frustrated because they don't understand that the tool just doesn't function in the way that they need.
When this kind of customer speaks to a service rep, their attitude may be "We'll I'm right because this product isn't working as advertised so your product is bad." Maddy Clark, Product Expert at HubSpot, says it's not about who's right and who's wrong, but about making sure the customer has a full understanding of how a product will work for them.
Her tip for dealing with these situations? Agree on a common goal.
Clark says the best thing to do is to give the customer perspective: "Zooming out on the goal can help ensure everyone's working together." Help the customers understand what they need to change to ensure their expectations are met.
That can look like clarifying with the customer about what their goal is. For example, maybe a customer utilizing your company's analytics tool can't find the data they're looking for. They may be sure the tool isn't working as advertised, even though they're not using it in the best way. Clarify what they're hoping to gain from the report, and then explain to them why the service isn't working in the way they'd expect.
Maintain a Customer-First Mentality
Even if a customer is technically not correct, maintaining a customer-first mentality is crucial. Steve Rizzi, a Customer Support Manager at HubSpot, agrees. He says, "There are times when the customer is not right, but we need to understand where they are coming from, align with them, and provide insight and concrete action items we can take together since this is a partnership." The goal should be to put their needs first, rather than debate whether they're right or wrong.
His tip for dealing with challenging scenarios? Lead with HEART.
Rizzi likes to remain thoughtful in his interactions with customers. He leads with a key principle of HubSpot's culture code: HEART. He says, "Regardless of whether the customer is right or wrong, we are trying to make it the best support experience they've ever had."
Say you've been working with a customer who has begun to frustrate you because they insist that they're not the cause of their issue, even though you know they are. You may really want to express your frustration, but Rizzi advises against that. Try to remember that the goal is to help the customer, regardless of how you're feeling. While there are customers who aren't good for business, you want to keep those that are. Be humble, and provide them with a remarkable customer service experience.
Be as straightforward as possible.
Dissatisfaction can sometimes stem from confusion. A customer may not understand how to use a product, and their confusion can lead them to believe its malfunctioning. Amy Kelley, a Product Expert, says that situations like this require extreme clarity. It's less of a question of whether the customer is right, but rather "Does the customer understand what's going wrong?" She likes to take the time to provide in-depth insights for the customer while leveling with them and humanizing the interaction.
Her tip for dealing with challenging scenarios? Give customers the context they need.
Understanding the customers' expectations and pain points can improve the results of an interaction. She asks questions that will give her an understanding of their needs and then says things like, "I found this topic confusing at first, too, but this resource was helpful." This strategy helps Kelley pivot her thought process away from right and wrong. She says that when the customer is no longer confused, it can feel like she's interacting with a different person.
Experiences Can Vary
Every customer has a right to voice their thoughts, ideas, and opinions about whatever is frustrating them. Dan Tyre, Partner Sales Enablement Manager on the Business Development team, says that, in most cases, "The customer has one idea based on their individual experience that is very real to them." In this sense, Tyre believes that yes, the customer is right because their individual experience is real and valid.
So, instead of saying the customer is wrong, he likes to see it as though their experience is just different. He acknowledges varied experiences by saying things like "I see where you are coming from," to let them know they're being listened to. He provides further support by saying things like "I hear that periodically," and "You're making good points."
His tip for dealing with these situations? Leverage your own experience.
Customer Service Representatives benefit from interacting with dozens of customers sharing similar experiences with the product or service they're troubleshooting for. Tyre says that, instead of saying "No, that's wrong," he says, "That has not been my experience," and then takes a pause, which he sees as being less confrontational. The pause gives everyone a chance to reevaluate, and the customer can further explain their thought process. He then describes how his experience with other customers has gone, letting them know that even though their situation is different, he's able to use his expertise to make their situation right.
It's a balancing act.
It seems like there will always be a never-ending debate over the ideal customer service strategy. Some service reps might take specific approaches that won't work for others in a different industry. Some businesses might stand to lose revenue if they don't operate as if their customers are always right.
HubSpot's Customer Success team makes it clear that there is one overarching goal, regardless of who is right or wrong: helping customers grow better. It's a balance between taking time to understand customers' issues and providing them with solutions that will bring the most success.
What was true for early retail pioneers is still true now: customer retention revolves around solving customer issues, even if they aren't always totally right.