The chief experience officer (CXO) is like the coach of a football team.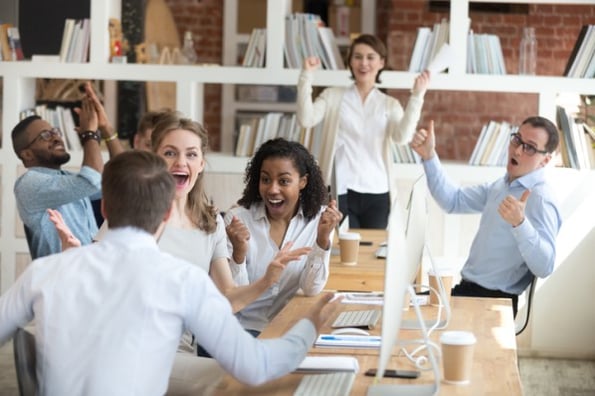 Your frontline reps act as linemen working to field requests and protect your brand's reputation.
Your experts are like running backs, providing a unique skill set to the team. And finally, customer service managers are your quarterbacks, directing teammates.
The best football teams have coaches who work behind the scenes to create long-term strategies. In customer service, CXOs lead projects, gather materials, and develop plans for the frontline team to follow.
In this post, let's dive deeper into what a chief experience officer is, and then we'll provide you with a job description you can use to fill this position at your business.
Table of Contents
Chief Experience Officer (CXO)
The CXO is the company's spokesperson for all user experiences. They create a plan so that each service interaction is consistent and yields a positive outcome. This ensures that, while the business runs smoothly, customers and employees continue to have good experiences with the company.
The CXO is a cross between the Chief Revenue Officer (CRO) and the Chief Customer Officer (CCO).
Like the CRO and CCO, they ensure a great customer experience and generate revenue from customer interactions. CXOs are unique in that they manage both customer and employee experiences.
CXOs are relatively new positions, so some companies may not understand what role they should play. The following job description highlights some of the main responsibilities and qualifications needed for a CXO.
Becoming a Chief Experience Officer
The chief experience officer will create and emphasize unique and satisfactory experiences that connect customers and employees to the brand.
This person should establish a consistent experience for all parties and be a knowledgeable, passionate point of contact on the culture that they're building.
Chief Experience Officer Responsibilities
The CXO is responsible for creating a harmonious relationship where employees and customers understand and enjoy what the business is selling.
This means appreciating data to modify user experiences continuously.
It's the responsibility of the CXO to improve internal and external service experiences over time. Here's an overview of the key responsibilities of a CXO:
1. Understand customer needs and motivations.
CXOs understand what drives customers, their wants, needs, and goals. They use this understanding of customer behavior to create processes that make it easier for customers to find what they want.
2. Manage the customer experience journey.
A CXO focuses on how the customer interacts with the business. This includes understanding customer touchpoints, customer service response times, and customer feedback loops.
3. Grow customer loyalty and retention.
A CXO creates policies and processes that ensure customers are satisfied with their experience. They identify potential issues before they arise and take action when needed.
4. Create a culture of customer service excellence.
A CXO drives the organization toward excellent customer service and actively ensures employees prioritize the customer experience.
Image source
5. Measure, analyze, and report on customer experiences.
A CXO measures and analyzes customer feedback to identify opportunities for improvement. They present their findings in an organized and understandable way to create policies.
6. Design customer service initiatives.
Designing customer service initiatives that ensure a great customer experience, build loyalty, and increase sales is a critical aspect of a CXO's responsibilities.
7. Manage employee engagement.
A CXO manages employee engagement, including setting goals and providing feedback, to ensure a positive employee experience translates into a positive customer experience.
8. Lead projects that improve customer experiences.
The CXO leads projects that help the business improve its customer experience. This includes a better feedback system and a knowledge base that helps customers find solutions.
Image source
9. Drive customer advocacy.
A CXO promotes customer advocacy by creating processes and campaigns encouraging customers to recommend your business to others.
10. Develop long-term strategies for each season.
A CXO should be able to develop long-term strategies for each season to ensure the business is prepared for customer demand and growth.
11. Collect customer feedback.
A CXO should implement feedback mechanisms and measurement tools to monitor customer satisfaction levels.
12. Create a culture of continuous improvement in customer services.
By sharing best practices with other departments, a CXO can ensure that every employee a customer may be in contact with will offer them the best possible care.
Image source
Chief Experience Officer Job Requirements
Candidates will present the following qualities:
In-depth knowledge of customer and employee needs.
Entrepreneurial attitude.
Outstanding communication, leadership, and organization skills.
Ability to make decisions on the spot and effectively problem solve.
A keen eye for analytics.
Knowledge of best management practices.
Knowledge of various company departments and their functions.
Ability to take risks that turn profits.
Strong interest in creating unique experiences to benefit internal and external stakeholders.
Ability to be flexible amidst changing customer and employee needs.
Candidates will have the following experiences:
MBA, or equivalent Master's education.
Proven experience working in a managerial or executive role.
Proven experience developing successful strategies for customers.
Chief Experience Officer Salaries
A CXO's salary will vary depending on the size and industry of the organization they are working for.
They may also vary based on years of experience, level of education, certifications, and specific skills. Generally, salaries range from $177,897 to $231,300 a year.
Some companies may offer benefits such as performance-based bonuses, medical insurance coverage, vacation days, and stock options.
Chief Experience Officer Job Descriptions
Below are two job descriptions for a chief experience officer.
YMCA
Image source
This company is seeking a chief experience officer to manage the daily operations and membership experience of the YMCA. The CXO serves on the executive team and oversees multiple Directors to ensure overall customer satisfaction.
Relationship-building is critical to the role, as is identifying areas of improvement.
Central 1
Image source
This Central 1 job description is hiring for a Chief Client Experience Officer who will be responsible for building a culture of member-centric excellence.
The CXO will build a customer experience strategy and implement it accordingly.
The individual will also oversee launch campaigns that help improve member satisfaction, loyalty, and brand image, showing how critical the role will play to the organization's success.
The World of the CXO
Chief experience officers have one of the most exciting and challenging roles in today's business world.
The CXO must have a deep understanding of their customers, the ability to create innovative and seamless experiences across all touchpoints, and the leadership skills to motivate their team to deliver exceptional results.
If you love working with customers and employees, building loyalty with both groups, this might be the aspirational role for you.
Editor's note: This post was originally published in August 2019 and has been updated for comprehensiveness.