Customer service is a great field to get in, especially since it's more critical than ever for organizations to take a customer-centric mindset. If you're already in a customer service role and want to advance in your career, or if you're evaluating whether a customer service role is right for you, read on to learn all you need to know about this popular career path.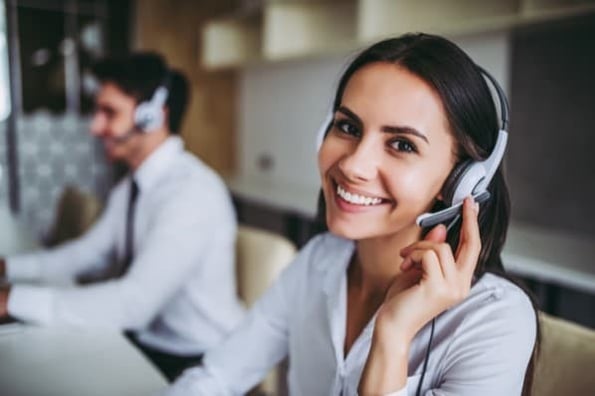 Having a Customer Service 'Background'
You might be wondering if you can be competitive on the job market for service and support roles. As with any career, customer service requires certain background experiences, skills, and knowledge to be successful. Here are some of the things that recruiters and hiring managers might be looking for:
Soft Skills for Customer Service
Empathy
Active Listening
Communication
Conflict Resolution
Patience
Hard Skills for Customer Service
CRM Experience
Persuasive Writing
Documentation Skills
Product Knowledge
Phone System Experience
However, some people may be more receptive towards certain positions based on their personalities. It's important to consider whom you are as an individual when considering a career since you put so much of yourself into that job.
Below, we discuss role progression, specific roles, their responsibilities, and how they fit into the customer service career path. If you're more interested in diving straight into your personality type, click here.
Customer Service Career Growth
Rep or Associate (Entry-Level)
Reps are on the front line, answering customer questions and responding to complaints.
Specialist (Mid-Level)
Specialists also work one-on-one with customers, but they may have additional subject matter expertise that equips them to handle escalations. In some organizations, specialists may also reach out to customers to up- or cross-sell.
Team Lead (Mid-Level or Managerial)
Team leads supervise individual contributors on the team and also work with their own book of customers. They implement processes and initiatives to support the team at large in addition to handling any people ops tasks.
Manager (Managerial)
Managers typically support a whole team or department, providing training, setting goals, and improving operational efficiency from a macro level.
Director (Executive-Level)
In customer service, a director or other member of senior/executive management drives the mission, vision, and strategy of customer service, communications, and/or experience.
How to Master Your Customer Support Career
Fill out the form to access your free guide.
How Can You Grow Your Career in Customer Service?
One of the best ways that you can grow your career in customer service is by understanding the different roles that are out there and developing skills that align with them. Here's an example of the most common positions you'll find along a customer service role progression:
Customer Service Representative
Entry-Level
A customer service representative is a frontline employee on the customer service team. They're responsible for reaching out to existing and potential customers with product offers, information about the company, and general updates. Rather than responding to customer communication, their work is more proactive because it aims to solve problems before the customer recognizes them.
Customer service reps typically work in offices or call centers and report to a customer service manager. They use phone calls, live chats, email, and social media to communicate with customers. In some cases, they may be assigned to a specific account, or work with other members on the service team to help every customer.
The customer service representative role tends to be an entry-level position on customer service teams. However, since customer service is still a relatively new field, the significance of this position may vary for each company. Once customer service reps master this position, they tend to move on to specialized customer support or customer success roles.
(Remote) Customer Support Representative
Entry-Level
A customer support representative acts as the customer first point of contact on a customer service team. They're responsible for responding to customer inquiries via phone calls, emails, live chats, and social media direct messages. Customer support differs from customer service because of its responsive communication to customer needs — it's more reactive than proactive.
Remote customer support reps complete the same responsibilities as customer support representatives but away from the office. They may work from home or another preferred workspace and have more freedom to travel, take care of their families, work other jobs, and get degrees while employed.
While this position is often entry-level, it's common for customer support reps to stay in this role for many years. Some companies are highly dependent on their support teams, and can't afford to constantly train new reps. Instead, they focus on incentivizing their support reps to prevent potential turnover.
At other companies, this position is more of a stepping stone to taking on more advanced customer service or support roles. Support reps who are passionate about the product may pursue a specialization where they can be experts in a specific area. Reps that are more interested in working directly with consumers can shift their focus towards a customer success career path.
Customer Service Specialist
Mid-Level
A customer service specialist is a customer service worker who has mastered a specific aspect of the product or service. These employees have a proven record that demonstrates their expertise in either customer support or customer success. They act as a reference for other team members and solve advanced problems that pertain to their focus.
The specialists that work in customer success are used to handling sensitive customer service cases. These employees diffuse stressful situations and work with frustrated customers to prevent potential churn. Specialists who excel in this role tend to apply to managerial positions on their customer success teams.
Customer support specialists handle support cases that the average rep would struggle with. Since they focus on a specific product or feature, they can quickly solve the advanced problems that customers are facing.
These specialists also have a few more options to consider at this point of their customer service career path. They could pursue a more technical role and become a product expert, or choose a leadership position as a customer service manager.
Product Expert
Mid-Level
A product expert or product engineer solves customer problems that extend beyond the training of a frontline rep. They possess extensive knowledge of the product that's used to solve the company's hardest support cases. These employees work on major bugs, glitches, and product flaws that can't be addressed in a normal customer service case.
The next career step for a product expert would most likely be a developer role. Developer positions fall outside the realm of customer service and are more geared towards a career in product management.
Implementation Specialist
Mid-Level
The implementation specialist ensures that each customer they work with has a positive experience with the product. They do this by assisting in the implementation and execution of the product or solution on a project-by-project basis. For example, they may handle onboarding before passing the customer on to their longer-term representative.
It's necessary for the implementation specialist to have deep knowledge of the product and champion it as they handle customer expectations.
Customer Success Manager
Managerial
A customer success manager works one-on-one with customers as partners. They help customers with product onboarding, implementing tools, and creating sales and marketing campaigns. These employees tend to have a diverse background in customer success along with years of experience with working with customers.
Customer success managers follow up with their customers regularly, checking on their progress and acting similarly to a trusted advisor. Additionally, they ensure their customers get the most from the company by finding ways to optimize the product or service within the customer's workflow.
Once customer success managers master managing their customers, the next step in their career is to manage their fellow employees as a customer service manager.
Customer Service Manager
Managerial
A customer service manager leads a customer service team which can sometimes include both the success and the support teams. They hire and train new reps on their team and act as a resource whenever reps have questions. They also set goals for their team based on the company vision and check up on each rep regularly to ensure they're hitting numbers.
Customer service managers might handle the records of their customers and employees and set the tone for a positive, successful team. In general, they oversee the entire customer service team and interfere in customer interactions only when necessary.
While this is a prestigious position for most customer service teams, there's still one more step a customer service manager can take in their career. The best customer service managers can strive to become the VP of Customer Success or Chief Customer Officer (CCO) at their companies.
Customer Service Operations Manager
Managerial
A customer service operations manager is responsible for the overall operations and efficiency of the customer service department. This may include management of labor, operational procedure, interviewing and training of new hires, and performance reviews.
A customer service operations manager may be in charge of the budget and be involved in strategic planning for the department. This may include analyzing trends, performance, and processes as well as creating forecasts for executive management.
VP of Customer Success or Chief Customer Officer
Executive-Level
The VP of Customer Success or Chief Customer Officer works alongside the rest of the executive board. They head all the customer teams within their company. Their main responsibility is to understand the customer inside-and-out and represent the customer's vision to the rest of the executive board.
They design new programs for the company based on data to constantly improve the customer experience. They also make sure the company has a customer-centric focus by creating an employee culture that's devoted to customer success.
Director of Customer Experience
Executive-Level
The Director of Customer Experience is responsible for the strategy, planning, and execution of customer experience as an organization builds a customer-centric culture. They will have a deep understanding of each team/department within the customer service arm of the organization as well as the customer journey for each buyer segment.
They will be able to set goals based on the organization's customer experience metrics and see support initiatives enacted across all teams in order to meet those goals. They may also work toward fostering alignment between teams and departments in order to enhance the customer journey.
Not sure which path is right for you? In this next section we break down six personality types that can help you decide which customer service path fits your needs.
The Six Holland Personality Types
John L. Holland was an American psychologist who pioneered important research in the fields of occupational work, personalities, and environments, as written by the National Career Development Association. His work influenced many career counselors and gave them the tools they need to guide people in the right career direction.
He established the hexagon shape to represent the six types of career psychology he outlined. According to Career Key, Holland organizes people into one of six career personality types: Realistic, Social, Investigative, Artistic, Conventional, and Enterprising.
It's typical to focus on your two personality types that have the highest percentages. In addition, you may write out your Holland Code: the first letter of each personality type in the order of highest to lowest association with yourself. For instance, my Holland Code, based on the Holland Codes test, is AESICR.
There's a Career Key Discovery® test you can take for a cost to learn about your personality types. However, Holland Codes offers a free, written version of the test, too. After taking one of the career tests, read below to find out what customer service career aligns best with your top personality type.
1. Realistic: "The Do-er"
Practical · Mechanical · Rational
Those of you who identify as realistic would be successful as remote customer support representatives.
Realistic personalities enjoying participating in activities that involve hands-on, practical problem-solving. They enjoy being outdoors in nature and working with tools, machinery, and wood. They prefer to work outside, alone, and without paperwork.
As a remote customer support representative, you would have the freedom to work outdoors or in any workspace that feels comfortable and practical, rather than being confined to a desk. You wouldn't have to work closely with others, as all of your interactions with customers and other employees would be virtual. Since realistic personalities enjoy problem-solving, you would thoroughly enjoy navigating the practical issues customers have with their new products and services. Your rational, level-headed mind is ideal for handling a range of customer problems with cool composure.
2. Social: "The Helper"
Helpful · Friendly · Trustworthy
Those of you who identify as social would be successful as customer service representatives.
Social personalities enjoy working closely with, communicating with and teaching people. Social people love helping others and providing them with some kind of service. They enjoy providing information to people and prefer to do so without using any tools or machines. They value helping others solve their problems and find joy in doing so.
As a customer service representative, you would get the opportunity to spend every day communicating with new, interesting customers. You would be able to help them by actively listening and finding solutions to their various problems. This is a field that requires outstanding communication skills, patience, and kindness … all qualities that you hold dear. You would get to build relationships with these customers. The fact that you are so charismatic and trustworthy would help you improve customer conversations, making you a great asset to the customer service team.
3. Investigative: "The Thinker"
Precise · Scientific · Intellectual
Those of you who identify as investigative would be successful as customer support specialists or product experts.
Investigative personalities enjoy working with complex ideas and participating in activities that require vast amounts of thinking. They enjoy discovering new facts and solving mental problems. Investigative personalities tend to be good at math and science and value these fields very much. They veer away from trying to persuade or sell to people.
As a customer support specialist or product expert, you would get the opportunity to solve more complex, thought-provoking problems. You would get to learn a lot of interesting facts about computer systems and put them to the test when working with customers. Since you enjoy math and science, you would love the opportunity to incorporate both these skills into this very analytical field.
Investigative personalities tend to shy away from emotional persuasion, and instead build logical, fact-based arguments. In customer support, you would never have to feel like you're persuading people or leading them astray since the communication method is responsive. Your scientific mind would be immensely helpful in fostering a more insightful customer support team.
4. Artistic: "The Creator"
Expressive · Original · Independent
Those of you who identify as artistic would be successful as customer success managers.
Artistic personalities enjoy working with creative forms, patterns, and designs. They enjoy working freely with no clear rules and having opportunities for self-expression. They're interested in artistic activities in their free time, like music and theatre, and like to bring that kind of lively, individualistic energy into their workspace.
As a customer success manager, you would get the freedom to work collaboratively with customers. That means fewer boundaries and set rules, and more fluidity. There are no scripts or formalities in this role. Rather, you would be working with customers as partners, guiding them and also learning from them, too. You would get the chance to help them plan exciting campaigns, and set them up for success with programs you build together. In this role, you would be able to exercise your exceptional creativity and individuality and hone it into specific customers to help inspire them.
5. Conventional: "The Organizer"
Orderly · Detail-Oriented · Methodical
Those of you who identify as conventional would be successful as customer service managers.
Conventional personalities enjoy following a structured routine every day. They prefer working with data and hard facts, rather than creative, abstract ideas. They enjoy following a strict line of authority and would be overwhelmed by too much freedom. They're good at keeping records of data, numbers, and patterns and setting clear goals.
As a customer service manager, you would get the opportunity to be more involved with numbers than customer service representatives, since you would handle data on your employees and customers. You would manage records of customer interactions with your reps and store them in an organized fashion. As the manager, you would get to set detailed goals for your team and build them a daily routine to maximize their success. Your strong organization skills would help you be the most efficient, precise manager possible.
6. Enterprising: "The Persuader"
Energetic · Ambitious · Sociable
Those of you who identify as enterprising would be successful as the VP of Customer Success or Chief Customer Officer.
Enterprising personalities enjoy proactively starting their own projects. They're comfortable stepping up into a leadership role and making decisions for others. They're confident in themselves and willing to take risks to make necessary improvements. They have strong persuasion skills and can easily sell ideas and products. In their free time, they enjoy keeping up with politics and business and value success in these fields.
As the VP of Customer Success or Chief Customer Officer, you would get the opportunity to lead your entire customer team and make decisions to constantly improve the customer experience. You would get to take thrilling risks by shifting the company vision to be more customer-centric. Since you're so persuasive, you would be successful in convincing the rest of the company of the importance of being customer-focused and in convincing customers why they should choose your business. Your interest in business and leadership, combined with your ambition and energy, would make you a great choice for this role.
Using Holland's six personality types is a fascinating way to analyze your personality traits in a career-focused lens. It's important to note that no one is one specific personality type. We are all combinations of several different types, with one that typically stands out as the highest percentage. While you may be most successful in a career path that falls into your top personality type, you can find success in a career that aligns with your second or third type, too. What's important is finding a career that you love that helps you show off your strongest qualities and improve your weaker ones.
Editor's note: This post was originally published in February 2019 and has been updated for comprehensiveness.