Onboarding customer service reps quickly and effectively is a boon for your business as well as your customers, but the addition of remote work can throw a wrench into the training program you've perfected all this time.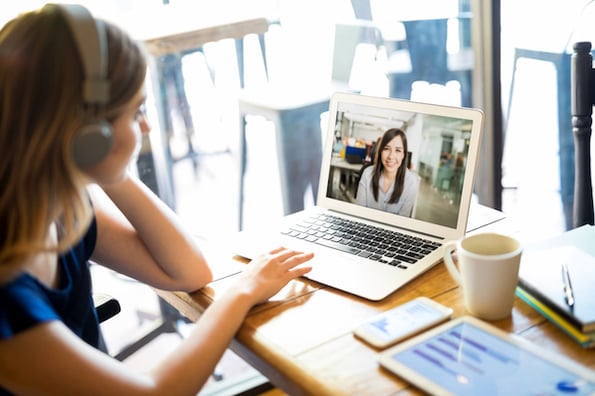 Launching a service or expanding your support roster needs some special considerations when you've have a mix of (or only use) remote employees.
The good news is that training remote staff usually involves tweaking the processes you use for on-site teams while making the rest of your organization more flexible. Some roles and responsibilities shift, like putting greater emphasis on IT as the internal support team for your customer-facing reps.
So, to help you onboard remote agents more successfully, we've put together a few thoughts on what makes remote work unique, how the process might shift for your business, and a reminder that it takes a little extra to make these workers feel like part of your team.
How to Onboard Remote Customer Support Reps
1. Define IT's Role.
As with any hiring, there's a lot to be done internally to get your organization ready for new employees. In the remote arena, much of this burden will fall on your IT team. Even standard elements, like HR paperwork and handbooks, will need IT's support for the safe and secure transmission of information.
You can safeguard employees and your organization — plus make it easier to onboard remote teams — by clearly defining IT's role in each step of your onboarding process. Help them work with finance and leadership to identify what needs to happen and how to make it happen.
There's always a chance for tech to go wrong when getting started. Emails can go to spam folders, a VoIP phone might have trouble with a call-in meeting, and so on. Helping IT know what employees will need for onboarding gives them time to prepare the best system to accomplish their goals — plus create any backup plans should something go wrong.
2. Digitize Documentation Before Hiring Remote Support.
Thankfully, there's a lot of processes that can be initiated digitally before you start onboarding. The simplest one is putting all the new-hire paperwork together and collecting electronic signatures in your required documentation.
The best place to start is digitizing the company handbook and creating a site that new employees use for onboarding. Not only should the handbook be turned into a PDF, but it should be available online and searchable so employees can come back to it whenever they need clarification. This means remote teams won't need to print it out — which few will do — and allows them to look for answers without sending HR a barrage of emails.
Building a training site for your team is a fantastic way to prepare for onboarding success. You can control how new staff moves through the new-hire process, verify they've seen the right information and agreed to it, and give them a breakdown of the company at large as well as their roles.
Sharing documentation before formal training gives employees a longer time to review and agree to documentation. Plus, it ensures they're ready to start on day one without having to discuss information that's not directly related to their job.
3. Train Remote Teams Using Different Channels and Mediums.
During onboarding, there's a lot of information thrown at new customer service reps. They need to learn your products and services, company policies, workflows for helping customers, and the best practices to follow during a support interaction. If they're new reps, they'll also be tasked with learning support platforms and improving technical skills.
It's long and involved. And, if not done right, it can get monotonous.
So, instead of throwing manuals and text walls at new employees, break up your training with annotated photos and videos. Use tools that not only demonstrate an action but also allow someone to see it in a real-world scenario. For example, if you provide software support, capture a user's screen while they slowly perform an operation. This is especially helpful for teaching someone how to use your knowledge base.
If there are commonplace, quick actions your team needs to take, consider turning them into GIFs. This allows you to annotate each image/frame and highlight or explain things as clearly as possible. Additionally, the latest research from CloudApp found that 83% of workers prefer to watch a video and be shown how to accomplish a task.
4. Review the Knowledge Base for Each Support Channel.
Your organization likely has a robust knowledge base that helps service agents address customer needs. This repository will assist customers regardless of how they're coming to you — whether that's traditional phone calls and email, or live chat and SMS options.
However, depending on the communication channel they're using, your reps will implement different troubleshooting approaches. For instance, chat support can include links and videos that walk customers through an issue, while phone calls require precise wording that's simple and straightforward.
Everyone needs to be trained on the different channels they'll use, which should include best practices for providing support through each platform. If your support system focuses on putting everything on a single screen, employees need to know how to access vital information and share it with customers.
Usually, onboarding a customer service agent involves gaining product knowledge then providing support on a single platform. Email is often first because it can be reviewed quickly and corrected before the information is sent to a client. If you start this way, help your team grow through subsequent channels with ongoing training on the knowledge base.
You should also review what shouldn't be shared on platforms as well.
For example, social media service agents are more likely to share links to support pages with videos and photos than directly sharing the content itself. This ensures there's proper context around the response, and it drives people to your site where they can get additional information. Not only does that support customers, but it can also limit the number of negative posts made on your social media channels.
5. Encourage Remote Team Building.
Company mission and vision are necessary elements of any onboarding process. For customer service, they're defining principles for how each employee should interact with and support customers. Most companies are good at getting these fundamentals across, and it should be easy to provide remote teams with examples of what to do and what to avoid.
Be sure to encourage remote teams to adopt these principles and make them feel like a member of a community that wants to promote them. Being alone at home or in a coffee shop can be isolating, especially if your employee is new to remote work.
Not only do you want to help them avoid this feeling of loneliness, but you want to encourage them to interact with colleagues regularly. This can help your team feel more comfortable collaborating and asking for help when a service call or chat is especially difficult.
So, fire up those ice breakers!
The tactics we're all taught early on for engaging and creating conversation, no matter how cheesy, have a home in the remote world, too. You'll just need to be a little more creative. When you've got everyone on the phone or video chat, play small games or ask questions to get people talking. At the same time, you might also have opportunities to make shy employees more likely to participate.
If you're using a text communication tool like Slack, build a channel for people to talk about general topics — and you should help set those topics with prompts. Ask people about vacations, let them share photos of family and pets, good books or articles they've read, or even their favorite new show on Netflix.
The benefit of adding a service like Slack to the mix is that people can chat when they need a break. Some staff may feel more comfortable because they can share without having to speak in front of everyone. And, people can message each other directly if they want to have a side conversation or bond over a mutual interest.
6. Make Teamwork and Feedback Easy.
Remote teams have fewer opportunities for feedback and conversation, especially with leadership and direct managers. To make onboarding and future collaboration go smoothly, prioritize communication and feedback. It'll help your team avoid friction and ensure everyone always knows what to do next.
Start by setting expectations about remote work and when someone should be available for communication with management. Customer support teams are much more limited in work-hour flexibility than other remote jobs, but you'll still want to make sure everyone knows if there are any additional expectations on their time. This might include needing to be online 30 minutes before their support shift so they can review and respond to documentation.
Additionally, be sure to include information on their rights and professional expectations, such as how employees need to communicate when they're stepping away or when they'll return. Also, take opportunities to be present and to praise your staff when they do things right — both early on and consistently throughout their work.
The systems your teams train on regularly focus on customer support and communication. However, you want to train your team on internal communication, too. Show them how to ask questions and get help. Make it easy to email or chat with leaders both for specific support cases and when your team has a question about their role.
Setting and reviewing goals regularly is an immense help as well. Give your team time during these check-ins to ask questions. If you have any forums or company workspaces, consider making sticky notes that include how people can reach out to leadership or HR.
You're going to be discussing a lot of metrics around customer interactions to get support teams where they need to be. If you make these an opportunity for employees to give feedback, you can help them feel connected to your organization and strive for a lengthy career.
For more tips about onboarding, check out these customer service training programs.