The process of building a product is often similar to writing an essay. Diving straight into your writing without preparation can end up taking much longer and leave you twiddling your thumbs. Instead, by starting with an outline, brainstorming points, and basic structure, you can ensure continual progress in your work and finish the piece faster.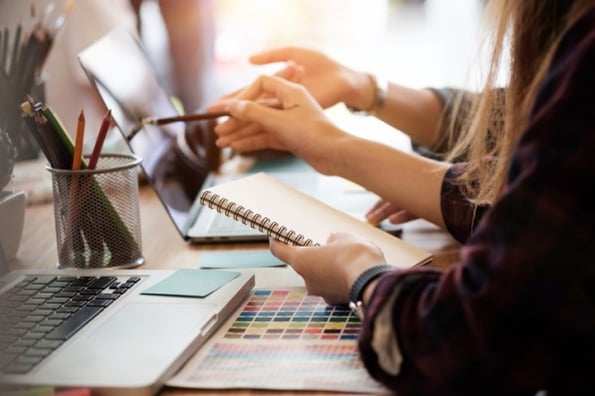 Similarly, it's near impossible to jump right into building a product based only on the ideas you've created in your head. Product specifications act as the outline and structure that your team will use as their roadmap to bring your ideas to life. Not only does creating the product specifications ease your development process, but it ensures that your team stays on track with the goal for the product.
In this post, we'll break down what product specs are and how your team can use them to streamline your product development process.
What Are Product Specs?
Product specs are blueprints that describe exactly what the product will be, what it should look like, and what function it will perform. Additionally, these guidelines might include information about the target audience that will help product management teams optimize the product's features. The purpose of product specs is to outline all the information about the product so that any member of the product development team will know exactly what to create.
The product specs document should be all-encompassing and in a language that can be understood by any employee who has access to it. Doing so will eliminate miscommunication and make the product development process go quickly since the specifications don't have to be explained verbally.
What to Include in a Product Spec
Product specs typically contain the following elements.
1. Product Summary
First, begin with a description of the product idea. This section should briefly introduce the product's concept to the reader as well as why you're creating this product. Summarize what the final product should look like, what features it will include, and the expected time it will take to develop it.
2. Business Case
Next, you should include the business case for developing the product. This is a written document which outlines the benefit or advantage that the product will provide for the company. Additionally, the business case should also highlight the budget and resources that will be needed to complete the project.
3. User Stories
User stories are brief messages that are told from the perspective of the product's users. They describe the features that users want to see included in the new product. These stories can be written using a simple template from User Stories Applied: For Agile Software Development: As a feature, I want [goal] so that [benefit].
4. User Personas
Next, you should detail who the product is being built for. Who is your target audience? An effective user persona describes a specific character who fits into the target demographic and has a problem that will be solved by the product. Being able to visualize the intended target for the product can help you remain customer-centric with your design.
5. Product Design
You'll need to create a physical design for your product, so start by sketching out a technical drawing. As you continue to progress through product development, you can tweak your design to reflect any changes you wish to make. Even if it's not perfect, a visual representation of the final product will help guide product management through the development process.
6. Functional Spec
Lastly, you'll want to include a functional spec. A function spec is a written document that includes the intended appearance and capabilities of the product, as well as how it should interact with its users. This document will provide a reference point for product developers as they begin programming.
Now that you know what to include in your product spec, you can follow these steps and write your own.
5-Step Process for Writing a Product Spec
1. Consider your customers' feedback.
Before diving into a product spec, it's important to know why you need a new product. User stories will help you understand what the goal is for the product and how it will benefit customers, however, you may not know these things unless you ask your customers directly.
Using customer feedback for this process will give you invaluable insights into what your customers love about your product and what could be improved. You won't need to create a completely new product if a few changes can meet your customer's needs. This will save you time, and more importantly money, during the development process.
2. Open the discussion to your entire organization.
Stakeholder feedback is incredibly valuable to the product development process. So, you shouldn't just collect feedback from your customers. Opening up the discussion to everyone in your organization can take some of the load off your shoulders and bring in more people to complete the job.
Additionally, involving the entire organization will help more of your employees feel like they get to contribute to the product's development. By doing so, employees feel a closer connection to the product and are more invested in its success. This not only unites employees across different departments, but also fosters a teamwork atmosphere across your entire company.
3. Decide which specifications are necessary to include.
Beyond suggestions and contributions, there are some other specifications that will need to be included. These are things that product developers will need to know to create a safe, realistic product that achieves what it's designed to achieve. This includes the product dimensions, safety standards, technical specs, environmental conditions, and lifetime (if it's something that could expire or become outdated). These additions will form a foundation for your product and ensure it works effectively.
4. Perform user testing.
Once you have outlined a plan for the product's design and development, you should then create a prototype. After all, you want to make sure that the assumptions and concepts you made are actually going to be well-received by customers.
Invite users to test out your product through one-on-one interviews or at-home testing. Ask them to complete a series of tasks using the prototype. Are there features customers rarely or never use? Perhaps, there are some irritating features that hinder their activity. Take note of the tasks that seem confusing or are challenging to complete.
5. Revise, revise, revise.
Based on the user testing, you can get a good sense of what features were well-received and which ones were difficult to use, too complicated, or simply unneeded. Take these notes back to the office and work to fix the problems you've discovered.
Product specs are works in progress. You need to constantly make edits to improve the performance of its accompanying product. Sometimes it's harder to see these flaws when you've become so attached to your product spec. So, it's always a good idea to get fresh eyes on it to obtain varying perspectives.
Once you're finally happy with your product spec, you can send it over to the product development team to begin production. You should feel confident that the spec has been viewed by a large quantity of internal and external stakeholders who are on board with the end result.
Next, read how you can present your new products to stakeholders using a product roadmap.