Search engine optimization (SEO) is the practice of improving a website to increase organic traffic from search engines. While SEO is often a long-term marketing play, it's a great idea to invest in it because, unlike advertising, you can get sustained results over time without having to "pay to play" every month.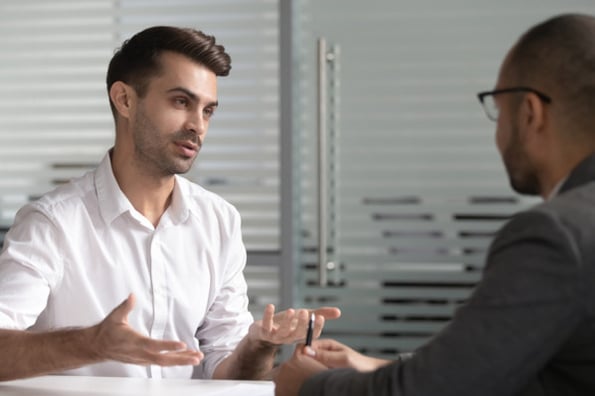 However, SEO encompasses a lot of things from site structure and mobile usability to on-page keyword strategy and content marketing. For many business owners, partnering with an SEO agency is the best way to scale your SEO efforts.
At the same time, you might have already noticed that the market for SEO agencies is quite crowded. It can be hard to navigate, and to make matters worse, there are plenty of opportunists who won't hesitate to take you for a ride, blowing your budget with no results to show for it.
So how do you know that the SEO agency you want to hire is above-board?
What to Do Before Hiring an SEO Company
Before you get started making your way through the sea of SEO experts and companies all vying for your attention, it is important to figure out what you are looking for in the first place. Consider the following before you start filtering through pitches and negotiations. Otherwise, you risk wasting time and money chasing goals that aren't important to the success of your campaign.
1. Understand the role SEO will have in your marketing.
SEO can be overwhelming and complicated to business owners and marketers who don't work within the industry. It may be tempting to "leave the details to the experts," but gaining a general understanding of SEO and the role it can play in your organization will help you vet providers and help you develop realistic expectations surrounding what it can achieve.
2. Understand the role your other marketing efforts have in the success of your SEO efforts.
Every SEO agency will vary in how they track metrics and measure success, but keep in mind that increased organic traffic or positioning does not always have a direct correlation to the bottom line. Additional effort may be needed in tandem with what's performed by the SEO agency in order to make it all pay off.
For example, you can drive a ton of traffic to a site, but if none of that traffic converts because of a poor experience or even brand issues like pricing, it may seem like the work performed was for nothing. And it's best to avoid that heartache altogether.
3. Understand your buyer persona.
Your SEO agency will be your resource for SEO expertise. However, no one knows your business better than you do, and your agency will need information about your target audience (and buyer persona) as they work to increase traffic.
In order to feel the impact of SEO to your bottom line, your SEO team must be generating the right traffic.
4. Vet the companies you enter discussions with.
After you know what you want from your SEO efforts and who you want to target, you can start looking through the different agencies competing for your business. Make sure you do your research before you ever sit down to meet with someone.
Here are some questions to ask yourself before committing to a sales call:
Does their website look professional and up-to-date?
Do they have a nameless, faceless agency, or is it easy to find the humans behind the brand?
Are there examples of client success stories or case studies on their website?
Does this company have an online footprint (Google results, social media, etc.)?
Can you find any reviews of their work on third-party websites?
If everything seems above-board, you'll be that much more informed as you enter into sales discussions with the agency. From there, you can make a sound decision based on the answers they have during their sales process.
To make the next step (actually speaking with reps from these agencies) easier, we've compiled a list of questions you should ask as you evaluate SEO providers.
Questions to Ask an SEO Agency
What types of SEO strategies do you implement for your clients?
How do you know this will work for me?
What monthly deliverables can I expect if I retain your agency?
Will that really move the needle as I compete with [Competitor Name]?
How do you measure the success of your campaigns?
What tools do you use?
Can I see the results from some of your other clients?
What pricing model do you use?
How will I be involved in the process?
Who will I be in contact with, and how will you keep me updated?
How will I know progress is being made?
What happens if I choose to terminate our contract?
1. What types of SEO strategies do you implement for your clients?
If you have performed your due diligence and researched the prospective company, then you will have read at least a few of their blog posts before you meet for an estimate. You should know already if it seems (at least on the surface) like the employees know what they are talking about. Make sure that they are experts, not just good salespeople.
Ask them for the specifics.
There are many different approaches to search optimization, so knowing which "style" the agency employs is important when deciding to partner with them. If they are legit, the prospective agency should be able to tell you the incremental steps it plans to implement to optimize your online campaigns.
2. How do you know this will work for me?
This is a great question because, as any true SEO expert knows, what worked yesterday will not work today, and what works today will not work tomorrow. SEO is a rapidly growing and frequently adapting field. You need to know whether or not a company knows how to stay on its toes.
The best agencies will be confident in their strategies because they are constantly testing them on their site as well as yours to find which tactics work best for which campaigns.
You should also listen for whether they can name specifics about your situation based on an evaluation of your site and competitive analysis and research. Some industries are more competitive than others, and your agency should be able to bring some knowledge and insight to the table about what to expect.
If they respond with vague, salesy promises, this could be a warning sign, and you should respond by pressing them for more details.
3. What monthly deliverables can I expect if I retain your agency?
While the previous two questions are more along the lines of SEO strategy, this question is asking for the tactics that they might implement as part of that strategy.
Keep in mind that these tactics may change as they learn more about your account or in the case where they may need to pivot their approach. However, they should be able to detail the actions that they typically execute for their SEO clients.
Listen closely to what they say in response. Because competition on search engines can be tough, the following tactics may not be enough for your brand:
Directory/citation submissions
Google My Business setups and maintenance
On-page SEO/keyword implementation
These types of deliverables are "table stakes." In other words, your SEO services shouldn't end there. You should listen for supplemental deliverables such as:
Analysis of traffic metrics
Keyword tracking and monitoring
Content creation
Backlinking acquisition and outreach
4. Will that really move the needle as I compete with [Competitor Name]?
As mentioned before, every industry has different levels of competition, and you're bound to know an organization who is absolutely crushing it on Google and other search engines.
Your agency should have a strategy to close the gap between your website's performance and theirs when it comes to organic traffic. It may not be immediately attainable, so be prepared for them to set expectations about this. However, they should be able to perform competitive analysis and speak about the strengths and weaknesses of your website vs. that of your competition's.
5. How do you measure the success of your campaigns?
SEO comes with a number of website performance metrics:
Impressions - How many times your website pages were seen on search engine results pages (SERPs).
Clicks - How many times your website pages clicked from SERPs.
Positioning - How high your website pages rank on SERPs.
Sessions - The number of visits from organic searches.
Visitors - The number of unique website users who visited your site as a result of organic search.
And those are only a few of the metrics. An SEO expert may also look at time-on-page, visitors based on demographical and geographical factors, mobile visits, and more.
With this in mind, it's a red flag if the rep from the SEO agency responds with, "Get you to the top of page 1."
Page 1 for what? Will that result in traffic? The right traffic? What metrics need to be measured on the way to achieving that?
Remember, rankings don't pay the bills. You want revenue from your SEO efforts, and that starts with qualified traffic. Aligning your goals with that of the outsourced company is an easy way to eliminate any pitfalls before you even get started.
6. What tools do you use?
Agencies use a ton of SEO tools to track keywords, analyze traffic, create reports, and more. These tools aren't trade secrets, either.
They should be transparent not just with what metrics will indicate success but also how the numbers came to them. The less insight you have into your SEO efforts, the more of a red flag it is.
7. Can I see the results from some of your other clients?
Some agencies are light on results, advertising "successful and innovative" optimization strategies... but "innovative" can sometimes mean "ineffective." Or, worse, "imaginary."
Before your enter into an SEO agreement, you want to make sure that the provider you're considering can deliver.
With this in mind, you should always get "social proof" in the form of customer testimonials and case studies. It's even more important that you "see yourself" in these results so that you know that the agency has experience achieving organic growth for companies like yours (whether that means companies of the same size, similar industry, etc.).
If they're the real deal, they may even show you where they have tested certain tactics that failed. An authentic and authoritative company has nothing to hide.
On the other hand, if they're giving you a never-ending list of "mind-blowing tactics" or "game-changing innovations" without concrete results to back up those assertions, you might want to consider another provider.
8. What pricing model do you use?
Whether it's by monthly retainer, by results achieved, or deliverables produced, it helps to lay out the exact terms of the contract so that you can compare with other providers and consider the services that work best with your budget.
SEO requires ongoing work — it's not a set-it-and-forget-it activity — so it should be a red flag if an agency only wants to charge you a one-time fee. In addition, if the pricing structure is murky, you may want to ask for clarification or consider another provider.
9. How will I be involved in the process?
Outsourcing to an agency means the delegation of tasks to free up time, but it should still be a partnership with the agency taking some direction from you. With collaboration, you'll only enable their SEO efforts further.
Asking about your specific role in the process will help them set expectations about what they need, and it ensures you won't be kept in the dark when it comes to their progress.
This opens up the channels of communication from the start of the relationship and prevents any messy misunderstandings.
10. Who will I be in contact with, and how will you keep me updated?
If it doesn't have anyone assigned as your point of contact, or if the agency is sticking you with an intern, take your business elsewhere.
Partnership — or at least a healthy and productive one — will be based on the mutual respect of the two companies' values and priorities. If you are not a priority to an agency, it is the only red flag you need.
11. How will I know progress is being made?
As mentioned previously, SEO is a long-term play with a lot of setup on the front end, troubleshooting, and experimentation. For this reason, SEO experts cringe at the question, "When will I see results?"
For one, "results" is somewhat abstract; for two, optimization involves a number of variables (not to mention navigating Google's ever-changing algorithm), so an SEO expert may be hesitant to provide forecasting. In some cases, it can take six months for the needle to move.
That's why "How will I know progress is being made?" is a better question to ask. You'll get more insight into how the agency tracks and monitors progress as well as how they report that progress to you.
If the agency is authentically trying to provide you with a solid SEO experience, they will break down your goals and their performance with milestones and KPIs (key performance indicators). A genuine, trusted firm will have a a process and build a roadmap for you both to progress together. That roadmap may include analysis, strategy, and setup.
12. What happens if I choose to terminate our contract?
Once it has finished optimizing your keywords, revamping your site architecture, and teaching you how to develop data-driven content, what happens if you end the agreement?
Are you free to keep what you have learned for yourself and take it into future optimization campaigns of your own? Will the firm rip everything off of the wall and claim proprietary rights to its entire methodology?
It can be an awkward question to ask, but you don't want to put a huge sum of money into an optimization method and contract that you can never end. Even if you plan to stick with the firm for the long-term, make sure you have all of your options covered just in case.
In the end, picking an agency with which to partner can be stressful, but getting the right pieces of information can ease the process.
After all, the firm wants to be hired, and you are looking to hire someone.
Editor's note: This post was originally published in January 2020 and has been updated for comprehensiveness.