If I asked you to identify some great websites, which ones would you pick?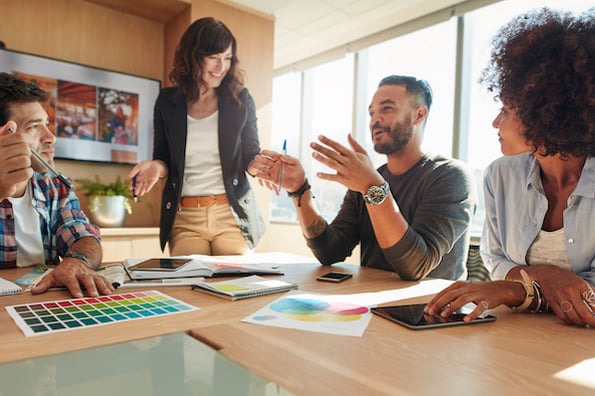 You might point to those that are visually beautiful. They have full-width images with superimposed text. They have stunning homepages with alternating text and image sections and compelling color schemes. They might even have a parallax scrolling effect as you venture down the page.
Over the past decade, a good website has become synonymous with a beautiful website. CMS platforms like Wix and Squarespace have popularized this idea, and made it incredibly easy to build beautiful websites. In 2004, Squarespace CEO Anthony Casalena reflected in an interview with Fast Company on the lack of options business owners had to create beautiful websites without coding. "All there was out there were these geeky, bargain-bin sort of services charging $2.99 a month for clunky experiences," he said.
Seeing an unaddressed market, Casalena built a CMS focused on design and style that was simple enough for anyone to use. This intent has been reflected in many of Squarespace's slogans, including "Better websites for all," "Make it beautiful," and "Beautiful websites made easy."
But there have been unintended results of making it easy to create a beautiful website: Since everyone's doing it, the web is becoming more and more uniform.
Take this study from Indiana University. It shows that style attributes such as layout and color schemes have increased in similarity over the past ten years. Layout differences in particular declined by 30%.
What does this mean? The same tools that were designed to help us create a unique brand identity are now causing one website to look just like the next.
I bring this up because I believe we are on the brink of the next great evolution in web design.
The first evolution was focused on simply having a presence online, and the second was obsessed with web aesthetics. As we see uniformity across the web start to negatively affect the performance of our websites, and it becomes more difficult to differentiate one from the other, I think the third evolution of web design will focus on functional websites that drive business results.
The future of the web industry will not be defined by adhering to a universally accepted standard of beauty and design. Instead, companies will adopt more personalized websites built to meet the needs of their customers. These websites won't just be a pretty face — they'll be a key part of how marketers serve their customers and grow their businesses.
Seeing How Other Industries Are Evolving
This next evolution in web design would not be unprecedented. Focusing on the customer experience is how experience disruptors across industries are breaking through the noise to grow their businesses. This trend is perhaps most evident in the beauty industry.
Just as choosing the design and layout of a website is an extremely personal decision for a business, makeup is one of the most intimate decisions a person can make. How your face looks is much more personal than what clothes you wear, what shoes you put on, even your hair style.
When I was a teenager, my mom brought me to the makeup counter at the mall for a makeover. I remember looking in the mirror afterward and not recognizing who I was looking at. I couldn't wait to remove the unfamiliar makeup as quickly as possible. I could hardly recognize the face looking back at me, and I rejected it.
My experience would have been drastically improved by a more personalized approach — one where the makeup counter consultant took my feedback into account to suggest products that would help me achieve my own goals. Instead, the beauty industry was stuck in a sales-driven approach, where sales associates would give the same on-trend advice to everyone who walked by.
Then, the beauty industry shifted.
Instead of a one-size-fits-all approach, personalized services and products now dominate the market. Companies like Thrive, Fenty Beauty, and Glossier are sourcing their product development from their communities and letting their customers do the marketing for them. They're embracing the diversity of their user bases, not ignoring it. They're using data, community, and customer feedback to identify what their customers want.
Embracing the needs of your customers to provide a personalized experience is how tomorrow's experience disruptors will approach building a website.
Instead of just having a pretty site, marketers will focus on ensuring that their site is functional, and assists their customers in their purchase decision.
Instead of following the pack and using the same web elements as every other website, marketers will focus on the needs of their customer base, building solutions that solve for them.
Instead of investing in your website solely as a brand asset, marketers will begin to view their websites as a lever by which they can grow their business.
The Future of Websites
The shift in perception of websites from being brand assets to growth tools is especially important. For many of us, COVID has likely accelerated our focus on our websites. It's no longer merely a tool that acts as the face of a brand. It's now a tool that leads your company's growth.
Some companies are already ahead of the curve. Take HubSpot customer WWF, for example.
For their Earth Hour 2020 campaign, WWF has used their CMS Hub website to better understand what content their audience was interested in, and develop a strategy around increasing user engagement through their content. They then used this information to inform all their marketing campaigns. The results? A dramatic increase in newsletter signups and pledges for their 2020 event compared to previous years.
When we embarked on the journey to build CMS Hub, we wanted to build a product that freed marketers and developers up to do their best work. We wanted to build a CMS fueled by CRM data so you could build a website that truly reflected your customers and their experience. Most of all, we wanted to build a product that would help companies achieve the beauty of growth. This could be sharing helpful information, connecting communities, or helping businesses pivot online during difficult times.
We've got plenty of work left to do, but I think we're positioned to be a great agent of change.