Used by over 2 million site owners, Divi is one of the most popular WordPress themes. Driving its popularity is Divi's large template selection and advanced features, including a built-in split testing system, as well as its built-in page builder. The Divi Builder not only offers more functionality and flexibility than the default Gutenberg editor, but it's also more powerful than traditional page builders. That's because it lets you customize your entire site, including headers, footers, and sidebars, not just content areas, so you can create a truly custom site.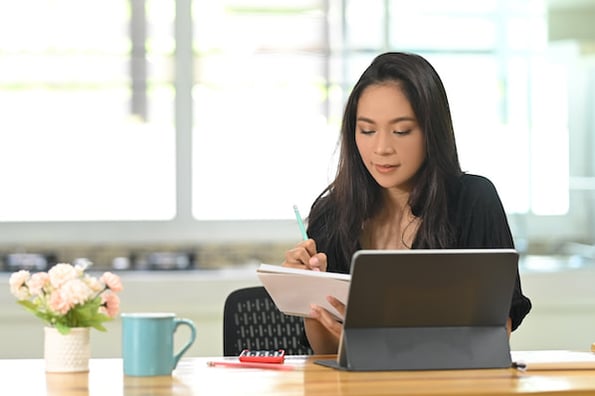 Need proof? Then let's take a look at some of the best websites built with Divi and other WordPress plugins.
Divi Website Examples
Below is a collection of websites created with the Divi theme. To showcase Divi's versatility, this collection contains a wide range of business niches — from nonprofits to corporate businesses to online shops. Let's get started.
Spaces with Harmony is an interior design services site built on Divi. As you might expect from an interior design business, the website is beautifully laid out. It balances text, images, and white space; has a soothing color scheme; and includes parallax sections, scroll animations, and shadow effects to keep readers engaged as they scroll.
Designed to inform visitors and ultimately persuade them to become customers, the homepage features persuasive pull quotes and headlines, descriptive sections of text, and beautiful images of previous clients' homes. The only call-to-action buttons appear toward the bottom of the page, along with a testimonials slider and contact information. This is strategic: the reader has likely read enough information to have moved from the awareness to the consideration stage.
Pro tip: If you opt for the Divi theme, then you can easily install the HubSpot WordPress plugin and begin using HubSpot email marketing, CRM, forms, popups, and live chat on your WordPress website.
An online marketplace built with Divi and the WooCommerce plugin, Buy from Tasmania sells goods and services from small, family-owned businesses in Tasmania and fosters an online community where members share recipes and local knowledge.
Its homepage features a category-based navigation bar, several "Shop now" CTA buttons, and product grids so that visitors can easily browse, or find specific items they're looking for and complete their purchase.
Based out of Mexico City, 9AM Cinematography is an agency designed to help directors of photography in Mexico and Latin America thrive in the advertising and film industries.
Built on Divi, 9AM Cinematography's website lets their work speak for itself. Its homepage is a video background that plays on loop. Only three items are overlaid on this background: 9AM's brand logo, an Instagram icon, and hamburger button. Clicking on the hamburger button will open a menu with four navigation links. Most of these pages feature some black font on a white background, and that's it. The point is that you'll have to contact the agency to learn more.
Ends + Stems is a food blog that publishes weekly meal plans designed to cut down on food waste. The website is designed to explain what subscribers can expect and how this service will add value to their lives, and address any doubts they might have. Ends + Stems does exactly that with the help of illustrations, icons, screenshots, carefully-placed CTA buttons, testimonials, videos, blog posts, and more.
Whyfi is an independent strategic branding and digital agency based in Bengaluru. With the brand slogan "Get Spotted," it makes sense that Whyfi's website is so eye-catching. With a vibrant color scheme, bold typography, and vertical headers, Whyfi's website stands out from other agency websites built on Divi.
The Global Church Project is a website created with Divi. It offers resources for churches and pastors, colleges and universities, denominations, missions, agencies, Christian non-profit organizations, and individuals — and secondary navigation links for these specific groups.
Combining a vibrant color scheme with a simple typography, its homepage showcases the organization's latest resources, media, and training courses on World Christianity and multicultural ministry. It also offers multiple ways for visitors to connect, including a Contact navigation link in the header and social media buttons in the footer.
Devlin Photos is one of the best examples of a photography website built using Divi.
The homepage has a unique grid layout featuring overlapping images, a video, image slider, and some text, including a customer testimonial and word from the photographer. Most of the pages, including the "Lisa" and "Story" pages, have the same layout. You can easily navigate to these pages, or anywhere else on the site, by clicking on the links in the vertical navigation menu.
Nomad Capitalist provides entrepreneurs with legal strategies to reduce their tax bill, grow wealth overseas, and become global citizens.
Built on Divi, the Nomad Capitalist website is primarily designed to build trust with prospective clients and convert them into existing clients. With these goals in mind, the homepage includes several About sections, a Team section, a testimonials slider, multiple images as well as a video of the founder of Nomad Capitalist, strategically placed and colorful CTA buttons, and an email opt-in form.
The Art and Craft website was designed to promote the film Art and Craft about one of the most prolific art forgers in U.S. history.
Another important example of Divi's versatility, this multi-page website contains all the information you'd need or want about the film: what it's about, where to watch it, and how it was reviewed by critics. Each page has the same layout: there's a sticky menu, full-screen background image with a text overlay, and carousel at the bottom of the page. A parallax scrolling effect is also applied to give the illusion of depth.
Findability Sciences combines big data, cognitive computing, and artificial intelligence (AI) to deliver strategic solutions to global corporations. Focused on attracting customers from the insurance, retail, manufacturing, financial services, trading, healthcare, and transportation industries in particular, the homepage includes testimonials from industry leaders, multiple CTA buttons to learn more and request a demo, and a video gallery.
Findability Science is a great example of an app website built with Divi.
Veronica Ariel is a Chicago fashion designer and creative director. The Veronica Ariel / I AM SOCIALITE boutique website uses the Divi theme to create a visual online experience, highlighting the style and visual aesthetic of their products.
The homepage features a wide hero image followed by tiled images of featured products. In addition, the site includes an ecommerce store with sleek and attractive product pages that function well on both mobile and desktop.
White Gorilla is a UK-based digital agency that offers a wide variety of services, including UX/UI, graphic design, social media, copywriting, mobile apps, and ecommerce. Its one-page website featuring bold typography, scroll animation, and lots of white space. This example shows that you don't need to use Divi's advanced design modules to build an excellent website.
Instead, you can use a minimalist and flat design like White Gorilla's to showcase only the most important information to prospective and existing clients. White Gorilla, for example, includes About, Team, Services, and Contact sections as well as a portfolio grid with CTA buttons interspersed throughout.
M for Montreal is an annual music festival for local and international musicians on the rise to perform for fans and connect with industry professionals.
Since its website is designed to generate both sales and excitement for the event, the design strikes a balance between informative and entertaining. Its primarily black-and-white color scheme is paired with colorful, large images and bold typography. A featured slider and animation effects also make the homepage more engaging.
The White Lion Inn is a great example of a Divi website for anyone in the hospitality industry.
With a featured slider, masonry grid, email opt-in form, and well-designed footer containing hours of operation, contact information, and social media icons, the White Lion Inn's homepage provides all the information a visitor or guest might need. They could check out the pub menu, book a room, and send an email — all from the homepage.
Share Vancouver Island is a Divi website designed for potential and previous visitors of Vancouver Island, British Columbia. It features images, videos, galleries, and social media posts that showcase the island's beauty. It's also divided into sections for each major city in Vancouver Island. To learn more about one city, you can click on the link from the navigation header or scroll down to one of the images.
Clean and well-organized, this website provides everything a tourist needs to know about the island.
Timeline Missions is one of the best websites created using the Divi theme. An international company of award-winning cinematographers, photographers, directors, producers, and professional athletes, Timeline Missions produces feature films, documentaries, TV, print and digital advertising for a wide range of clients.
With the Divi theme and builder, Timeline Missions built a website with stunning images, parallax sections, and icons to attract clients from all over the world.
Blog Genesis is one example of how Divi can be used to create a landing page website.
When you land on Blog Genesis's homepage, you're immediately prompted to click on a link based on where you are in your blogging journey. You can also sign up for Blog Genesis's newsletter to get weekly tips for building and growing your blog. Or you may choose to click on one of the trending or top posts in the website footer. If you don't find what you're looking for on the homepage, you can always click on one of the navigation links from the sticky menu. Notice that no matter what a visitor clicks on, they're either browsing the site's content or taking a conversion action.
Dan Carr Photography is another unique photography website created with Divi.
The homepage features a full-screen image with four images displayed in a grid below. Beneath each image is a navigation link with an icon and section of text explaining the different products and services Carr offers.
The homepage uses several other Divi modules and customization options, including the parallax effect, grid blog layout, image gallery, embedded Instagram and Facebook feeds, social media icons, and more.
Divi can even work well for banks. Southern Bancorp is a financial institution that provides lending services to economically distressed communities in addition to its standard banking offerings. Their site is run on Divi and includes an online banking portal.
The style is about as professional as it gets with a multi-color palette, modern font faces, and bold text. You'll also notice the large navigation menu to accommodate a deep level of content for their users.
Samui Garden Villa is a luxury villa in Thailand. Its website was built with Divi to provide prospective and existing guests with all the information they need to have a great trip.
On the Samui Garden Villa website, visitors can explore the Villa's rooms and amenities, check out their seasonal rates, book their stays on Trip Advisor, and make a deposit — all in a few clicks of their mouse. It uses image sliders, parallax effects, and contrasting colors to keep readers engaged as they scroll.
The How to Beast website is a fitness and lifestyle blog built on Divi. Combining bold typography, a minimalist design, and strategic use of color, How to Beast makes it easy for visitors to navigate the site and find the content they're looking for, whether that's blog posts, YouTube videos, or books.
Its blog section contains all the functionality a reader would expect. The archive page displays a list of most recent posts with image thumbnails. Each individual post has a featured image, embedded videos, social media sharing buttons, comments, and a related post widget.
Sweet Cecily's sells natural skincare products that are handmade and cruelty-free. Sweet Cecily's uses the Divi theme with the WooCommerce plugin to sell its products online.
This ecommerce store stands out because of its website navigation. Not only does it have a horizontal navbar with submenus, it also features a masonry grid of images with navigation links on its homepage. This provides visitors with multiple ways to find the products or information they're looking for.
Heidi Rose is a web designer who works with women to provide them with the confidence, skills, and knowledge they need to build an online business. Combining a soft color palette, creative website typography, and high-quality images, Heidi Rose's site establishes a unique brand identity and both informs and intrigues visitors.
The most important feature on this Divi site is arguably the website footer. It only contains a contact form, social media links, and email address, and appears on every page of the site. That way visitors are constantly being prompted to connect with her.
With flexible layouts, content modules, and virtually unlimited customization options, Divi theme is a great choice for restaurants like Sushi à la Maison. Sushi à la Maison is a unique sushi restaurant in Canada. Not only does it have two dining counters, it also offers chef service at home, mystery take-out boxes, and food products.
Designed to inform and convert visitors into customers, the website has two image sliders, social media icons, a video gallery, and lots of CTA buttons. It also has a horizontal navigation header with sub-menus with links to the restaurant's chef service, counter locations, and in-house product range.
Leanna Belle is a hair stylist who has worked with celebrities and individuals for big brand-name photoshoots, music videos, and fashion shows. She now travels all over London to provide services to clients in their own homes or at event venues.
Her website features high-quality images and bold typography in every section of her site. Both the services and portfolio sections also have a unique masonry grid layout. There's CTA buttons throughout so visitors can easily book an appointment or learn more. The website footer is simple: there's an email address, Instagram icon, and contact form for visitors who want to get in touch.
Building Your Own Divi Website
Now that you're inspired by these amazing sites, it's time to start building your own. The Divi theme, bundled with the Divi Builder, is an excellent option for creating and customizing a WordPress website without coding.
Editor's note: This post was originally published in October 2020 and has been updated for comprehensiveness.