Do you know how many people visit your WordPress website daily, weekly, or yearly? If so, how do you know for sure that your data is accurate?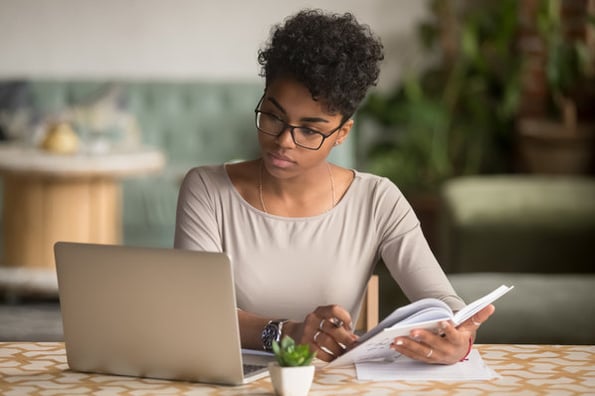 Website traffic is a fundamental KPI that every website team should be tracking. The number of people visiting your website tells you whether your online presence is growing, and it can help demonstrate the success of a marketing campaign, press release, or launch of a new section on your site. Driving traffic to your WordPress site can also help your business secure advertising placements and sponsorships with other companies.
To reap the benefits above, you can't simply guess at these numbers — you need to ensure your traffic numbers are measured accurately and consistently over time. That means you'll want to choose a reliable tool that you can access within your WordPress dashboard, and that can scale with your website as it grows.
For this post, we looked for WordPress plugins that report quality data and provide data visualization tools so you can easily analyze your traffic and make critical business decisions with it. Here are the best plugins we've found to help you check traffic from your WordPress dashboard.
Best Analytics, Stats, and Traffic Plugins for WordPress
HubSpot WordPress Plugin
MonsterInsights
Site Kit by Google
ExactMetrics
All in One SEO
Yoast SEO
Visitor Traffic Real-Time Statistics
Crazy Egg
WP Statistics
Jetpack
Clicky Analytics
Before we dive into these plugins, keep in mind that there are a number of factors that influence the traffic coming to your website. Whether it's the content quality, website structure, or page load time, these tools will provide visual data to guide your improvements.
The HubSpot WordPress Plugin is a free tool that helps you grow your email list, manage your contacts, and send marketing emails. It comes with built-in analytics for you to identify which traffic sources are driving the most conversions.
The dashboard serves as a central hub for your marketing analytics. You'll learn which forms, pop-ups, and live chat modules get the most submissions. The best part is that no coding skills are required, and the HubSpot Academy offers free online training to help you improve your website traffic.
Pro tip: The HubSpot WordPress plugin will also let you use HubSpot email marketing, CRM, forms, popups, and live chat on your WordPress website.
Touted as the most popular analytics dashboard plugin for WordPress, the MonsterInsights Google Analytics plugin enables all advanced Google analytics tracking features without the need for a WordPress developer. In just a few clicks, you'll have a Google Analytics Dashboard that shows you only the analytics reports that matter.
Some of the reports included with this plugin are audience, behavior, and content reports. If you need more granular data, you can set up a custom dimensions report that can help you determine what time to post content, which authors on your site are writing content that is meeting your goals, and even how well your WordPress SEO efforts are paying off.
Site Kit is Google's own plugin built specifically for WordPress websites that want to track their traffic and user activity. Relevant here is its ability to integrate Google Analytics with your WordPress site. Site Kit provides a dashboard for viewing your traffic without needing to leave your WordPress dashboard, and setup is quick and simple.
Site Kit also allows users to incorporate Google Search Console for improving SEO, AdSense for passive income via display ads, PageSpeed Insights for monitoring page performance, and more, all for free.
ExactMetrics connects to your website using the latest Google Analytics tracking code. It offers in-depth reports for you to analyze the performance of each post or page on your website.
You'll have access to real-time reports that show visits to your website, acquisition channels, and traffic sources. With this plugin, you can use custom dimensions to track authors, publication year, categories, and user engagement. Plus, you can set permissions based on user roles to control who sees specific reports on your team.
While not technically an analytics tool for WordPress, this plugin does let you control the SEO of your WordPress website. For that reason, All in One SEO is a great tool for helping make changes to your site based on the traffic data you're seeing.
With this plugin, you can perform on-page changes, optimize your WooCommerce pages for eCommerce SEO, and even adjust local SEO.
Yoast SEO is a little different from the other plugins. While it doesn't allow you to check your traffic from your WordPress dashboard, the tool does help you optimize your website for SEO. It analyzes the readability of your content and gives you complete control of WordPress breadcrumbs.
With the premium version, your visitors can avoid 404 page errors with the help of the tools' redirect manager. The focus keyword export feature also downloads an overview of all your implemented focus keywords and pinpoints to pages that need more optimization.
Visitor Traffic Real Time Statistics is another useful WordPress plugin to track traffic from your WordPress dashboard. You'll get in-depth reports of visitors' behaviors, including the types of browsers and operating systems they use to visit your website. You also can analyze search queries and redirects from popular search engines like Google, Bing, and DuckDuckGo.
Upgrading to the Pro version of the plugin gives you access to even more features: You can see how many people are viewing your website in real-time, view an interactive Google map of visitors' locations, and analyze a time graph to view the daily visitors per hour.
Crazy Egg not only tracks your traffic, but also generates a heatmap of your site to show you exactly where users are on your web pages — to be exact, where they're clicking, scrolling, and typing. This plugin can provide you with insight that quantitative data alone just can't do.
With Crazy Egg, you can identify areas of your site that need to be improved to generate more clicks and conversions. You'll also be able to leverage areas of your website that are working well and apply those tactics to other pages.
WP Statistics lets you securely analyze your traffic data. Rather than sending the data from one application to another, the plugin records the information in your server. You can examine visitor data records, including the referring site, browser, and search engine. Preset dashboards provide the top 10 countries with the most visitors and the top 10 most-visited pages.
The plugin also offers premium add-ons. You can upgrade to see real-time stats, create mini charts, and add conditions to change your content based on your analytics.
The widely-popular WordPress plugin Jetpack is more than a website traffic tool. In addition to having robust analytics functionality, Jetpack comes equipped with security, performance, marketing, and design capabilities just to name a few. It's rare to find an all-in-one plugin that doesn't reduce your website to sluggish speeds — Jetpack was built to leverage the power of AMP, helping to optimize your site on mobile devices.
What we love about the Jetpack plugin is that it shows you your website traffic, pinpoints where you can improve, and then provides you with the tools to tweak and tailor your site.
You won't need a developer to get your Clicky website analytics dashboard up and running in WordPress. This plugin is simple but effective: It gives site admins access to basic statistics, cache clearing, and tracking for video, email, and webpage content.
Users rave about the spy function in the Clicky plugin that allows you to see traffic in real-time the moment a URL goes live. If you're looking for a WordPress traffic plugin without the extra bells and whistles, this one is perfect for you.
Why use a WordPress analytics and traffic plugin?
There are many benefits to using plugins. Plugins are adaptable. They are often free or have low-cost options. Many of them are easily customizable to your particular preferences. Plus, traffic and analytics plugins specifically are essential to determining the success of your WordPress website.
Earlier in this post, we told you that website traffic is one of the most fundamental KPIs a business should track. How else can you tell if your company is growing? How will you know if your campaigns, content, and SEO strategies drive people to your website?
With this in mind, there are three prominent reasons why you should use a WordPress traffic and analytics plugin. They allow you to:
See the trends in your website views.
Focus on traffic sources.
Analyze the efficacy of your content and campaigns.
Let's break each of these points down:
See the trends in your website views.
The ability to check the views on your WordPress website is the biggest benefit of using a traffic and analytics plugin. Whether you add one new piece of content a week or five, your views are the primary resource that demonstrates whether your content is successful.
Access to this information is important. However, its significance shows when analyzing trends. Imagine looking at your analytics for the month of May. You notice that, across the board, your WordPress website is getting approximately 500 views a day. But, there are two spikes in the views: The first happens during the second weekend and the second on the last weekend of the month. Logic would tell you that this increase in views was due to Mother's Day and Memorial Day. Now, what do you do with that information?
If you published new content during that time, this spike in views could tell you that it was successful in bringing more visitors to your website. If the influx of visitors was organic, use that information to your advantage. Next May, anticipate the increase in views. Meet your visitors with valuable content and offers to entice them to return regularly.
Focus on traffic sources.
Where does your traffic come from? Checking your WordPress website traffic is necessary for understanding how your visitors reach your content. Traffic plugins, like Google Analytics, will break down your traffic into traffic channels, source/medium, and referrals. While the second and third provide micro details about the exact source, the traffic channel provides a broad overview. It will tell you whether your traffic comes from a referral link, direct link, social media, or organic search.
Having this data can help determine shifts in content strategy. If your website is performing well through referrals and poorly in organic search, you can shift your attention to getting more traffic to your WordPress website through this avenue.
Analyze the efficacy of your content and campaigns.
Traffic and analytics plugins are the only way you can analyze the efficacy of your content. But why is that important?
Imagine strategizing, creating, and publishing an entire campaign surrounding an upcoming holiday. The content distribution happens over two weeks. In the end, you need to know whether the campaign was worth the effort. How did it perform? It's impossible to know if you can't see your WordPress analytics.
It might seem like there was an increase in traffic and views, but there is no way to know for certain without a plugin that collects that data for you. Having WordPress analytics also allows you to compare the successes and failures of multiple campaigns, which helps craft a sound content strategy.
How to Add Google Analytics to WordPress
Google Analytics is the most popular website traffic tracking tool. Free and intuitive, it's a great option for both novice and experienced website owners. While it's possible to add Google Analytics to a WordPress site without a plugin, we recommend using one, as this makes setup and viewing much easier without hurting performance.
Here, we'll explain how to add Google Analytics to your WordPress site with three leading plugins: Site Kit by Google, MonsterInsights, and ExactMetrics. Let's start with Google's plugin.
How to Add Google Analytics With Google Site Kit
1. Install and activate the Site Kit by Google plugin. This adds a new Site Kit option to your dashboard menu.
2. Click the Start Setup button. The plugin will walk you through a brief setup to get you started. Complete the steps as prompted.
3. After setup, you'll be brought back to your WordPress dashboard. Select Site Kit > Dashboard.
4. Under Set up Site Kit, select Sign In With Google.
5. Choose your Google account and follow Google's prompts in order to verify your WordPress site.
6. Back in the Site Kit dashboard, under Analytics, click Connect Service.
7. Choose your Google account and follow Google's prompts to allow access to your Google Analytics Account.
8. If you already have a Google Analytics Account, choose the account to connect with your site and click Configure Analytics. If you do not have a Google Analytics account, you'll be prompted to create one. On the Connect Service page, check your site details and edit if necessary. Then, click Create Account and follow Google's prompts to create a new Google Analytics account.
9. You'll now be able to view your site analytics under Site Kit > Analytics. Note that it will take some time before you can view your Google Analytics data in WordPress.
How to Add Google Analytics With MonsterInsights
1. Install and activate the MonsterInsights plugin. This adds a new Insights option to your dashboard menu.
2. In the dashboard menu, select Insights > Settings.
3. Under Google Authentication, click Connect MonsterInsights.
4. Follow Google's onscreen instructions to give MonsterInsights access to your Google Analytics account.
5. On the Connect Google Analytics to Your Website screen, choose your website from the dropdown, then click Complete Connection.
6. To view your metrics in WordPress, choose Insights in your dashboard menu. Note that it may take up to a day for your Google Analytics data to appear.
How to Add Google Analytics With ExactMetrics
1. Install and activate the ExactMetrics plugin. This adds a new ExactMetrics option to your dashboard menu.
2. In the dashboard menu, select ExactMetrics > Settings.
3. Click the Launch Setup Wizard button.
4. Choose your website type based on the type of WordPress site you own, then click Save and continue.
5. Follow Google's onscreen instructions to give MonsterInsights access to your Google Analytics account.
6. On the Connect Google Analytics to Your Website screen, choose your preferred view from the dropdown, then click Complete Connection.
7. Depending on the website type you chose in step 4, the plugin will offer some additional settings to better track your site traffic. Toggle these as you wish, then click Save and continue.
8. Finally, ExactMetrics will recommend add-ons to install. Click Install AddOn for any option you want to use.

9. To view your metrics in WordPress, choose ExactMetrics in your dashboard menu. Note that it may take up to a day for your Google Analytics data to appear.

All Your Website Traffic in One Dashboard
Eliminate the stress of having multiple browser tabs open to check your website traffic. You can measure your traffic accurately and consistently right in WordPress. Streamline your workflow by installing one of these plugins to view your traffic data in a single WordPress dashboard.
Editor's note: This post was originally published in September 2019 and has been updated for comprehensiveness.