I love spreadsheets. A lot more than the average person. (I know, I don't get out much.) Usually a declaration like this leads to a conversation surrounding pivot tables, VLOOKUPS, and data-driven decisions. While that may be a major factor in the great love story between Sana & Excel, my love is a little bit more unconventional than that.
See, I used to think spreadsheets were just rows and columns meant for formulas that were determined to give me a stomach ulcer. But I've grown since then, emotionally and mentally. Now, I am able to fully understand the benefit of a well-organized and sorted Excel spreadsheet for reasons outside of their typical functions. If you get creative, you'll find spreadsheets are able to help you do a lot of things better and easier ... here are some of my favorites that we've seen businesses use them for to help improve their marketing, specifically.
(Note: You can find all of these spreadsheets, and a bunch of other cool content, for free in our new Marketing Library.)
How to Use Excel Spreadsheets to Make Your Inbound Marketing Easier
1) Use It as a Blog Editorial Calendar
If you're an inbound marketer, you understand the importance of blogging to attract visitors and leads to your website. But it's really hard to allow the creative juices to flow if you're freaking out about the next post to write and whether it aligns with your keyword strategy. This is where an Excel spreadsheet can really help.

A spreadsheet like this can keep you on a set calendar so you don't fall behind, and also provide a place for you to jot down ideas as you have them. It'll also gut check you on how good your blog topic and working title really is -- if it doesn't align with your personas, keywords, and lead generation offers, perhaps it's time to reconsider that blog post.
This can be especially handy if you are running a blog with multiple authors and need to track topics and content being posted.
2) Use It as an SEO Template
Some of the projects marketers undertake require a lot of hard work and extensive organization. Developing and executing an effective SEO strategy is one of those things, and it can take up a lot of time, effort, and resources if you aren't on top of it. Here's an example of an SEO template created in Excel that can make your life a whole lot easier.
It allows you to plan out your SEO strategy in advance, considering more than just keywords -- targeting all parts of the funnel and social optimization, too. Whether you're working with an agency or just a large internal team, hand it off to someone else to implement. (It's also helpful just to keep things straight in your own head.)
3) Use It to Keep Track of AdWords Campaigns
If you're doing it right, your Google AdWords campaign probably isn't a walk in the park. That's because to get the most bang for your buck, you've set up multiple campaigns with multiple ad groups and have variations of your campaigns all with different content. And then you're also keeping track of those campaigns to determine which ones to shut off, add more money to, or tweak.
Okay, take a deep breathe. Did we scare you? This Excel template can make sure you're staying on top of your AdWords game and help you catch mistakes and implement best practices across all the different campaigns and ad groups you're running -- for the top, middle, and bottom of the funnel.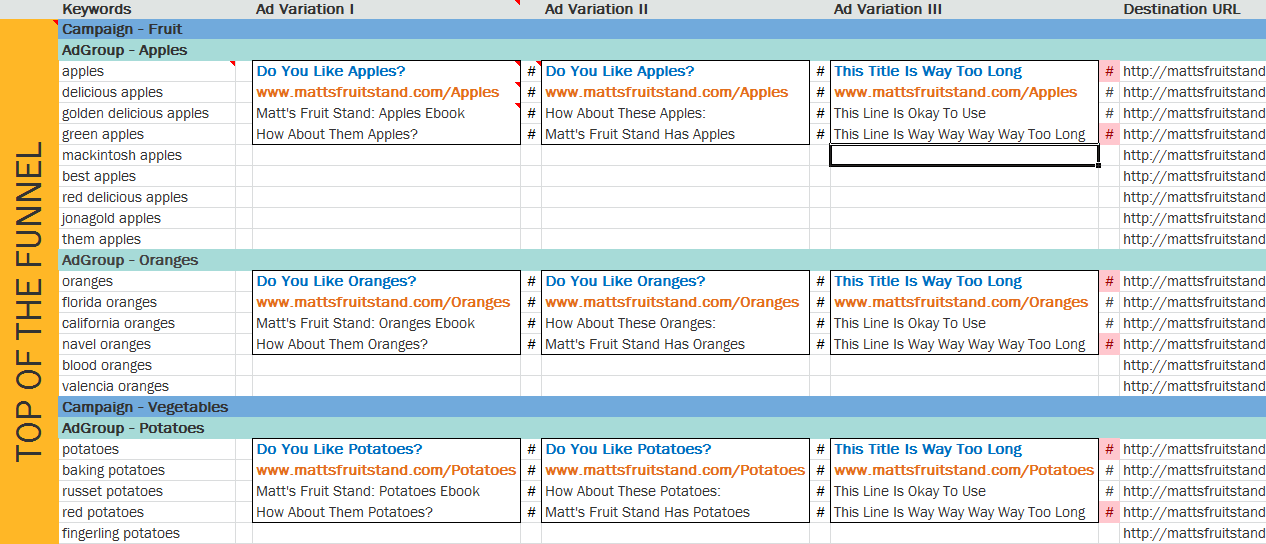 It's a perfect complement to that SEO template you've started using ;-)
4) Use It as a Social Media Publishing Calendar
Since you're probably generating tons of clicks from your AdWords campaigns and writing awesome content thanks to your blogging editorial calendar, you need to spread the love. I'm a big fan of using this social media calendar spreadsheet as a way to help you scale and streamline your social media marketing.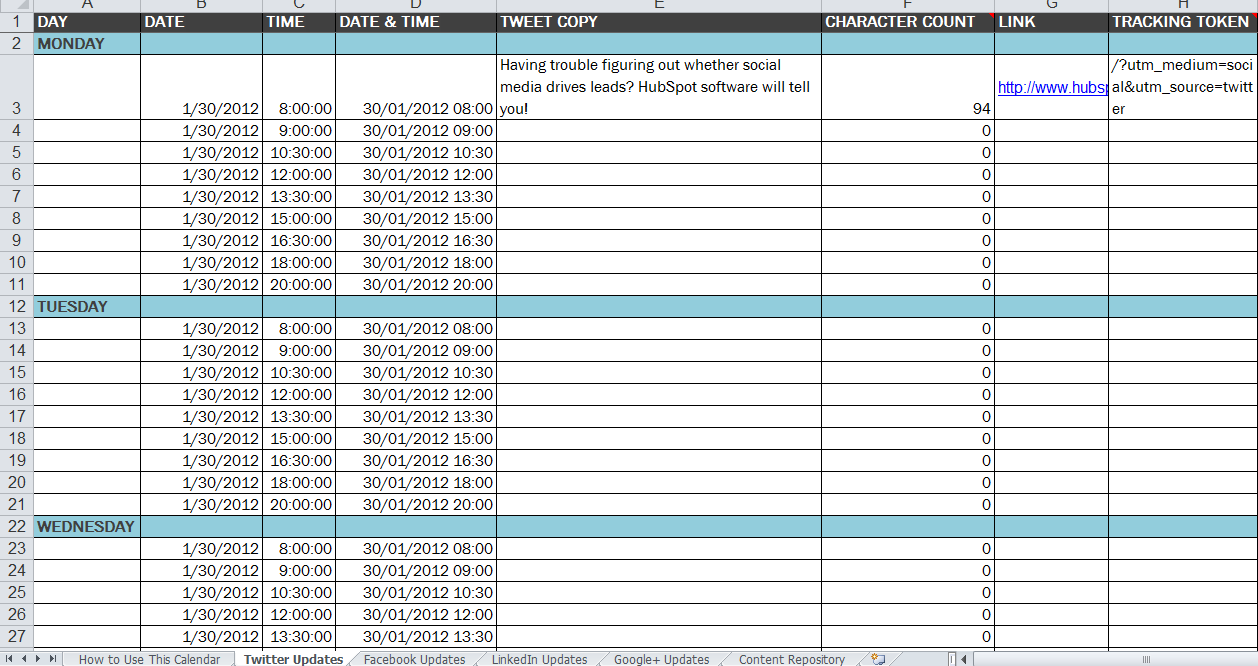 Using Excel, you can break out separate worksheets for each social network you're using, and keep a repository of content ideas so you never hit writer's block, and always have something to post. And Excel really comes in handy for Twitter -- it'll count your characters so you don't go over the 140 character limit.
5) Use It as a Traffic and Leads Goal Calculator
So you have to set a leads goal. But how? And once you set that goal, how much traffic do you need to generate to hit that leads goal?
If you're answering these questions in your head with a blank stare back at yourself, Excel could help you out. And if thinking about all of those calculations just make you want to quit your job and watch Netflix in your bed forever, well, you'll be fine if you have this Excel template to do all of the math for you.
Make sure you're implementing a calculated inbound strategy that will help your company reach its overall goals.
6) Use It to Report on Your Monthly Marketing Metrics
You've calculated your goals and you've achieved them. Good job! Now, it's time to show off your success by communicating it to your boss. Don't spend all of your energy creating spreadsheets and decks to report your results -- spend your energy on actually driving them. You can use this Excel template (it also comes with a PPT deck for you to customize, if you wish) so you have something to work off of.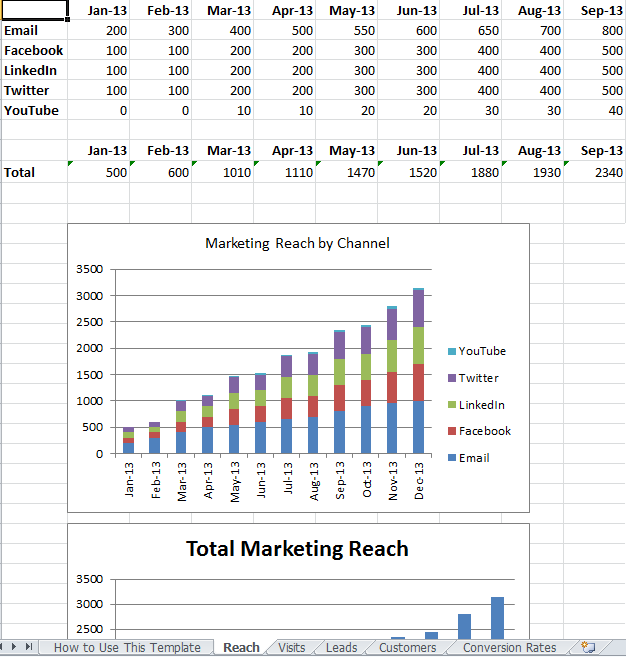 With an Excel template like this, you can track sexy stuff like monthly growth, measure your visitor-to-lead conversion rate, and track what marketing channels are performing best. And then, of course, show it off so you get a big fat raise.
Share your favorite spreadsheet love stories with us in the comments section!
Image credit: carolune