As a marketer, you definitely have a lot of work to do (and not enough time to get it done). You might also feel occasionally struck by writer's block when it comes to creating fresh, unique content.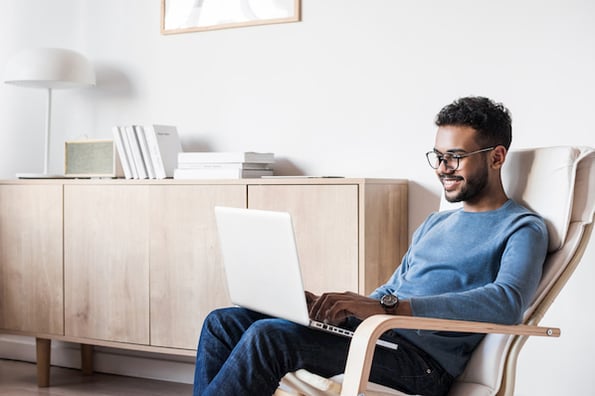 Given these challenges, you're always searching for ways to make your job easier while continuing to produce high-quality content on a regular schedule. Fortunately, content repurposing is here to take some of the weight off your shoulders.
At first glance, content repurposing may seem like a way to cheat the system, but it's not. You're reworking your existing, high-quality content and presenting it in a different form on new channels.
In this post, we'll cover the basics of content repurposing, outline the benefits it can bring to your business, and discuss specific strategies to repurpose content you've already created. We'll also talk about how to create new content with future repurposing in mind.
What is content repurposing?
Content repurposing, sometimes called content recycling, is re-using existing content and presenting it in a new format to expand its reach and lifespan. As you create new content, you can plan for a variety of different ways to share a new piece with content repurposing.
As I mentioned above, content repurposing might feel like a cop-out if you're unfamiliar with the strategy. You don't want your audiences to feel like your content is repetitive, or that you don't care about creating unique content on every channel.
You also may think that content repurposing means taking something that someone else has created and reworking it to fit your brand message.
However, content repurposing is neither of these things. You're not being repetitive, you're using content you and your teams have purposely created, giving it new life, and ensuring that all segments of your audience can gain value from what you have to offer.
For more clarity, let's briefly go over what content repurposing is and what it isn't.
Content repurposing is...

Content repurposing isn't...

Sharing an old blog post that you've updated with new, relevant data and thought leadership quotes.

Sharing an old blog post on your Twitter profile without updating content for relevancy and simply changing the description. (This could certainly be seen as lazy.)

Taking heavy-hitting key statistics from an Ebook and creating an infographic to post on Twitter.

Taking a news article from another site and editing it to fit your brand or business image.

(Technically this could be repurposing, but it's mostly stealing.)

Creating video clips of podcast recording sessions to post on Instagram to generate hype and excitement for an upcoming episode.

Posting a campaign on different social media channels. (This isn't repurposing, it's cross-channel marketing.)
Why should I repurpose content?
When repurposing old content, or creating new content with repurposing in mind, you're saving yourself time. You already have the data to point you towards high-performing pieces of content to reshape and redistribute, or you're already in the process of creating a blog post that you know will do well as a podcast episode, quote snippet on your Instagram account, or part of an Ebook collection.
Repurposing content can also potentially give you an SEO boost. When you have multiple pieces of content centered around similar targeted keywords, search engine crawlers will generally recognize you as a source of authority. You're not just creating content for the sake of it — you're putting out valuable resources, in multiple different forms, that provide value to your users.
Additionally, repurposing content helps you scale, both in terms of content amount and audience reach. Simply creating a blog post gives you a presence, but creating a blog post that can be turned into an email newsletter or a how-to YouTube video gives you three different types of content in one, and a presence on three separate platforms with three separate and diverse audience groups.
The HubSpot Academy's free content repurposing mini-course discusses the benefits of content repurposing in more depth if you're interested in learning more.
Given the benefits that it can bring to your marketing efforts, let's go over various ways to repurpose your content.
How to Repurpose Content
As mentioned above, repurposing content means taking one asset and reusing it somewhere else. If your goal is to repurpose existing content for different channels, start by taking a look at your metrics. Take note of what has performed well, and brainstorm ways to continue to provide value to your different target audiences with the same content in different forms.
If you feel as though there's no possible way to repurpose the content you have or will have, there probably is a solution. We'll go over some options below.
How To Repurpose Blog Content
If you run a blog, you likely have a significant amount of high-quality blog posts. While it may not seem like there is a way to convert your text-heavy pieces into different formats, there are certainly ways to do so.
1. Create a YouTube video.
How-to posts are great to convert in to visual guides on YouTube, especially with graphics-heavy pieces. Suppose you're a business that coaches salespeople on mastering a sales call. You can write a script to include in a blog post, but it could also be converted into a YouTube video where an actual salesperson runs through the script.
2. Create a SlideShare.
This is one of the easier ways to repurpose your blog content, as you're simply converting it into presentation form. Identify a piece of high-performing content, and reproduce it into a SlideShare. SlideShares are beneficial because they're easily shareable, and it introduces audiences to your words in a different, palatable way. Plus, presentations allow you to incorporate other graphic elements that aren't always present in long-form blog posts.
Copyblogger, a content marketing company, went this route with one of their high-performing blog posts, as shown in the image below.
3. Create an infographic.
Have a blog post full of statistics or data? Consider creating an infographic.
Consumers appreciate visuals, so creating a summary of the most hard-hitting statistics from your posts is a new, engaging way to give meaning to your content. You can place these infographics within the blog post, but they can also be repurposed and posted on social media (which we'll cover below).
4. Create an ebook.
Creating an ebook is a great option for long-form blog content that provides educational value to your audience. In your blog post, you can touch on specific key elements of your subject and offer the ebook as a more in-depth discussion of the content you've created. Search Engine Journal, a well-known SEO resource, went this route with their blog post series about Content Marketing. They have ten free-to-access articles about the subject but offer a more in-depth ebook guide.
5. Extract thought leadership quotes.
Do you often recruit industry experts or thought leaders to contribute to your pieces? If you do, you recruit these people because you know they have valuable insight (and your audience will think so as well). Take heavy-hitting quotes from articles and post them on your social media accounts, create infographics, or use them as snippets in email newsletters. Here's an example from the HubSpot Academy Instagram account.
6. Create a podcast episode.
In the same vein as extracting quotes from thought leadership or industry leader posts, consider creating podcasts out of these high-performing posts. You can use the copy as a script, invite thought leaders back for more in-depth discussions of the insight they've given for the posts, or simply discuss the blog post in its original form.
So, there are various ways to repurpose your text-heavy blog posts to give them new life and expose their content to different audiences. We've briefly mentioned it above, but we'll cover more examples of repurposing content for social media below.
Repurposing Content for Social Media
Social media sites can accommodate many different content types, many of which can be repurposed from your existing content. Let's go over six options below.
1. Use old images as post backgrounds.
Have high-quality visuals that you've only used once? Try using them as post backgrounds. As long as you're following the Instagram size requirements, you can use these images as the background for quotes you extract from blog posts or simply post the images on their own to draw audience attention to a past project.
2. Post snippets of existing video content.
Do you have YouTube videos or any type of business-related video content? Post snippets on social media.
Most platforms allow you to post video content, so if you edit it down to fit within their video-length requirements, you can easily repurpose a video for each of the platforms you have a presence on. If you're hesitant to go this route, or new to video overall, consider the following stats from Wyzol: 86% of video marketers say that video has a high return on investment (ROI), and 85% of businesses already use video as a marketing tool.
3. Post user-generated content.
User-generated content can be anything from reviews on your product pages to one-off tweets from a satisfied customer. Although it may seem like these only provide value in their original channel, they can be repurposed for social media. Here's an example from beauty brand Black Girl Sunscreen where they've used customer reviews in an Instagram video for a new product launch.
Here's an example from Starface, using their Twitter account to Retweet customer testimonials.
4. Repost social media content from your other profiles.
It may seem rather convoluted, but you can repost content from your social media profiles to your other social media profiles.
This could look like taking a screenshot of a Facebook post to share on LinkedIn, a picture of a YouTube thumbnail to promote a new video on your Instagram Story, or a screenshot of a Tweet for your Instagram page. Here's an example of the latter from Stacey Abrams, former Congressional Representative and Atlanta-based activist.
5. Create new infographics.
As mentioned before, creating infographics from your existing content is a valuable repurposing strategy, especially when it comes to data.
While your audience can read about your findings in blog posts or ebooks, data visualizations, and visualizations in general, increase the impact of your words. Your audiences quite literally get a picture of the significance of the information you're giving them, and images are more likely to be retained. In fact, images are 65% more memorable after a period of three days.
The post below is a data infographic from the HubSpot Instagram account.
6. Extract quotes from existing content.
I mentioned this earlier on, but the strategy of extracting quotes from top-performing content, especially when they contain insight from industry leaders, is particularly impactful on social media channels like Instagram or Twitter. Extract these quotes, create social media posts, and re-use them on all your favorite social platforms.
How To Repurpose Webinars and Videos
Webinars and videos are unique forms of content. They're an exciting way for your users to connect with what you have to offer, but, unfortunately, they aren't always accessible to all members of your target audience. Thankfully, there are ways to repurpose them so everyone can benefit from what you have to offer. Below, we'll go over how to repurpose video content to meet the different needs of your audience.
1. Create text transcripts of your videos.
One of the easiest ways to ensure that your videos and webinars are accessible to everyone is to create transcripts. While you can certainly create captions for your content, creating transcripts creates an additional way for your audience members that use Assistive Technology to enjoy what you have to offer.
2. Turn video transcripts into blog posts.
Another benefit to creating transcripts is that they can also be repurposed as blog posts. If you create a scripted video that follows a logical structure, a transcript likely won't need much editing before it can become a blog post. For example, Moz, an SEO tool, produces a weekly video series called Whiteboard Friday. Each video is its own piece of content but they also use a transcription tool to turn the videos into blog posts.
3. Create a podcast episode.
Aside from accessibility methods, you can also repurpose webinars and videos into podcasts. Simply extract the audio file, use your preferred tool to clean it up (here's a guide from Adobe), and post it on your preferred podcasting platform.
How To Repurpose Podcasts
Many small-to-medium-sized businesses have just recently begun riding the podcast wave. If you're new to podcasts, or you simply want a refresher, consider checking out HubSpot's guide to starting a podcast for your business. The resource will teach you how to build your feed, organize content, and market to your target audience.
Podcasts are unique in that they allow creators to connect with their audience on a personal level, as hosts humanize a brand or business with their own personal experiences and anecdotes, often with lighthearted conversations. Podcasts are also a great way to reach younger audiences, specifically Millennials and Generation Z. Given this, let's go over a few ways to repurpose your podcasts to reach wider audiences.
1. Record your podcast sessions for social media.
One of the draws to podcasts is that they feel human. Use this to your benefit and consider taking video of your recording sessions. When you have upcoming episodes, you can release video snippets on social media to generate excitement in your audience, or simply post snippets of recent episodes. Queen Business, a podcast created by Black women for Black women, does this and posts their snippets on Instagram. They invite well-known guests to participate in the podcasts, which adds an element of excitement to their listeners and followers.
You can also post full-length sessions on YouTube, or create smaller video snippets of heavy-hitting sections.
2. Pull out quotes for social media.
This has been mentioned multiple times, but pull out relevant quotes for social media, especially if you have invited guests on your show. Quotes from industry experts or celebrities that your audience look up to and view as valuable resources can be posted on different social media platforms, or even within your blog posts.
3. Create transcripts of your podcasts.
Just as you can for your videos and webinars, you can create transcripts of your podcast audio for accessibility purposes and for blog posts. However, it's important to note that the podcast audio may require more editing than a scripted video or webinar if the conversational tone of your episodes doesn't mirror your blogging style.
4. Embed your podcasts into your blog posts.
Almost anything can be embedded these days. Not only does it help you share different forms of content, but it's a great way to provide additional value and context to your users. If you're a HubSpot CMS user, you can embed podcasts episodes directly into your blog posts. Here's an example from a HubSpot blog post.
Repurpose by Updating Older Content
Let's face it: things change.
Could some of your older posts use updating? Probably. There may be new developments or advice you can share on a topic you've already written about in the past. So, take your old post, make some adjustments and additions, and re-publish it. You shouldn't have to do a complete overhaul,(although that's also an option) just make sure that it appeals to today's audience.
Another trick is to analyze your content and identify top-performing blog posts. If you notice that a blog article isn't as up-to-date as it could be but is still generating a ton of traffic, leads, or is ranking highly for a competitive keyword, don't publish as a new post.
Instead, update the content within the same post so you keep the existing URL and SEO value, and promote the updates you've made. Some blogging platforms even allow you to change the publish date, enabling to display it on your blog as a brand new post.
It's also worth considering updating (or adding new) calls-to-action to articles that are still generating traffic to increase lead generation potential.
You can do the same with Ebooks. Whether you've published it last year or five years ago, make some refreshing updates and re-promote it! This will save you the time of creating a blog post or Ebook from scratch while you still obtain the benefits that a new Ebook has to offer.
Should you choose to go this route, consider using UpContent to create email digests and social media posts to share updated, high-performing pieces with your audience (displayed in the gif below).
Leverage Your Existing Content to Drive Further Engagement
All-in-all, as a content creator, you do what you do because you know you can provide value to your audiences. Unfortunately, creating high-quality content doesn't just happen overnight. It takes time, care, and resources — which can sometimes be a tedious process.
Repurposing your existing content isn't meant to be an alternative to creating new content, but rather a supplementary strategy. You can continue to create new content while at the same time giving new life to your existing, high-quality pieces and providing your audience with relevant, timeless information.