We rely on smartphones to connect with our friends and family and stay informed about current events. But it seems like the only time we use smartphones for work is when we check our email.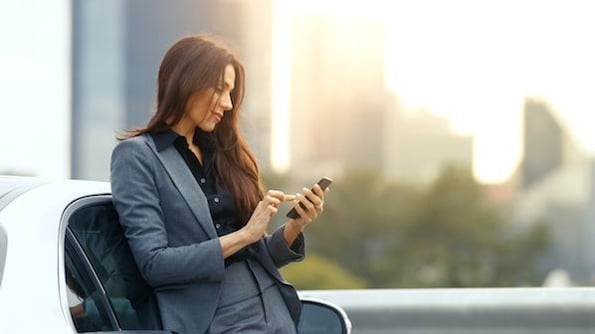 Today, smartphone technology has advanced to the point where you can get a substantial amount of work done with just your thumbs -- smartphones can now access your work documents, take professional-grade photos, and even translate signs that are in different languages.
If you want to be more productive during your commute or be able to work on the go, check out these seven smartphones for business.
Best smartphones for business
iPhone Xs
Google Pixel 2 XL
Samsung Galaxy S9+
BlackBerry KEY2
Microsoft Lumia 950
OnePlus 6
LG V35 ThinQ
Image Credit: Digital Trends
Apple's latest iPhone isn't just a slightly bigger yet marked-up version of the iPhone 8. It's on the pricier side for good reason.
Armed with a Gigabit-class LTE, 512 GB of storage, and an intelligence A12 bionic chip that has a neural engine, the iPhone Xs can deliver up to 50% faster graphics performance, 15% faster performance cores, and 50% lower power usage in efficiency cores. In other words, it's one of the fastest and powerful smartphones on the market.
The iPhone Xs also has one of the most powerful smartphone cameras on the market. You can shoot 4K videos in up to 60 frames per second and take professional-grade pictures with the camera's larger and deeper pixels and sophisticated portrait mode.
Image Credit: Forbes
Google might not be able to get a social network to catch on, but they can definitely build a phone. Powered by Google Assistant, the Pixel 2XL can listen to your commands and text and set reminders for you, turn on Bluetooth, and activate Google Lens, which can identify landmarks, objects, and even scan business cards to add contact information into your smartphone.
The Google Pixel 2XL is also incredibly powerful and efficient -- it has storage options of 64 or 128 GB and will give you up to seven hours of battery life with only a 15-minute charge.
Image Credit: Trusted Reviews
The Samsung Galaxy S9+ might be one of the best smartphones for business travel and security. Powered by Bixby Vision, the Galaxy S9+'s camera can translate up to 54 languages on signs and menus to help you navigate any foreign country you're traveling through.
The smartphone's camera also features intelligent scan, which combines face recognition and iris scanning to instantly recognize you in any light and even when you're wearing sunglasses.
You can buy the Samsung Galaxy S9+ in two storage options: 64 GB and 128 GB.
Image Credit: The Verge
Even though BlackBerry has lost its dominance in the business smartphone market, the company still pioneered the trend of working on your phone and develops some of the most advanced smartphones for business.
The KEY2, powered by Android, is branded as "An Icon Reborn" because BlackBerry kept their classic physical keyboards on the smartphone but also upgraded it by making the keys 20% bigger and adding a Speed Key button that can activate 52 custom shortcuts to apps and specific actions.
The KEY 2 also offers some of the strongest smartphone security with the BlackBerry DTEK app, giving you the ability to see and alter which applications have access to your camera, microphone, location, and personal information.
You can also keep files and photos completely private with BlackBerry Locker, a pre-downloaded app that hides your files and photos from anyone who could access your phone.
BlackBerry's KEY2 has up to 256 GB in storage space and its battery can stay powered for up to two days on just one charge.
Image Credit: CNet
The Microsoft Lumia 950 is like a mini PC. Powered by Windows 10, the smartphone syncs with all your other Windows 10 devices, so you can access any of your Office documents, presentations, spreadsheets, notes, and photos.
You can also connect the Lumia 950 to a Microsoft Display Dock and use it like a computer to access your files from any Windows app, letting you work comfortably from home, even if you forgot your laptop at the office.
The Lumia 950 has up to 200 GB in storage space, OneDrive cloud storage, and built-in wireless charging.
Image Credit: CNet
By developing their own operating system, OxygenOS, OnePlus' flagship smartphone will help you get more work done in less time. Whether you're working, browsing, or shifting through apps, the OnePlus 6's smart software can optimize your experience based off your habits on your phone.
You can buy the OnePlus 6 in two storage options: 128 GB or 256 GB.
Image Credit: CNet
Another smartphone powered by Google Assistant, the LG V35 ThinQ's can assist you in real-time, identify objects you hover your phone over, and pick up your voice in noisy environments.
The V35 ThinQ also has an Artificial Intelligence camera that can recognize the subject and environment in your frame and suggest the best filters and angle for your photo.
You can store up to 64 GB on the smartphone.