If you're spending over 40 hours a week in a single location, shouldn't you at least be comfortable?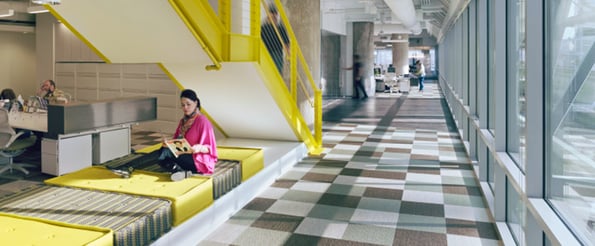 Our offices are often our homes away from home, and a good office environment can help employees stay engaged, productive, and happy throughout the day. In fact, a 2003 study from the California Energy Commission found that just giving employees access to a window in the office had a significant impact on their work performance.
If just providing a window can make a difference, imagine what intentionally designing an office space with employee comfort in mind can do.
To showcase how marketing and advertising agencies around the world are accommodating their teams, we've compiled a list of 15 amazing offices. Ranging from minimal and clean to downright kaleidoscopic, these agency work environments are sure to inspire some office feng shui (even if that just means getting a new desk plant).
15 Examples of Cool Agency Offices
1) Leo Burnett Moscow
In early 2016, global advertising agency Leo Burnett found an unexpected place to house their new Moscow digs: a former Bolshevik confectionery factory. They converted the historic factory -- originally opened in 1885 -- into a sleek, modern space for their Russian team.
"We envision our office space as а modern art gallery," the folks at Leo Burnett wrote in a blog announcement. "We wanted to keep everything simple. Every design element is integrated naturally into the space."
The new space is anchored by an enormous sculpture of Leo Burnett's iconic glasses -- an homage to their founder and namesake, the late Leo Burnett.
Image Credit: Leo Burnett
2) Mono Minneapolis
When Minneapolis-based advertising and marketing agency Mono grew too large for their old office, they converted a 20,320 square foot urban space into a stunning open-concept location for their entire team.
The new Mono office balances industrial elements with cozy, collaborative spaces, such as a design library and kitchen.
Image Credit: Office Snapshots
3) 22squared Tampa
22squared wanted their new office space to be reflective of Tampa, so they made a point of using as many Tampa-based services and supplies as possible during the design process.
"It was crucial that this was a Tampa-led, Tampa-inspired space," 22squared's chief administrative officer Mike Grindell said to Adweek. "All of 22squared's design partners were local Tampa companies, other than national suppliers like Knoll."
The end result is a beautiful space with lots of natural light and comforting, casual elements like hammocks, bean bags, and womb chairs.
Image Credit: Adweek
4) 360i London
Collaboration is key for creativity, and 360i's London location was strategically designed to encourage cross-departmental interactions and the exchange of new ideas.
The agency's 11,000 square foot space is set up without permanent desks for employees. Instead, team members are free to roam between the office's modular work spaces, which include noise-cancelling felt booths and a community kitchen.
"It might sound obvious, but it makes our staff so much more mobile than before," James Townsend, 360i London's CEO, said to Digiday. "When you're anchored to a desk, often you feel you can't get up."
Image Credit: Digiday
5) TBWA Los Angeles
This is about as far from a traditional office space as you can get. TBWA\Chiat\Day's Los Angeles home is decked out in otherworldly details, such as a massive gargoyle sculpture, a 1,000 gallon fish tank on wheels, and a bar made entirely of surfboards.
The eclectic space isn't just fun to look at -- it also suits a wide variety of working styles. Employees can work everywhere from recycled shipping containers to an expansive atrium nicknamed "Central Park."
The agency converted this former pharmaceutical manufacturing plant into an unconventional daydream with help from Clive Wilkinson Architects.
Image Credit: Where We Design
6) Bubble Prague
Bubble, a content agency, might be on the smaller side, but their Prague office makes a major statement. The open, 3,552 square foot space used to be a printing press before it was converted into Bubble's offices in 2016.
They retained many of the original area's industrial touches, such as exposed beams, recycled wood, and massive double-pane windows that allow for free-flowing natural light. Chalkboards suspended from the ceiling offer employees daily inspirational mantras.
Image Credit: Office Snapshots
7) M&C Saatchi Mobile New York
M&C Saatchi Mobile's New York office may look spare compared to some of the other offices on this list, but it was designed with "brutal simplicity" in mind.
"It's not about cluttering the space with more things but keeping it simple, and that's reflected in our culture too," Eric Mugnier, the senior vice president of M&C Saatchi Mobile North America told Digiday.
The 8,000 square foot open office space includes minimal furniture, neutral colors, and exposed brick walls.
Image Credit: The New York Egotist
8) TM Advertising Dallas
This Dallas-based agency needed a fresh, flexible work environment for their growing workforce, and the architects at Gensler and HKS Architects, Inc. certainly delivered.
The bright, sprawling, 46,000 square-foot space is lit mostly by natural light, and features open, collaborative spaces conducive to employees who are always on the go. Pops of unexpected color on staircases and furniture contribute to the office's aura of "casual, creative professionalism".
Image Credit: Work Design Magazine
9) BICOM Communications Montreal
When this Canadian PR agency needed a new look for their office, they turned to Montreal-based designer Jean de Lessard.
The unique space is populated with house-shaped work pods that provide employees with a wide variety of different work environments. The houses, according to de Lessard's website, "were customized according to their specific function, and randomly positioned to break the monotony and encourage spontaneous interaction."
Image Credit: Creative Bloq
10) Zion & Zion Arizona
Zion & Zion's office creatively balances industrial elements like concrete floors and unfinished wood with playful touches, such as a chalkboard wall, florescent pink panels, and vivid, minimal decor.
"This was an amazing opportunity to collaborate with a diverse creative team to design an innovative and energetic space," said Rachel Usher, the lead designer on the project.
Image Credit: Zion & Zion
11) RPA California
RPA's Santa Monica, California office is chock full of quirky details intended to inspire their creative staff, including a hanging cloud sculpture that lights up whenever an RPA client is trending on social media.
"We're a creative agency, so we looked at the redesign of our space as an opportunity to provide inspiration -- even in often overlooked areas like hallways and meeting room walls," RPA's COO Pete Imwalle said to Adweek. "Our favorite parts are the small details that you sometimes don't even notice right away."
Image Credit: Adweek
12) CP+B London
This stunning office in the heart of London was designed to accommodate CP+B's busy creative team, with plenty of space for communal work, a mezzanine cafe, and quiet lounges complete with cozy, whimsical furniture.
The cavernous King's Cross location underwent a major redesign in 2014 by the talented workspace designers at Trifle Creative. They replaced the flooring, designed a new seating system, and refurnished the space to better suit the agency's needs.
Image Credit: Office Snapshots
13) FoxP2 Johannesburg
A departure from the bright and minimal aesthetic becoming common among agencies, FoxP2's Johannesburg office takes full advantage of the building's spatial limitations and quirks. Narrow rooms were converted into areas for library-style desks and vintage lockers for employees to store their belongings. Ceilings were left with their original piping and outfitted with exposed-bulb fixtures.
The core design inspiration behind the space was Thomas Edison's research and development laboratory.
Image Credit: Office Snapshots
14) Merkle / Periscopix London
Merkle / Periscopix wanted to create an environmentally friendly space that also impressed visitors, clients, and prospective employees. The new entryway features reclaimed timber paneling, poured concrete floors, and places for potted plants. The unfinished wood is incorporated throughout the office's many communal spaces to continue the environmental motif.
Image Credit: Office Snapshots
15) Dentsu Aegis Network Shanghai
Walking into global communications group Dentsu Aegis Network's Shanghai office is like stepping into a kaleidoscope. Every inch of the space is covered in bright, inviting color, from the boldly patterned floors to the vibrant hanging light fixtures.
To prevent the color from appearing gaudy, designers added plenty of neutral elements into the mix, including polished wood floors and walls covered in high oxygen-omitting plants.
Image Credit: Office Snapshots
What elements do you think are important in an agency office? Share with us in the comments.