Lured by the promise of greater flexibility and more interesting projects, more and more people are leaving their traditional office jobs behind for freelancing careers.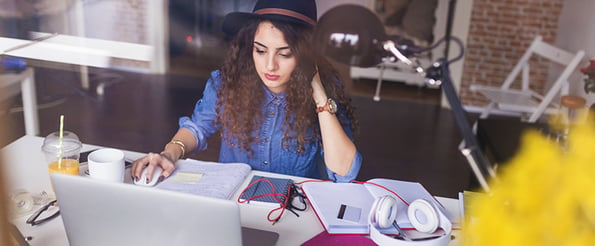 According to a 2016 study, there are currently 55 million freelancers in the US alone. That's a pretty significant 35% of the US workforce.
If you're a freelancer, you know how difficult it can be to grow your client base and increase the amount of revenue you earn. To help you out, we've compiled a list of tips to help you expand your reach and start earning more.
7 Ways Freelancers Can Start Earning More
1) Target a highly-specific niche.
One of the biggest reasons freelancers struggle with their new business efforts is because they haven't clearly defined a specialized niche. According to data released by Upwork, a global freelancing platform, the fastest-growing freelance niches in Q2 of 2016 were all defined by highly-specified skill sets. Here are a few examples of niches that proved lucrative for freelancers in 2016:
Shopify development
SEO writing
Java development
MongoDB
Notice that each of these areas is narrowed down to a particular platform or specific goal. Prospective clients aren't searching for broad terms like "developer" or "writer" -- they know exactly what they need, and they aren't wasting their time by filtering through 500 "freelance developer" profiles.
Not only does establishing a freelance niche give you an advantage in getting discovered on search platforms, it can also help you build a reputation as an expert resource in key networks. By defining a unique selling point for your services, you can tap into a community of clients with similar goals and challenges, positioning yourself as the perfect resolution to their exact pain points.
2) Don't guess your hourly rate -- calculate it.
Are you absolutely sure you aren't undercharging for your services? Determining your hourly rate can sometimes feel like a high-stakes guessing game without a definitive answer.
Ask yourself: are you paying all your bills? Do you find yourself stretched thinly between clients? Are you living the lifestyle you want to be living? If the answer to any of these questions is "No," it's probably time to reevaluate your hourly rates.
To simplify the process of determining your ideal hourly rate, we created a free tool that does the calculating for you: The Freelance Hourly Rate Calculator. Simply plug in a few inputs about your ideal lifestyle and business goals, and the calculator will give you an fitting hourly rate. It's an easy way to check if you're charging clients enough to build a sustainable and profitable freelance business.
Once you know your rate, don't wait to put together an invoice. The faster you get one out to your client, the faster you'll hear back. Use the HubSpot Invoice Template Generator to put one together in just a few minutes.
3) Jump on upsell opportunities with existing clients.
Many freelancers overlook one of the biggest potential sources of new business: their existing clients. Concerns about coming off as too pushy or sales-y can cause you to miss out on potentially lucrative opportunities to provide additional value, extend existing contracts, and deepen client relationships.
Upselling doesn't have to feel like a sleazy, aggressive sales process. Opportunities to upsell occur naturally throughout client relationships -- you just need to learn to identify them. For instance, conversations concerning future goals or big project milestones inherently lend themselves to discussing new projects.
The next time you and your client sit down to unpack a successful campaign or discuss a project's next steps, don't be shy about mentioning additional areas you can help their business succeed. Just make sure you pitch new services as ideas, not just upgrades or additional costs without context.
4) Explore additional revenue streams.
Earning a steady income as a freelancer is no easy feat. Client work can come and go unreliably, leading to alternating periods of stagnant income and burdening workloads. To help avoid the income whiplash many freelancers have come to see as just part of the job, consider building up some more stable forms of revenue that complement your freelancing business.
Author David Sherwin advises freelancers to build their own products and content as a way to simultaneously supplement their income streams and gain thought-leadership status in their respective niches -- which helps grow business in the long run as well.
Consider writing an ebook, starting a blog, participating in a speaker or webinar series, or even building your own app. Whatever your expertise, create content that helps build your audience and offers the chance to earn some additional revenue.
5) Leverage your connections and then leverage them again.
Word-of-mouth is still the most powerful driver of new clients for freelancers, according to a study published in Harvard Business Review. Among freelancers making over $100,000 a year, 84% of their new clients came from good old word-of-mouth.
Image Credit: Harvard Business Review
Traditional networking remains the overwhelmingly dominant way freelancers acquire new customers. As you can see in the Harvard Business Review chart above, other sources like talent marketplaces and social media don't even begin to compare. Building a reputation worth talking about obviously doesn't happen overnight, but all freelancers should continually look to their existing networks to mine for new prospects.
6) Connect with clients on freelance networking sites.
Even though traditional word-of-mouth earns freelancers the most new jobs, getting your name out there has to start somewhere. Today there's a wide variety of networking websites designed specifically for freelancers to connect with potential clients. Check out a few of the most popular networking sites below:
It can't hurt to set up profiles on on freelance online communities -- especially if you're just starting out. It gives potential clients another opportunity to find you and seek out your services.
If you're looking for a way to stand out on freelance networking sites, consider getting Inbound Certified. Upwork reported a 68% jump in inbound marketing job postings last year, and recommends HubSpot's Inbound Certification as a way to show potential employers that you're up to date on the most recent marketing tactics.
7) Consider joining forces with other freelancers.
While we often think of freelancing as an inherently solo endeavor, it doesn't necessarily have to be. In fact, combining forces with another freelancer (or several others) in an adjacent niche can help everyone involved reach more clients and ultimately earn more.
This doesn't mean you have to launch a startup agency. By sharing resources, referring clients to each other for projects, and even collaborating on large, more demanding projects, you can increase your capacity to take on bigger clients -- which increases your earning potential.
What's your freelance new business plan this year? Let us know in the comments below.