Around here, we're not exactly shy about our nerdiness.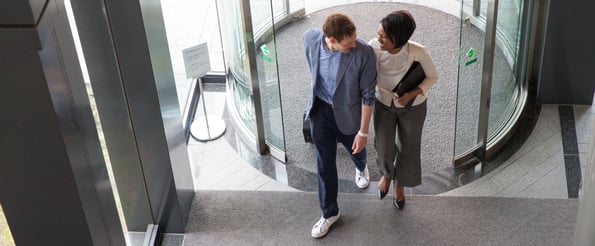 We love data. We love running experiments. And upon the release of a new report that combines the two, we gleefully geek out and immediately devour the results -- always keeping in mind what they mean for marketers.
One of the more recent instances of this phenomenon is Hinge Research Institute's 2017 Employer Brand Study. It's full of data about the latest challenges faced by B2B firms, especially those within the realm of professional services -- with particular emphasis on recruiting and retaining the best talent.
As it turns out, a lot of that comes down to branding -- specifically, branding your firm as an employer, as well as a service provider.
In this post, we'll dive into the report's findings, and what marketers need to know when it comes to building a brand as an employer.
What Is Employer Branding?
According to BusinessDictionary, a brand is the "unique design, sign, symbol, words, or a combination of these … creating an image that identifies a product and differentiates it from its competitors."
In the past, we've written about the importance of and ways to brand your business based on an audience of current and potential customers, as well as buyer personas. But when it comes to recruiting the best talent to help your organization grow, branding remains key -- but how you position your company as an employer might look different than the way you do as a service provider.
In no way does that mean you should falsify your brand for a different type of audience. It just means that you might use different (factual) information to build a value proposition as someone who's hiring, as opposed to that for your products and services.
In a nutshell, your employee brand should encompass three key pieces:
Your employer value proposition (EVP). According to Hinge, that's "an engaging appeal to prospective employees … made up of a set of characteristics, features, and values that describe what it's like to work in your organization and how it improves employees' lives." But in order to authentically communicate that, you should also include …
The voice of your current employees. From their perspective, what's it like to work for your company? How would they describe the culture? What do they love most about it?
Specialized marketing content. That can include any current content you have that establishes your firm as an authority or thought leader -- in some cases, this content might need to be repurposed for employer branding and recruiting purposes, but anything that builds your appeal as an exciting place to work is worth considering.
The Top Employer Branding Challenges for Marketers
The Methodology
In publishing the Employer Brand Study, Hinge sought to answer several questions -- for the exhaustive list, check out the full-length study here. But we wanted to dig into the two that intrigued us the most:
What challenges are professional services firms faced with today?
What is marketing's role in employer branding?
In answering these questions, Hinge surveyed a sample of 801 professionals, who fell into one of two categories:
Talent-Evaluators: employees who are directly involved in the company's recruiting and hiring efforts, who were asked to answer questions about these internal processes.
Employee-Candidates: employees who are generally removed from recruiting and hiring efforts, who answered questions about how they approach their own respective job searches.
Here's a breakdown of how each category was represented:
Source: Hinge Research Institute
And, a look at the industries represented:
Source: Hinge Research Institute
The Data
What challenges are professional services firms faced with today?
When Hinge asked respondents to identify their top professional challenges, they weren't restricted to one particular business category. And yet, have a look at how many of the top challenges fall within the realm of recruiting, developing, and retaining talent:
Source: Hinge Research Institute
In fact, over half of the respondents identified "attracting top talent/recruiting" as their biggest challenge, making it the second-highest-cited difficulty facing both talent-evaluators and employee-candidates. In fourth place, meanwhile, there was the reduction of turnover.
In other words: People operations -- as we call them here at HubSpot -- impact all areas of a business. Not only does something like turnover lead to extensive costs to employers, but it also leaves individual teams and employees in a lurch when they lose talent. In addition to their own workloads, they now have to take on the tasks of those who have left, all while trying to find fitting replacements.
Notice that "maintaining a positive public image" is also on the list. That's reflected in recruiting efforts -- according to Harvard Business Review, a company's bad reputation can cost it 10% more than a firm with a good reputation to acquire a new hire.
So how can firms manage their reputations in a way that heightens their appeal to talent? It goes beyond doing the right thing -- which, yes, is imperative -- and often involves managing their brands, too.
That's where marketers come in. After all, the subject of the study was employer branding -- and branding is a category of marketing. That could be why Hinge also posed the questions to respondents: "What is marketing's role in employer branding?" Next, we'll explore those findings.
What is marketing's role in employer branding?
Source: Hinge Research Institute
When looking at the previous two charts side-by-side, it's interesting to note the similarities between the top challenges identified by professionals, as well as those named as the biggest responsibilities of marketers within employer branding. Both questions generated answers identifying lead generation (whether in the form of a customer or talent pipeline), a positive public image (or making the firm seem attractive), and best leveraging technology (we include maintaining a website and focusing on social media here) as priorities.
But we want to dig into some of those marketing responsibilities a bit more, especially "creating content for digital marketing." We've covered a lot on the topic of content strategy, including that within the digital realm. And while creating quality, valuable content can attract an audience of business leads -- one of the main principles of inbound marketing -- it could potentially do the same for talent leads.
When I was preparing for my interviews with HubSpot, one of the first things I did was voraciously read the Marketing Blog. Of course, that's the team I was interviewing to join -- but reading that content, as well as looking further into the downloadable offers created by the team -- provided me with some insight into the company's culture, and got me thinking about the creative process. What do brainstorms look like there? How are all of these ideas for blog topics and downloadable content generated? It was very intriguing and contributed to my excitement to be part of it.
But before I read the blog, I did a general search for information on the company. I read Glassdoor reviews, perused the Culture Code, and even came across the HubSpot culture and careers blog, Move On Up. And while that first piece -- the Glassdoor reviews -- weren't technically owned by HubSpot, the company was still managing its presence there, by providing a detailed response to every reviewer. And when combined, all of that content composed a cohesive presence: the employer's brand.
See what we're getting at?
What to Do With This Information
Now, just for fun, let's have a look at the report's findings with regard to "Top Criteria Candidates Consider When Evaluating Opportunities":
Source: Hinge Research Institute
Aha! The top response from employee-candidates was, "firm culture." And while your firm might have a remarkable culture, it won't do anything to benefit your recruiting efforts if you keep it a secret. It should be part of your employer brand and communicated across the content you produce.
And if you don't already have an established culture -- or Culture Code, like we have here -- here's a great opportunity to establish one. Not only will this work toward your recruitment efforts, but it can also force you to acknowledge exactly what type of business and team you want to have, and how (or if) your actual culture presently aligns with what you'd like it to be.
These principles can guide the type of hiring decisions you make in the future, and can even influence the way you manage your current teams, ideally supporting talent retention.
That speaks to the importance of internal employer branding, too. I'm a big fan of the phrase, "Practice what you preach." While it's much easier said than done, the employer messaging you broadcast externally should truthfully reflect what actually happens inside your company. The last thing you want to do is focus all of your employer branding efforts on recruiting outside talent, only to have those new hires enter the company to witness something completely different, or high turnover -- that can position them as flight risks.
So, remember: As you build your employer brand, think about where you want your workplace culture to be -- and just how much you're currently missing the mark on those criteria. An important element of branding is honesty, with both target audiences, and with yourself.
Oh, and by the way: We're hiring.