As any marketer will tell you, there are a myriad of benefits to using data to inform your marketing decisions.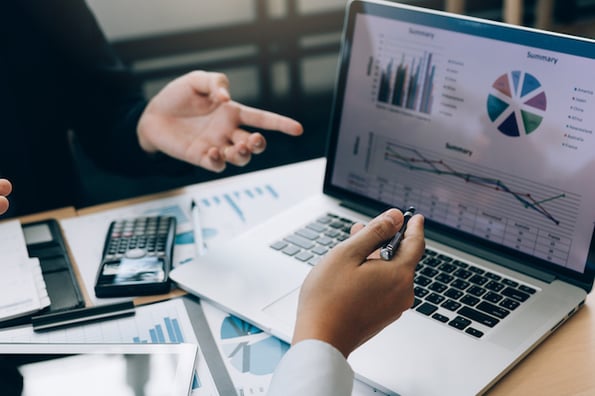 For instance, data can help marketers learn from past mistakes and pivot to create increasingly effective campaigns over time.
Additionally, data can provide marketers with insights about their audience and what matters most to both prospects and customers. It also helps marketers earn buy-in from leadership to experiment and test new, innovative strategies for increasing brand awareness and ROI.
Monday.com knows the importance of data all too well. The work OS — used by major brands including Uber, Hulu, and Coca-Cola — has seen incredible growth over the past year, reaching $100 million in revenue and surpassing 100,000 customers.
And, as Rotem Shay, Head of User Acquisition and SEO, told me: "We strongly believe in data-driven decisions for everything we do, from the day-to-day to planning future campaigns."
Keep reading to learn more from Shay about how monday.com uses data-driven marketing to guide its powerful, effective marketing strategy – and how you might use data in new, unique ways, as well.
Additionally — If you're a HubSpot customer, take a look at the new powerful integration between HubSpot and monday.com.
4 Tips on Data-Driven Marketing from monday.com
1. Get creative when it comes to the analytics tools your team uses.
Ultimately, data-driven marketing can't happen without robust analytics tools that enable you to properly measure campaign performance and create A/B tests to ensure you're providing prospects and customers with the most value.
For monday.com, that analytics tool is homemade: "Our main tool for tracking campaigns is an internal and powerful tool we built here, in-house, called BigBrain." Shay told me.
"With BigBrain, we're able to track and centralize all the data in one place so we have one source of truth. We complement BigBrain with Looker, Google analytics 360, HubSpot, and Singular to make sure we don't miss anything."
If your company is scaling quickly or demands certain functions that you aren't finding in one analytics tool, consider how you might combine a few tools or create a unique dashboard to collect the information most critical to your business.
Ultimately, choosing the right analytics tools might take some trial-and-error, but the hassle will be worth it when you find a process that works best for your team.
2. All metrics matter.
As marketers, it's easy to focus on a few key metrics and ignore the rest. For instance, HubSpot's Blog team primarily focuses on traffic and leads. While other metrics — including shares, impressions, and customer lifetime value — still matter greatly to us, it can be easy to become singular in focus to block out the "noise" of various metrics.
However, Shay refutes this kind of thinking. Instead, he suggests: "In marketing campaigns, I believe you need to measure everything and track everything you can — starting from how many impressions you get, until the end of your funnel."
Shay told me, "In order to make the right decisions, you have to see the whole picture. Sometimes people think that too many metrics or numbers make too much 'noise', but I really believe that a marketer should get all the information she can get and, after digesting all the data, clear the 'noise'."
Consider how your own marketing team might shift focus to ensure you take the time to gather valuable intel from each potential marketing metric and KPI. Ultimately, each metric contains valuable insights into how your content is reaching and converting leads.
3. Pay attention to both quantitative and qualitative metrics to inform your overall strategy.
It's critical to remember that you should use data to inform all your future marketing decisions. That includes the types of content you promote on social media, all the way up to the major quarterly campaigns you create to drive revenue for your company.
Of course, there are two different types of data — quantitative and qualitative — and you'll need to use both to create a more well-rounded picture of both your successes and setbacks.
Shay supports this, mentioning that his team at monday.com uses both types of data when making decisions: "During any brainstorm for future campaigns, we deeply analyze campaign results together with the insights we are gathering from customers' feedback and user testing. We combine both methods in order to understand and get insights that only numbers can't give us."
4. Use data to confirm or disprove hypotheses to ensure you don't waste valuable resources.
Data doesn't just tell you how previous campaigns and strategies performed — It can also tell you the potential performance of future campaigns, which can end up saving you both time and resources you might've otherwise wasted.
For instance, at monday.com, Shay's team worried that website visitors perceived monday.com as project management software, and as a result, didn't feel confident trying out other verticals. His team came to this conclusion through tracking analytics — including homepage user behavior, as well as user activity on the website as a whole.
Shay told me, "We felt that our users weren't aware that monday.com is both easy to use and robust with additional features. In order to test our hypothesis, we presented different use cases on the homepage using a motion sequence that showed users using monday.com for different verticals, and added a roulette/scroll showing additional use cases."
The results? A tie, according to Shay's team's KPIs — which told them they could continue with the original design of the homepage, rather than making any major alterations. This ultimately saved them from wasting resources re-designing their already successful homepage, and let them focus their energy elsewhere.
Ideally, these monday.com strategies can inspire you to reconsider how you might use marketing analytics in increasingly creative and unique ways. Ultimately, of course, you'll need to decide for yourself how to use data most effectively for your own needs and goals.
[Note: If you're a HubSpot customer, take a look at the new powerful integration between HubSpot and monday.com.]