A few years ago, I was on the myVEGAS app playing the slot machines. This is one of my favorite apps because I can play a game for free and redeem rewards like free hotel rooms and free buffets in one of my favorite places — Las Vegas.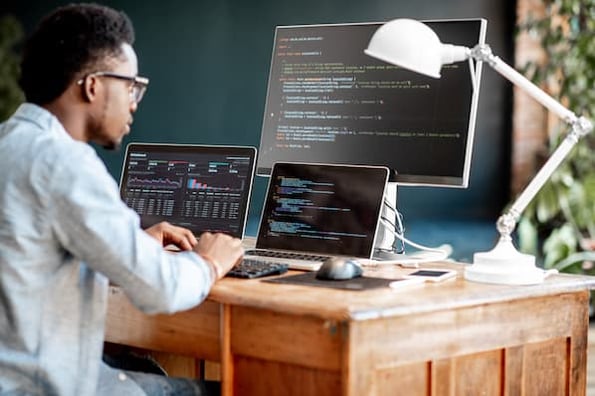 As I was getting some free spins, I thought to myself, "I wonder how this app was made … "
Now, as a marketer, I understand how much work must've went into the making of myVegas.
To make an app, a company needs to come up with a concept, conduct market research, design the wireframe and graphics, and strategize the launch.
All of this is usually done with a team of people, but the app developer is one of the most important players.
In fact, in 2018, Tim Cook announced that there were 20 million registered iOS developers catering to the 500 million weekly visitors to the App Store alone. Additionally, there are about 2.6 million Android and 2.2 million iOS apps.
Suffice it to say, the app developer is an important role. That's why it's critical to hire dedicated developers for your app.
Let's review how, where, and when to find an app developer for your business.
How to Find an App Developer
Finding an app developer can seem like a daunting process. We know that there are a lot of developers out there, but that doesn't mean they are all quality ones who will understand your business or needs.
Before you can begin looking at app developers, it's important to ask yourself this question: "Do I want to hire an in-house team or a freelancer?"
To answer this, consider your business needs. For example, are you at an established company that wants to automate your process? An in-house team might work well for you. On the other hand, if you work at a startup, an expert specialist who can get in and get out quickly and cheaply might be the way to go.
Additionally, if you anticipate building more than one app, an in-house team would work well. However, if you're just creating one app, a freelancer would work.
An in-house team will usually consist of a group of developers who have a deep understanding of your company, culture, and product or service. However, this team will be costly because you have to consider salary, benefits, and equipment. Additionally, you'll need to have set systems and processes to ensure productive, quality work.
Alternatively, a freelancer or an app agency, consists of expert specialists who can work quickly. Plus, it's often cheaper because you're only paying for the project, and not each person's salary and equipment. The only downside is that you'll have to manage the communication and most likely project management as well.
No matter which route you decide to go, it's important to find the right person or team. That's why we've created a list of tips to help you find an app developer.
1. Do some research.
Before you can hire an app developer, it's important to understand the basics of their job. What programming languages are used? What are the average rates? Having an understanding of the profession gives you the context you need to have productive meetings and interviews.
2. Look at experience.
Just like you wouldn't want a pilot who hasn't flown a day in their life, you probably don't want an app developer who hasn't ever developed an app. Be sure to ask about their experience and look at the work they've done.
3. Focus on communication.
Your app won't get created well if there isn't crystal clear communication. That's why rapport is important to focus on in the first meetings. In addition to qualifications and experience, see how you and potential app developers get along and understand each other.
4. Be clear about your business needs.
When you're meeting with app developers, make sure you're clear about the app concept and your target market. The clearer you are about your business's needs and goals, the easier it'll be to create an app.
5. Use set criteria to judge each developer.
It's important to have a list of criteria you're using to judge each developer or agency you talk to. That way you can have productive meetings and get your questions answered.
Consider criteria such as:
Reviews and references
Experience
Speciality
Programming tools
Development process
Legal process/contracts
Project management
Communication
These are all important areas to discuss in your first meetings. Additionally, you might consider writing down a few questions about these topics.
A few questions you could ask are:
Do you have reviews and references of past and current customers I could read and/or reach out to?
How much experience do you have? Can I see samples of your work?
What type of apps have you worked on in the past?
What programming tools do you use to create an app?
What is the development process like for you?
Would you be willing to sign an NDA and contract?
How do you handle project management?
How will we communicate during the development process?
What are your fees?
Where to Find an App Developer
Now that you've started thinking about finding an app developer and what that process looks like, you might be wondering, "Where will I find this person or team?"
In actuality, it's a pretty simple process.
You can begin your search for an app developer or agency in a few places:
1. Freelance websites.
If you're going the freelance route, looking at top freelance sites like Toptal and Hired is the way to go. Sites like these will have the best candidates because they're fully vetted. In fact, Toptal only accepts 3% of applicants. Additionally, these sites have clear rates, so you can see how much a freelancer will cost from the get-go.
2. Tech blogs.
Blogs like Wired, The Verge, and TechCrunch are a great resource when you're looking for an app developer. They'll typically have articles about app development and the whole process, so you go into the process educated.
3. Creative communities.
There are communities online where designers and developers will upload portfolios and samples of their work, like Dribbble or Behance. If you find someone you like, you can reach out and get to know them more.
4. B2B directories.
If you're going to hire an agency, consider looking at B2B directories where companies have information, reviews, and ratings listed. Sites like Clutch.co, B2B Marketing, and Relevance are all good options.
5. Colleges.
Sometimes it's easy to forget that colleges have a lot of top talent. Reach out to professors in the computer science department to see if they know of any student developers.
6. Your network.
Another place that's easy to forget about is your own network. Ask around. See if anyone you know can think of an app developer they're in contact with.
7. Google.
Lastly, the holy grail. The only issue with Google is that you have to be careful and thoroughly vet people or companies you find on here.
To recap, we've gone over tips on finding an app developer and where to begin your search. Now the only question is when do you start this process?
When to Find an App Developer
Once you have a concept and you've done your research, you can begin looking for an app developer.
For instance, at this point, you've usually identified a problem your target market has and come up with an app concept that will be a solution to that problem. Then, you might've outlined some ideas for the app and even put together rough wireframes of what you want the app to look like.
When you get to this point, it's probably time to find a developer to work with.
Finding an app developer is a big task. But as long as you thoroughly vet your candidates and are organized with your search, then the process should be fairly straightforward.