Simply put, marketers comprise an impressively busy population. With a perpetually incomplete to do list, an eternal quest for work-life balance, and ongoing efforts to keep up with the latest creative trends, where the heck are we supposed to find time to do something like, say, read a book?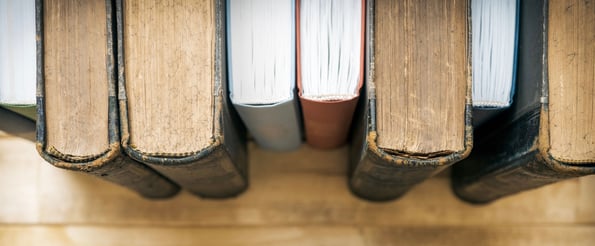 But something that might seem recreational on the surface could actually be vital to your career development. Maybe that's why, despite the perpetual time crunch, 73% of us have still made time to read an actual book in the past year.
Even better, there's a veritable plethora of books available on marketing, specifically, and some of them can be quite influential. The question is: When you're already short on time, how do you pick out the best ones? Well, you're in luck -- here at HubSpot, we've got an entire team of marketers to make recommendations.
To answer that question, I surveyed my colleagues for their favorite marketing books, and selected the five most influential ones to read this quarter. So go ahead -- sit back, relax, and learn something.
9 Marketing Books to Read This Quarter
1) Contagious: Why Things Catch On, by Jonah Berger
Source: Jonah Berger
Chelsea Hunersen, Social Media Marketing Manager:
I tell everyone I work with to read this book. It's all about the spread of ideas, which I think applies to many areas of business. Working in social marketing, my goal is to get people to share our content, so Contagious has a large number of practical applications in helping understand social behavior."
Read This Book If You:
Want to boost the virality of your content.
Are curious to learn more about word-of-mouth marketing.
Would like to see marketing examples from SMBs that have gone viral.
2) Everybody Writes: Your Go-To Guide to Creating Ridiculously Good Content, by Ann Handley
Source: Tom Writes A Book
Sophia Bernazzani, Staff Writer, HubSpot Marketing Blog:
Handley's book provides helpful and super-actionable tips for writing great content, and she practices what she preaches. Each tip is clear, concise, and memorable."
Read This Book If You:
3) Different : Escaping the Competitive Herd, by Youngme Moon
Source: Amazon
Janessa Lantz, Principal Content Marketing Strategist, ThinkGrowth.org:
Differentiation is the most important and least talked about marketing principle. Marketers obsess over how good we are compared to our competition, we obsess about how to 'keep up.' But according to YoungMe Moon, the magic is in being recognizably and remarkably different. And she has the case studies to show you how to do it."
Read This Book If You:
Are a marketer who isn't that into business books -- this one is more conversational.
Want to achieve continuous uniqueness -- both personally and in your work -- to sustainably stand out in a competitive market.
Would like to learn how to leverage the criticism you've received to improve your marketing.
4) Hooked: How to Build Habit-Forming Products, by Nir Eyal
Source: ABDUZEEDO
Eric Peters, Growth at HubSpot Academy:
Hooked changes the way you think about user experience, and what it means to create viral content. Eyal makes complex theories and observations easily understandable, and gives you insights that you'll want to put to work immediately."
Read This Book If You:
Want to learn how to apply the principles of viral and word-of-mouth to your product marketing.
Are looking to step up your UX efforts and knowledge.
Are curious to learn more about the psychology of consumer behavior.
5) Trust Me, I'm Lying: Confessions of a Media Manipulator, by Ryan Holiday
Source: 250 words
Alain Buffing, Inbound Marketing Specialist:
I picked up Trust Me, I'm Lying, because I particularly enjoyed Ryan Holiday's last book, The Obstacle Is the Way, which draws its inspiration from stoicism. Holiday did PR for American Apparel, Tim Ferris and Tucker Max, who have all been notoriously in the press within the last decade, so I thought this book would be an interesting read. Holiday gives us an inside view of the blogosphere system from a PR point-of-view, and uses his own experience as a media manipulator to explain exactly how the media really works. The book is an easy read and a good guide."
Read This Book If You:
Want to improve your general PR knowledge and skills.
Made a somewhat public mistake, and want to know how to fix it -- but can't afford professional help.
Need to learn how to navigate the online media landscape (versus the traditional one).
6) Learn SEO: An On-Page SEO Tutorial, by Patrick Coombe
Source: Books Pics
Jeffrey Vocell, Principal Product Marketing Manager:
For any marketer, consultant, or agency that is looking to learn SEO for the first-time, or just get an update on all the factors that are important to SEO today, this book is a great read. It's broken up into bite-sized chunks that allow you to easily read through a chapter, and then go practice what you learned. I would recommend it for any marketer in 2017, especially as differentiating yourself and content becomes the key to attracting organic traffic."
Read This Book If You:
Have limited knowledge of SEO, but aren't sure how to start learning.
Don't have time to learn a lot at once, and need to master SEO in phases.
Are looking for efficient ways to keep up with algorithms and other frequent SEO updates.
7) Shoe Dog: A Memoir by the Creator of Nike, by Phil Knight
Source: Amazon
Isaac Moche, Education Partner Program Professor:
Shoe Dog is a must-read for any aspiring entrepreneur or business leader. Phil Knight isn't selling anything -- his weaknesses and mistakes are given equal weight to his victories. That's a rare thing in any autobiography, and rarer still in a business book. For example, Nike famously called their executive retreats 'buttface sessions.' How's that for intellectual humility in the face of success? Ultimately, it's a story of staying true to what you feel is important, told through Knight's rotating lens as an athlete, husband, parent, boss, and entrepreneur."
Read This Book If You:
Love marketing and sports -- and have always been curious where the two intersect.
Learn better from stories, rather than how-to or academic guides.
Want to know how to leverage cultural phenomena to build and complement your brand.
8) Creativity, Inc., by Ed Catmull and Amy Wallace
Source: Pixar Times
Jonathan Chesney, Product Manager, HubSpot Mobile Team:
Creativity, Inc. is one of those books that makes you want to do, or be, something brilliant. Throughout his career, Ed Catmull had the confidence to empower his teammates to create the best environment, so they could produce great work together. It challenged me to always be looking for creative ways to make better products."
Read This Book If You:
Absolutely love the Toy Story movies, and are curious to know what the heck they have to do with marketing.
Are struggling to convince your colleagues or boss to promote a culture of creativity.
Want to find new ways to for your team to produce unique, original work -- and how that starts with the people who comprise it.
9) No One Understands You And What To Do About It, by Heidi Grant Halvorson
Source: Amazon
Lock Whitney, Team Lead, HubSpot Customer Success Team:
This book really emphasized the high bar we must clear in order to communicate with others, and make our intentions truly known to them. Because there are so many ways for our ideas to become lost in translation, good communication requires a consistent effort to express things clearly, explicitly, and regularly. A good read for both work and personal relationships, for situations where you're simply trying to get your point across."
Read This Book If You:
Manage or are part of a team with low morale -- better communication can fix it, with the three pillars identified by the author (trust, power, and ego).
Are concerned that project execution and quality are suffering because of flawed communication.
Have trouble tactfully expressing what you really think or how you really feel.
Hit the Books
There are many other great books you should check out depending on your specific goals (like this epic guide to selling on Amazon if you're an ecommerce marketer). But these nine listed here will give you a broad based of inspiration and knowledge to start the year.
Of course, depending on the voracity of your reading habits, we wouldn't expect you to get through all nine of these books in one quarter. But even picking up one, it seems, can shift your outlook on marketing, business, and perhaps even life. So go ahead -- turn the page, and let us know what you learn.
What are your must-read marketing books? Let us know in the comments.