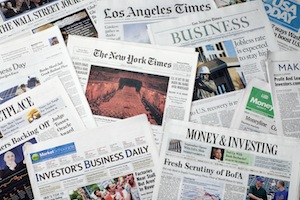 Yesterday, being on Pinterest paid off in a big way for one small fashion startup. By cultivating a robust Pinterest presence and then being on top of the site's latest functionality, Wantering hit the jackpot: prime coverage in Mashable. And I'm not just talking a courtesy link that most major media publications include on any data report or infographic they feature.
In an article about Pinterest's latest test with GIFs, the author mentions the company's name (with a link to their website), a screenshot of Wantering's Pinterest board, and a link to their board.
When I saw those things in the Mashable article, I pretty much forgot all about the reason I read the post in the first place (Pinterest GIFs). I was impressed with the company.
An overt company mention? Screenshots of your company's content? A direct link to your company's content? Oh, and you happen to be an early-stage startup? This is a win even the most seasoned PR or marketing professional would be ecstatic for.
And the best part of it all was Wantering hardly had to lift a finger to get the coverage.
Sound too good to be true? Let me explain.
How Wantering's Pinterest Board Got Mashable's Attention
If you're doing inbound marketing, you're investing in a ton of owned media -- blogs, landing pages, whitepapers, ebooks, tweets, Facebook posts, and Pinterest boards, etc. Instead of relying on cold email pitch after cold email pitch to secure earned coverage, you're focused on investing in the channels you can, for the most part, control. And if you're doing it right, you're going to catch the attention of others, and the earned media will follow.
This is what happened (roughly) with Wantering. They built up their Pinterest presence because their audience was already hanging out there, and they could provide a ton of unique content on the platform. While they were going about their regular pinning activities, they noticed something funny: Their boards suddenly supported GIFs. This is a brand-new (and often-requested) feature that apparently no one had noticed.
The story was born.
To capitalize on this new feature and maybe get some press coverage out of it, Wantering stacked their Pinterest board with GIFs and then gave Mashable a heads up. A short time later, Mashable had a story up -- and because the feature was so exclusive and rare, included a screenshot and link to Wantering's Pinterest board.
Success!
Seeing that final piece of earned media makes you think that success really does happen overnight, but it really wouldn't have happened if they didn't invest -- heavily -- in making their owned media work. If they hadn't been on Pinterest, there would be no story. They'd simply be another fashion startup in a sea of fashion startups hoping to get noticed by the media.
Instead, they were not only putting time and money into owned media and reaping those benefits -- but also setting themselves up for earned media success. And by staying on top of those owned media trends, they were able to catch this story before one of the biggest tech publications did.
The moral of the story here is that no media type lives in a vacuum. The efforts you dedicate to your owned media strategy can pay off in your earned and paid -- and all of those can help you build an audience and grow business.
Think about how you can make your inbound marketing efforts work even harder for you, and who knows? You may end up on Mashable. ;)
How has your company gotten press coverage in creative ways? Share your stories with us in the comments.
Originally published January 22 2014, updated July 28 2017