Vanessa Carlton said it best: Your company is making its way downtown, faces pass, and you're "success" bound. See what I did there? Anywho, your company is on its way. But how do you communicate that with your stakeholders and the public?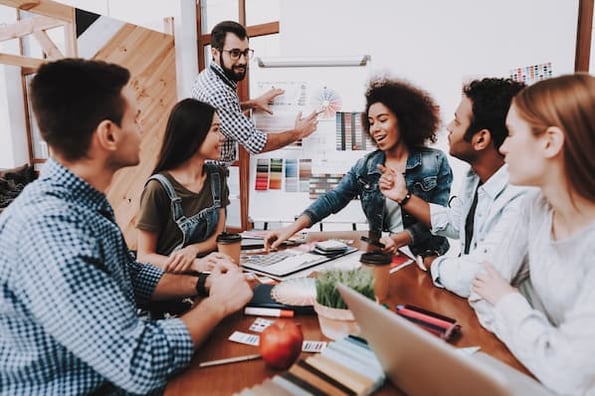 Between blog writing, drafting ad copy, and setting up an email workflow, it's hard to make time for brand awareness and media management. That's where a public relations (PR) agency can help.
According to the Public Relations Society of America (PRSA), "Public relations is a strategic communication process that builds mutually beneficial relationships between organizations and their publics." In today's world, PR and marketing overlap and intertwine, making it necessary to work together.
You might have questions about how your marketing team and a PR agency can work together like, "What will a PR firm do?" or "What services does a PR agency provide?"
Below, you'll learn everything you need to know about hiring a PR agency. And if you're in a pinch, jump to the information you need:
What does a PR firm do?
A PR firm will handle the reputation of your company through owned, earned, and paid communications. Typically, public relations firms handle messaging to the press. The main goals of a PR firm are brand awareness and reputation management.
While the duties of public relations and marketing can overlap, the two serve different functions. Allie Decker, a writer on HubSpot's pillar page team, wrote about public relations and marketing in this blog. She says, "The main goal of PR is to boost the reputation of your brand. On the other hand, the main goal of marketing is to drive sales."
PR and marketing can work together by aligning their goals. For instance, people may become aware of your brand through PR tactics such as organic social media presence, and then convert into sales from your marketing tactics such as Facebook ads. With PR and marketing collaborating on strategic messaging, you'll build your reputation and drive more sales.
Public Relations Services
Reputation management
Crisis management
Media relations
Social media
Speech writing
Press releases
Event planning
Outreach
Market research
Media training
Internal copywriting
1. Reputation management
Reputation management is one of the main services that public relations firms offer. Tactics might include email newsletters, messaging on website copy or blog content, social media management, responding to reviews, and engaging with followers.
For instance, Taco Bell uses social media to build its reputation. In the example below, Taco Bell responds to a customer on Twitter with an authentic, engaging tweet making the brand relatable and boosting its reputation.
2. Crisis management
According to data from PwC, 69% leaders have experienced at least one corporate crisis in the last five years — with the average number of crises experienced being three. Your company will most likely face at least one crisis during your tenure. That's why you might have a PR firm come up with a crisis communication plan so you're prepared when the time comes.
For example, Susan G. Komen for the Cure, a leading breast cancer charity, faced the consequences of lacking a crisis communication plan in 2012. They stopped funding Planned Parenthood's breast cancer screenings after seven years of funding. When Planned Parenthood made the announcement, the story went viral on social media with attacks coming from all sides. Komen waited a while to respond, put up a video failing to take responsibility, and then reversed the decision.
According to PRSA, there are many lessons to learn from Komen's mistakes, including "Don't position yourself as a victim. It won't work."
3. Media relations
One way to build your reputation and get your name out there is through the media. PR firms can handle the relationship between the media and your company. Tactics include writing pitches to journalists and influencers to attain mentions in industry news and get more media coverage.
For example, if you own a sustainable beauty company, a PR firm might pitch you to the Organic Bunny blog for an interview about sustainable beauty products.
4. Social media
Social media is a large factor in reputation management and one of the main ways to communicate with your audience, so maintaining your social media accounts can become a public relations tactic. Since you own your social media accounts they're an easy way to build your brand. Plus, your social media strategy might involve engaging with influencers in your niche.
In the example below, Poo-Pourri uses its own social media account to boost its reputation and spread the word about an earned media opportunity. Also, note how the founder is active in the community, attains media coverage, and builds her company's brand.
5. Speech writing
Speech writing is a useful public relations tactic that you might use if your company holds press conferences and events or your employees speak at industry events. Any speeches given on behalf of your company should represent your brand as a whole. If anyone in your company has to give a speech, you might consider hiring a PR agency to handle the strategic messaging.
In the example below, Tim Cook, Apple's CEO, and other members of his team, give several speeches about new products and updates during Apple's annual innovation event. Apple may or may not have worked with a public relations firm, but this is a great example of an event where you might talk to a PR firm about the strategic and brand messaging.
6. Press releases
Your company might have to write a press release to announce new products, launches, campaigns, or movements. This tactic goes hand-in-hand with media relations. For example, if you work at a shoe company and want to start a movement on Twitter to #walkmore, a PR firm can write a press release to announce the campaign and hopefully attain media coverage.
7. Event planning
Event planning can be a marketing and public relations tactic to promote your brand, product, or service. If your company puts on an event for the purpose of boosting your brand reputation, you might consider working with a PR agency. A PR agency can help communicate with your stakeholders and publics, attain media coverage, and plan your event.
For example, INBOUND, an annual experience event for those in the marketing industry, is an event that is used to elevate the INBOUND brand. At this type of event, INBOUND provides value to the public, while also boosting its brand reputation. While this event is planned internally by INBOUND, it's a good example of the type of event that a PR agency could help plan.
8. Outreach
Do you want to ensure your company is active in your niche's community, including trade shows and events? A PR agency can help with that. Public relations firms use outreach as a tactic to boost brand reputation and increase brand awareness. For example, if you work at a fish store, your public relations firm might reach out to the Global Pet Expo to attain a booth at the event. Then, they might promote your involvement through social media, a press release, and media interviews.
9. Market research
The most important element to communicating and building relationships with your publics is to understand them. That's why a PR firm would likely use market research as a tactic. They might use surveys, feedback forms, or focus groups to learn about your target audience. For example, if you own a protein company, a PR firm might send out surveys to see who buys your protein, what kind of flavors they want, and what they value in a protein company.
10. Media training
Many companies and brands in the public eye undergo media training. Media training is a tactic public relations firms use in order to produce consistent, strategic messaging for the brands they work with. If your company or brand will have several employees speaking in public, everyone should be on the same page in regards to messaging. If there is only one person who will be the face of your brand, it's important to anticipate common reporter questions and have canned answers prepared.
In the example below, the Kardashians attend media training to practice answers to the most controversial questions reporters ask them. As a brand, the Kardashians have a lot of moving parts, and the family had never discussed or practiced the messaging they'd use when talking to the media.
11. Internal copywriting
Writing internal copy is a public relations tactic PR agencies use to communicate with employees. Your employees are a stakeholder and public of your company, so a PR firm could manage that relationship. You might need to communicate with your employees to discuss major changes, build morale, or celebrate successes.
Our tip from HubSpot is to have a main communication channel where communication is stored and disseminated. For example, HubSpot has an internal Wiki (see screenshot below), where our employees, who span seven countries, can communicate.
Image Source
Types of Public Relations Firms
General strategic communication
Press communication
Crisis management
Internal communication
Community management
Nonprofit public relations
Public affairs public relations
The different types of PR firms vary depending on the services they offer and the publics they serve. There are general and specialized PR agencies.
1. General strategic communication
A general public relations firm will handle all aspects of your PR strategy. They will be responsible for building your reputation and brand awareness through many of the tactics described above, including social media, media relations, internal communication, and more. A general communication PR firm is a good fit for you if you need help with several public relations tactics.
2. Press communication
A PR agency that specializes in press communication will focus on media outreach, pitch writing, attaining media coverage, and getting interviews with journalists or influencers. If you only need to work with a PR agency in order to improve your media coverage, a specialized firm, like a press distribution service, might be an option to consider.
3. Crisis management
A crisis management PR agency can strategize and implement a crisis communication plan. Typically these firms are used on a temporary basis, to either draft or implement a plan when your company experiences a crisis.
4. Internal communication
Internal communication PR firms specialize in disseminating information to your employees. Whether it be through a monthly newsletter or an internal hub, they will facilitate employee communication.
5. Community management
A community management PR firm focuses on managing customer relations. They will handle the communication between you and your community in places like Facebook Groups and social media.
6. Nonprofit public relations
A nonprofit PR firm specializes in working with specific organizations rather than focusing on certain tactics. Nonprofits will typically have different rules and regulations when it comes to communicating with its publics, which is why many firms specialize in nonprofit. A nonprofit PR firm will work with organizations in industries such as health, medical, or charity.
7. Public affairs public relations
Similar to a nonprofit firm, a public affairs PR firm specializes in working specifically with government officials as a communication tool. For example, if your company wants to endorse a political candidate or a government official wants to be a spokesperson for your company, a public affairs PR firm can manage that relationship.
How to Hire a PR Firm/Agency
Set your objectives
Create a budget
Research PR firms
Write a list of questions to ask
Have meetings
Set expectations
Onboard your PR firm
1. Set your objectives
Now that you've decided to hire a PR agency, your next question might be something like, "How do I even start?"
To begin, start thinking about your goals. Answer questions like "What do I want to accomplish by working with a PR agency?" and "How can a PR agency help my company?" When you begin working with a PR firm, you'll most likely draft SMART goals. SMART goals are specific, measurable, attainable, relevant, and time-bound.
Once you have an idea of your goals, our next tip is to think about what type of PR firm can help you meet those objectives (see types of PR firms above). For example, if your company has experienced a social media crisis like Komen (described above) you might want to work with a crisis management firm. On the other hand, if you work at a nonprofit charity foundation like the Red Cross, you might work with a nonprofit public relations agency.
2. Create a budget
Before you begin researching which PR agency you want to work with, create a budget. Consider how much you're willing to spend on public relations efforts. You should be able to answer questions like "Will this come out of our marketing budget?" or "What percent of our budget can we contribute to PR?"
Megan Conley, a video editor/animator at HubSpot, writes about creating a budget in this blog. To create a budget, she says:
Align your goals with your budget
Consider hidden costs
Remember your priorities (think of those SMART goals)
To get better at prioritizing your PR line items, download the PR Budget Template (included in the 8 Budget Templates to Manage Your Marketing Spend).
You can also check out the average 2021 rates for a PR agency below.
3. Research PR firms
With your goals and budget in hand, begin researching the right kind of PR agency you've decided to work with. Gather information on their reputation, reviews, cost, social media presence, testimonials, clients, etc.
Aja Frost, a senior SEO strategist and former writer for the Sales blog at HubSpot, writes about creative prospect research strategies in this blog. These same strategies can be applied to researching a PR agency.
Frost suggests:
Look at their company's job page: This will give you an idea of their current objectives and what tactics they're focusing on. For example, are they developing a social media team or looking to hire an expert in crisis management?
Look for strategic announcements: By researching for announcements, you can learn about initiatives, successes, new strategies, and their own brand reputation. It's important to consider how they handle their own PR.
Read the shareholder letter: This gives you an idea of their financial strength, unique value proposition, and accomplishments. You want to find a reputable PR agency to work with.
Go on Glassdoor: Glassdoor is a great place to learn about employee reviews, company culture, and goals. This will give a good idea of their reputation.
4. Write a list of questions to ask
After thoroughly researching different PR agencies, create a shortlist to contact. Before you contact an agency, write down a list of questions to ask.
You'll want to learn about:
Price
Experience/expertise
Previous clients
Prior successes
Reviews/testimonials
See examples of questions to ask a PR agency below.
5. Have meetings
Armed with your questions, your next step is to have meetings with different PR agencies. Go through your list of questions and gather the information you need to make a decision. For these meetings, our tip is to pay attention to who you have chemistry with. It's always easier to work with people who are adaptable and can have an intelligent conversation about your strategies. After your meetings, compare the proposals you receive, from price to strategy.
6. Set expectations
Once you've decided which PR firm you want to work with, ensure you've made your objectives and goals clear. Set up a clear line of communication, while also defining your expectations. Talk with your PR agency about your SMART goals and identify how you'll measure success.
7. Onboard your PR firm
The final step to hiring a PR agency is to go through the onboarding process with them. Figure out who your main point of contact is and discuss your communication goals. Ask questions like, "How often will we touch base?" or "How will we track the results of our work together?"
Questions to Ask a PR Firm, Agency, or Rep
1. "Do you specialize in a certain industry?"
There are different types of PR firms (see examples above) that you might work with. Before you hire a PR agency, find out if they specialize in a certain industry or have only worked with certain kinds of businesses. This will give you an idea of how and if they can help your company.
2. "How will you get us media coverage?"
It's important to find out what tactics the agency uses to gain media coverage. In addition, see if they mention their media list when they answer this question. Most PR agencies have a media list and have built relationships with people in the industry. Also, see if they have any new strategies or tactics that you haven't heard of before, such as influencer marketing or guerilla marketing.
3. "How do you measure success?"
An important quality of any marketing or public relations agency is to be able to track ROI. Every agency should have a system in place for tracking results and analytics for their campaigns. Also, see what success looks like for them. Ask questions like "How have you tracked success for previous clients?"
4. "How do you plan to work with our marketing team?"
When you hire a PR agency, you should consider how they will work with your marketing team. The two go hand-in-hand, especially because some tactics might overlap. Ask questions like "How do you account for our marketing team when you plan a campaign?" or "How do you communicate what your agency is responsible for versus our marketing team?
5. "What do the first few months look like?"
Figure out how they plan to get started. Do they focus on market research in the first few months? How long would that take? It's important to figure out how they get started with their clients and what their strategy would look like for your company.
6. "What's your pricing structure?"
Of course, budget is one of the main points you want to inquire about. Learn about their pricing structure. Ask questions like "Do you price per project, per hour, or a retainer fee?" and "How often do you charge?" Affording your PR agency is the main priority.
7. "Can I see work you've done for businesses in my industry?"
Again, you want to see that they've had success with other businesses or brands in your industry. This tells you that they might have a media list they can contact right away. It also lets you know they can be successful for you, because they've done it before.
8. "Can I contact past clients?"
Once you know that a PR agency has seen success with other brands, ask for references. Ask previous clients questions like "Was [PR agency] enjoyable to work with?" and "How did they measure success for you?"
9. "Do your employees have experience working in marketing and sales as well?"
This is an important question to ask because your PR agency should understand how marketing, sales, and PR all work together to drive sales. If its employees have experience in marketing and sales, they will understand the context of how PR fits in your strategy.
10. "Who would I be working with?"
Ask about their systems. The PR agency you work with should have a communication plan in place. Figure out what their team structure is like. Will you have one point of contact, like an account manager? Or will you work with several people on the team depending on the project?
11. "How can your company grow with us?"
As your company grows, you want to have a PR agency that can understand your needs from startup to scale up. Ask if they've worked with brands of all sizes and see if they've worked with anyone from the startup to enterprise.
Now that you know the right questions to ask, here's some of the best PR agencies your business can leverage.
Best PR Agencies
OtterPR
Channel V Media
BLASTmedia
Propllr
Firecracker PR
NinjaPromo
The Silver Telegram
5W Public Relations
Ogilvy Public Relations
Idea Grove
Walker Sands
6 Degrees PR
BIGfish Communications
PressFriendly
SmartBug Media
Otter PR is a leading public relations agency with a reputation for excellence in the business, technology, and healthcare sectors. The agency has been recognized for its innovative, result-driven approach, and has helped numerous businesses establish their brand and reputation in competitive markets — especially with emerging technology companies.
The agency has worked with various companies, from fintech disruptors to biotech innovators, and has helps them successfully communicate their value propositions to investors and customers alike.
Some of Otter PR's biggest clients include notable names such as Splunk, Upgrade, ShareThis, and Rescale. With a roster of high-growth companies, Otter PR has proven its ability to deliver effective PR strategies that help businesses capitalize on growth opportunities and meet their objectives.
Services Offered:
Media Relations
Reputation Management
Crisis Management
Media Training
Channel V Media is a dynamic New York PR agency known for innovation and creativity. With a team of experienced PR professionals, the agency has helped clients achieve their marketing and communications objectives through a variety of services including media relations, event planning, and digital marketing.
One of the key strengths of Channel V Media is its experience in lifestyle and entertainment PR. This agency has expertise in working with celebrities, influencers, and entertainment properties makes them a great choice for businesses in the entertainment, fashion, beauty, and hospitality industries. They have helped clients secure valuable coverage in top-tier publications and media outlets, generating buzz and increasing their visibility in the market.
Some of the agency's biggest clients include MTV, VH1, MySpace, and WWE. They have also worked with major brands such as Puma, Mini Cooper, and Target. With a focus on creativity and a track record of success in the lifestyle and entertainment sectors, Channel V Media is an excellent choice for businesses looking to stand out and capture attention in competitive markets.
Services Offered:
Public Relations
Retail Technology PR
Food and Beverage PR
Climate Tech PR
Fintech PR
B2B PR
BLASTmedia is a top-notch PR agency that has a proven track record of delivering exceptional results for B2B SaaS and technology companies. With over 15 years of experience, the agency has established a reputation for excellence.
One of the key strengths of BLASTmedia is their deep understanding of the B2B technology space. They have developed a wealth of experience working with emerging startups, as well as well-established brands, delivering effective PR strategies that help clients achieve their goals.
Some of the agency's most notable clients include names like RingCentral and Trello. With a focus on B2B SaaS and technology clients, and a history of success with some of the biggest names in the industry, BLASTmedia is an outstanding choice for businesses looking to effectively communicate their value proposition, establish thought leadership, and achieve results in highly competitive markets.
Services Offered:
Media Relations
Thought Leadership
Content Creation
Measurement
Propllr specializes in startups and innovation-driven companies. With a team of experienced PR professionals, the agency has developed a unique approach to helping businesses build brand awareness, establish their thought leadership, and grow their customer base.
One of the key strengths of Propllr is its focus on startup and technology clients. They have worked with a variety of emerging companies across industries including fintech, healthcare, and enterprise software. They have helped startups raise venture capital, launch new products, and scale their businesses. It's especially beneficial to companies looking for highly customized, tailored PR campaigns to help them stand out in crowded markets.
With a focus on startups and innovation-driven firms, and a proven history of success, Propllr is an excellent choice for businesses looking to establish themselves as market leaders and drive growth.
Services Offered:
B2B Teach and Startup PR
Content Marketing
Firecracker PR has built a reputation for delivering exceptional results for technology, consumer product, and lifestyle brands. The agency has focused on storytelling and creativity and helped numerous businesses build brand recognition and awareness.
This agency specializes in crafting compelling stories that resonate with target audiences, and are highly skilled at securing media coverage in top-tier publications.
Some of Firecracker PR's most notable clients include names like Adobe, AT&T, and Google. They have also worked with emerging companies such as Zest AI, Trade Coffee, and Bump Boxes. With a focus on storytelling and creativity, and a proven track record of success, Firecracker PR is an excellent choice for businesses looking to establish their brand, and build their reputation in highly competitive markets.
Services Offered:
Public Relations
Content Marketing
Social Media
SEO Marketing
Ninjapromo.io is a full service digital marketing company that offers stellar PR services. Its focus on data-driven strategies and measurable results makes it a great choice for businesses looking to amplify brand awareness and strengthen company reputation.
One of the key strengths of Ninjapromo.io is their experience in e-commerce and consumer goods. They have helped numerous businesses develop and execute successful digital marketing campaigns, driving website traffic, increasing conversion rates, and growing their customer base. NinjaPromo has also aided businesses names like Philips, Clarks, and Johnson & Johnson.
Services Offered:
PR
Marketing
Branding
Video Production
App Development
The Silver Telegram has a focus on high-level strategy and personalized service, the agency has helped numerous businesses build and maintain their reputations in highly competitive markets.
Some of the agency's biggest clients include names like Deloitte, Nike, and MGM Resorts International. With a focus on strategic communications and reputation management, and a proven track record of success, The Silver Telegram is a great choice for businesses looking to protect and enhance their reputations, especially those in highly regulated industries such as healthcare, finance, and gaming.
Service Offered:
Competitive Analysis + Brand Audit
Custom Communication Strategy
Paid Media Relations
Brand Messaging
5W Public Relations is a full-service PR agency that has a broad range of expertise in various industries. Its reputation is known to be particularly skilled in crisis management and reputation management, which makes it an excellent choice for businesses that operate in highly regulated industries or may face challenges regarding their reputations.
With a focus on strategy, industry expertise, and a portfolio of successful campaigns, 5W Public Relations is an excellent choice for businesses that want a comprehensive PR solution that delivers consistent results.
Services Offered:
Integrated Campaigns
Crisis PR
Media Relations
Strategic Messaging
Issue Advocacy
Traditional and Earned Media
Ogilvy is one of the world's largest and most recognizable PR agencies, offering a broad range of services including brand strategy, PR, and social media marketing. Its global network of offices, deep industry expertise, and reputation for creative excellence make them a great choice for businesses that want a comprehensive, multinational PR solution.
This agency has worked with a range of clients across industries such as healthcare, finance, and tech, delivering successful campaigns, and enhancing the brand's image and recognition.
Some of Ogilvy's biggest clients include names like American Express, Coca-Cola, and IBM. With a global presence and a celebrated history of excellence, Ogilvy is a great choice for businesses looking for a reputable PR agency with a deep industry expertise that can help them fulfill their strategic marketing goals and enhancing brand reputation.
Services Offered:
Public Relations
Consulting
Advertising
Idea Grove specializes in B2B technology clients. It acts as a strategic partner for tech companies and startups as they help them differentiate their brand and build their reputation.
rom cloud computing companies to cybersecurity, Idea Grove is particularly skilled at developing thought leadership strategies that can position businesses as leading voices in their industry. Additionally, its commitment to data-driven results and ROI makes the agency an attractive choice for businesses looking for quantifiable PR outcomes.
With a focus on B2B technology clients and a proven track record of success, Idea Grove is an excellent choice for businesses looking to enhance their brand profile and credibility in the technology market.
Services Offered:
Walker Sands is a reputable marketing and public relations agency that specializes in B2B technology and professional services companies. Its strategic "Earn, Own, Paid, Shared" approach to PR ensures that clients receive a customized mix of tactics that caters to their unique needs and goals.
Walker Sands has built a strong reputation for delivering results-driven PR campaigns over the course of 18 years. Its successfully worked with numerous clients, including well-known brands such as Siemens, HP, Bing, and CareerBuilder. Businesses that are looking for a PR agency that can understand their industry's unique challenges and can provide tailored solutions to address them would benefit the most from Walker Sands' expertise.
Services Offered:
Media Relations
Content Marketing
Thought Leadership Development
Demand Generation Strategies
6 Degrees PR is a full-service public relations agency that offers creative, strategic solutions to clients in healthcare, finance, technology, and consumer industries.
With over 12 years of experience and offices in Toronto and Vancouver, 6 Degrees PR has worked with a variety of clients from small startups to Fortune 500 companies like Ford, Samsung, and Walmart. Its team of seasoned PR professionals has earned a strong reputation for delivering outstanding results that help clients achieve their business objectives.
6 Degrees PR takes a creative and strategic approach to PR that focuses on ROI, and have a proven track record of delivering results that drive business growth and success.
Services Offered:
Media Relations
Event Planning
Influencer Marketing
Social Media Content Creation
Brand Awareness
BIGfish Communications is a full-service PR agency based in Boston that specializes in working with technology-focused companies. With over 20 years of experience in the industry and a team of seasoned PR professionals, BIGfish Communications has built a solid reputation for delivering results-driven campaigns. BIGfish has worked with various clients, ranging from startups to large, well-established companies such as Logitech, ASUS, and Microsoft.
Businesses needing PR services in the technology industry would benefit the most from BIGfish Communications' expertise. Its deep understanding of the latest trends and insights in the industry and strong media relationships to leverage for secure coverage in top-tier publications. Its strategic approach to PR sets it apart from other agencies, emphasizing transparency and building strong partnerships with its clients.
Services Offered:
Media Relations
Strategy & Planning
Messaging & Positioning
Media Training
PressFriendly is a highly effective PR service for businesses specializing in media relations, messaging, and content creation. With a team of experienced PR professionals who help businesses to craft their messages and communicate them effectively to the media. One of PressFriendly's strongest solutions is its targeted media outreach, which involves identifying the most relevant journalists and bloggers in a particular industry and pitching them with engaging stories and news.
PressFriendly has a proven history of success in delivering results for businesses. They have helped clients to secure coverage in top-tier media outlets such as The New York Times, CNN, and Forbes, and have helped businesses to raise their profile and build their reputation. The company has received numerous accolades for its work, and has been recognized by publications such as TechCrunch and Fast Company as one of the leading PR firms in the industry.
Services Offered:
SmartBug Media is an award-winning PR agency that provides a wide range of services aimed at boosting businesses' marketing and PR efforts.
SmartBug Media has a proven history of success in delivering top-notch PR services to their clients. They have helped businesses of all sizes and industries to build their brand, increase their web traffic, and generate leads. Their work has earned them numerous accolades including being named HubSpot's 2020 Global Partner of the Year. Above all, SmartBug Media is an excellent choice for businesses looking to improve their PR efforts and achieve their marketing goals.
Services Offered:
Media Relations
Crisis Management
Content Creation
Find the Right PR Agency for You
Choosing the right PR agency for your business is a critical decision that can have a significant impact on your brand image and overall success. By understanding your business needs, researching potential agencies, and asking important questions, you can find the perfect PR partner to elevate your brand's public image. Remember to choose a partner who understands your brand, shares your values, and has the experience and resources to help you achieve your goals.
Editor's note: This post was originally published in October 2019 and has been updated for comprehensiveness.