There's a long-established idea that creativity is somehow rooted in chaos: that structure and organization are somehow the enemy of great ideas.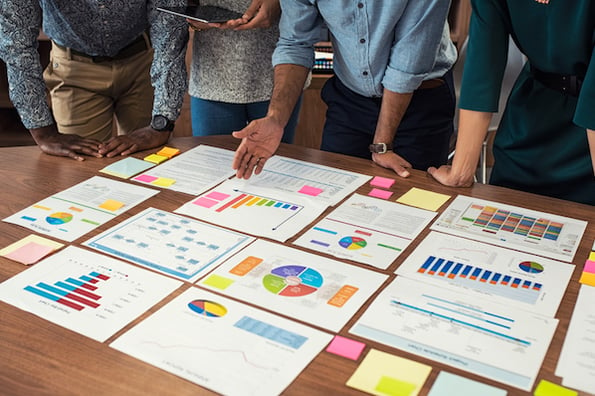 If it wasn't already time to reassess that idea — then, surely, that time is now.
2020, after all, saw creative teams around the world removed (often without warning) from their offices, and scattered to home offices and kitchen tables.
Most of us moved from a world of anytime, face—to—face communication to a world of video calls, email, and chat apps.
And this has only amplified an idea many already believed to be true: that great creative teams need not only great ideas — but also great processes, communication, and project management in order to succeed.
In the midst of all that chaos, the team at Project.co just released the State of Project Management report, designed to find out how creative teams manage their projects as we move into 2021.
The survey sought to gauge what teams do well, and what they feel could be improved. It explored which tools and systems they use, and how their processes impact their efficiency and productivity.
The research suggests:
People almost unanimously believe that there is room for improvement in the way they manage projects.
Most people struggle to have visibility of what others on their team are working on, and many take a dim view of communication within their business — despite acknowledging its mission-critical importance.
An alarmingly high number of people openly admit regularly missing deadlines — and even forgetting tasks they have due.
Email overwhelmingly dominates as a communication tool, both between teams and with clients — although this isn't to everyone's liking.
About the Survey
Project.co's State of Project Management is a comprehensive report designed to assess the way in which creative teams manage their projects and communication.
It asks a range of questions to evaluate how the project management landscape looks. This is the first report, but it will be released annually and, over time, will trace the changes in the industry.
The findings of this report were gathered by surveying 437 unique respondents, from a range of industries, niches and countries, in December 2020.
The Key Findings
The Power of Task Clarity
It emerged that having a clear list of tasks to methodically work through is a key driver of well-being and performance.
95% of people feel that having a list of tasks to do each day is good for their mental health, and 96% of people feel that it makes them more efficient and productive.
Out of those who don't create a daily to—do list, 90% say they either 'occasionally' or 'regularly' miss or forget tasks.

A Problem with Cross Team Visibility
An old metaphor for coordination is that the left hand needs to know what the right hand is doing.
In business terms, this means it's important for people to know what others in their team are working on — avoiding re—work, duplication, and facilitating the input of creative solutions and diverse perspectives from across teams.
This is validated by the fact that 94% of people feel that having a good view of what their teammates are working on improves productivity and efficiency in a business.
However, this is where it gets interesting: less than half (42%) of people say they find it easy to understand what other members of their team are working on at any given time.
Needless to say, this is a particularly big missed opportunity in view of the current situation, where greater cross—team understanding and collaboration can clearly help foster a great sense of employee engagement and mitigate many of the challenges that arise from remote working.
Communication with Clients
When it comes to communicating with clients, email rules the roost. 67% of people say they mainly communicate with clients using email, which overshadows phone calls (8%) project management software (9%), online meetings (8%) and face-to-face meetings (5%).
But that doesn't necessarily work for everyone. Less than half of people say email is their preferred way to deal with businesses as customers, with 25% saying they prefer to use project management software.
Email is less than ideal because of its siloed, disconnected nature — this often leads to lost/misplaced assets, inconsistent sharing of information, and a frustrating experience for the client.
Room for Improvement
What's clear throughout the data is the extent to which people feel things could, and should, be better.
92% of people say they believe collaboration with their teammates could be improved.
And this filters down to day—to—day deliverables: just 16% of people say they 'always' hit their deadlines.
This lays bare the fact that, despite organization, communication, efficiency, and reliability being paramount in the creative industry — late delivery, shabby communication, and poor levels of organization are still a major factor, and no doubt holding back countless businesses from hitting their full potential.
Time Tracking & Project Profitability
For many creative teams, time is money — and that's often literally the case, with billing completed on a per—hour basis for many agencies.
So the actual intelligence and data around time spent on projects is clearly really important — or at least it should be.
Remarkably, in the survey, it emerged that 15% of businesses which actually bill clients according to time spent on projects don't actually track that time at all.
Where businesses DO track time spent on projects, only 13% believe it's tracked 'extremely accurately' with 35% saying it's not tracked very accurately at all.
And the data, even when collected, is being underutilized: 60% of people who DO track time spent on projects say they don't retrospectively use this data to identify efficiency in their projects.

To Sum Up
When evaluating this data, it seems that there's, essentially, good and bad news.
The bad news is that the data depicts a creative industry experiencing a real pinch around basic issues of organization, task and time management, communication, and operational efficiency. There's little doubt that these 'basics' are undermining amazing creative work across a range of industries and niches, and selling businesses short.
The good news, though, is that people really seem to 'get' that these are problems. Issues are clearly on the radar, having been identified, and there seems to be a demonstrable commitment to resolving them.
In many ways, there's no better time to take stock of this. If necessity is the mother of invention, it could well be that current world events are the driving force behind a new era of investment in systems, processes, and technology that make creative projects work better for the teams involved, and, of course, the clients.
By investing in software that allows teams greater visibility over work, lets them create their own task lists, communicate centrally in one place and track time/project profitability, businesses can finally take control over the smooth running of their projects.
In turn, they'll be able to offer a healthier, more efficient experience for their employees — while effortlessly delivering a customer service experience that matches the quality of their creative work.
You can check out the full report — with plenty more data points — and get a downloadable version by visiting Project.co's State of Project Management page.