LinkedIn is a salesperson's best friend. 467 million people use the social platform globally, and it's a platform professionals feel comfortable sharing their greatness on. But, it can be tricky to maximize LinkedIn to make sure it's always working for you.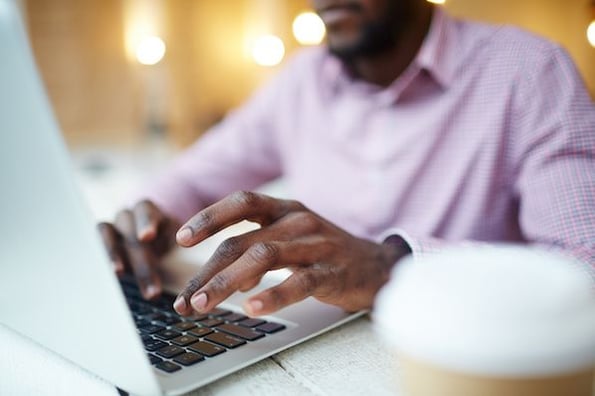 While a sales resume and LinkedIn go hand in hand, the resume copy-and-paste method for a LinkedIn profile can be the reason some sales reps don't get the job. Your profile needs a unique perspective on career goals, achievements, and experience not listed on a resume. A sales resume must have a compelling "about me" section, interests, and quantitative data to sell your skills.
Below, you'll find tips on how to amp up your LinkedIn profile and create a sales resume that pairs perfectly. Just want the resume tips? Click here.
How to Make Your LinkedIn Profile Attractive to Recruiters
Why recruiters depend on LinkedIn
Recruiters are always on the hunt for top talent. The conventional way of adding a job posting to a website can be time-consuming and often ends in disappointing results. Today's recruiters type keywords in LinkedIn search to find potential candidates.
One message from a hiring manager can change the direction of your career in sales. So why not use your sales skills to sell yourself? Here are helpful tips for optimizing your LinkedIn profile.
The importance of keywords
According to a 2018 HR statistics report, "87% of recruiters use LinkedIn to check candidates." An SEO keyword strategy is the reason certain sales professionals are noticed by recruiters while others find it difficult to find a new job. Use your sales skills to write a compelling profile with common words naturally used in your industry (like "quota," "President's Club," and "software sales"). A profile optimized with keywords in the following areas is more likely to be discovered:
Headline
Current position
Summary
Experience
Skills & Endorsements
Need help getting started? Google AdWords has an "about your business" section to enter your location and potential keywords. It shares the volume of searches in Google for keywords. Whether you're including a bullet point on your LinkedIn profile, writing a status update, or sharing an article, consider included sentences like:
"As a sales manager I was inspired by [Top Salesperson's name] success last month with 375,000 in tech software sales."
"Attended [Sales convention name] in Seattle this weekend. What an experience."
The first sentence shares a sales vertical (tech software sales) a recruiter might be searching for, and the second example includes the a convention keyword, and a location -- Seattle.
Personalized sales content
Personalized sales content is personal branding at its best. What does that mean? It's the best way to get personal with connections on LinkedIn. Most importantly, adopt the attitude "Give the sales community what they need." Personalize the experience with photos of sales trips, blogs on your website, and videos of the sales team celebrating a big accomplishment.
The goal is to start relevant conversations about sales best practices and share advice from sales gurus in the industry. This shows you're actively engaged in the community and understand the sales landscape and latest strategies.
Time your LinkedIn posts strategically
How many posts should you add on LinkedIn? Studies show posting on LinkedIn at least two or five times a week boosts the visibility of a profile. The ideal times to post on LinkedIn are between 7:00 a.m. and 12:00 p.m., and 5:00 p.m and 6:00 p.m..
Avoid the mistake of adding content that's unrelated to the sales industry, because the more you post, the easier it will be for recruiters to find you online.
A warm welcoming summary
Copy and pasting the objective on a resume will result in flatlined profile analytics. Add a bit of personality, and give the reader a few different ways to connect (i.e., email, professional website, and cell phone).
HR recruiters are attracted to job seekers with a friendly profile tone. So, now is the time to use personal marketing skills to encourage readers to contact you. Take these two summaries below, as an example.
Image source: Vincenzo Ottiero
Image source: Mike Rogewitz
Socialize with a sales pro
Clueless about social engagement? As a salesperson, you're probably pretty good at this stuff. Keep in mind LinkedIn is more formal than some other social platforms, but you can still have fun while networking. Here's how to increase the chances of being found by a recruiter:
Join a LinkedIn sales group that's localized by area
Follow all connections related to the sales industry and comment on their status updates, videos, articles, and even their comments on other content.
Amp up career interests
Let human resources, headhunters and recruiters know you're open to certain job opportunities. Write a detailed note to recruiters, including your years of experience, talents, skills, and your sales niche.
For example, "I'm a sales manager with five years experience in the hospitality industry. I've made President's Club two years in a row, and I've reduced hotel vacancies in Orlando by 35% over the last 18 months. I'm especially adept at setting up sales meetings and approximately 80% of my deals renew annually."
Remember to select from the "Where are you in your search?" drop down box when actively applying. And, when applicable, choose "As soon as possible" under "When would you like a new job?" Select as many job titles as are relevant to your line of work. And don't neglect these areas either:
Location
Types of jobs you're open to (i.e., "Full-time," "contract," "part-time," "internship," "remote," or "volunteer")
Industries you prefer (i.e., industries related to previous work experience or level of education)
These tips are meant to maximize the use of your LinkedIn profile to increase the chance of being contacted by recruiters for a new job opportunity. Add personality, enthusiasm, and targeted skills with these sales resume tips. An award-winning resume paired with a profile that shines is a recipe for recruiter attention.
Sales Resume Tips
LinkedIn's changed the game on applying for sales jobs, and the skills necessary to qualify for a career in sales have changed as well. Buyer-centric reps must do more than just talk and persuade -- and they must highlight their diverse skill sets on their resume if they hope to land a job with a cutting-edge sales team.
In the market for a new job in sales, but not sure how to structure your resume? Here's what the modern salesperson's resume should look like.
Sales Resume Sample
(Click to enlarge)
1. Your "about me" section
More important than skills or interests is your "About me" section. This is your opportunity to set yourself apart from the competition with a quick blurb about where you've been, what matters to you, and why you're a great fit for this job. Use the space to your advantage by being honest and up front. Recruiters will likely look to this section to determine whether you're a good cultural fit for their company. Vary it from your LinkedIn profile summary by including stats or numbers you might not be able to share openly on your profile.
When writing this section, there are the three main areas to cover:
Where you've been - Briefly touch on how many years of experience you have in this field -- whether as an intern or a full-time employee.
Your primary goal - What's your mission? What's your objective? In our example, Sam's primary goal is to "solve for the customer." By listing your primary goal, you can let the hiring manager know what drives you day in and day out.
A specific reference to the job - Include something related to the job you're applying to. For example, if you're applying for a management position, you might mention that you've developed the skills necessary to lead a sales team.
2. Your relevant experience
Whether you're applying for an internship or a full-time job, relaying your previous experience in a compelling way on your resume is critical. Hiring managers and recruiters want assurance candidates will be able to hit the ground running after they go through basic training. Having a solid background will allow you to get going faster.
It's important to only list the experiences that relate to the job you're applying for, however. While most of us have held a job since we were teenagers, whether the skills you picked up in various roles are relevant or not is something you need to determine before listing them on your resume.
3. Your sales accomplishments
If you're coming from a sales background, you need to be able to showcase how well you've done in your previous roles. If you made quota every single month, it doesn't hurt to brag about it. When it comes time for the interview, talk about how you were able to crush quota month after month, and how you would bring that to your new position.
If you don't have a sales background, have you helped customers solve problems? Have you achieved something noteworthy in a different field? These success stories are important, too. Showcasing an ability to maintain a high level of performance in any field is critical.
Another area to focus is on is your accomplishments. How many huge deals were you a part of? Did you help develop a new selling process at your previous company? Did you mentor someone and teach them the ropes? Showing off your achievements is a must-do on any resume.
These are some examples of accomplishments you'd be wise to list on your resume:
Helped develop the sales strategy for our direct team

Exceeded quota 12 out of 15 months at previous position
Worked with over X customers during my tenure
Maintained a response rate of under 24 hours for an entire year
Was referred by customers for new business more than 20 times
4. Your notable skills
What skills make you a unique candidate? Maybe you've spent the last few years creating content around sales, or developing an analytical strategy for your team. This section of your resume is your chance to talk about where you shine, and what makes you a great salesperson.
The skills on a sales resume, however, might look a little different than skills on other types of resumes. Here are some examples of a few sales skills to remember to list:
Ability to coordinate prospect research - Every sales rep needs to be able to do thorough research on their prospects. Sales is about relationships, and reps need to know their prospects on both a business and personal level to be successful.
Confident giving product demonstrations - Regardless of what industry you're in or product you sell, giving a product demonstration is a crucial part of sales. Presenting a clear, informative, and memorable product demonstration is a skill every sales rep should develop – and talk up on their resume.
Ability to build rapport quickly - Most people make a decision about a person almost immediately after meeting them. Having the ability to build rapport with someone quickly and gain their trust and respect is no insignificant feat, especially if you're asking them to buy something from you.
5. Your responsibilities
What do you do on a day-to-day basis right now, and what have you learned from these tasks that you will apply to future roles? That's what this section is meant for.
Sales reps juggle a ton of responsibilities in a given day, and being able to handle several at a time makes for a great sales rep. These are a few responsibilities to focus on in the world of sales:
Prospecting efficiently and effectively
Overseeing a team of younger reps and serving as a mentor
Maintaining a busy schedule
Building out a pipeline and staying on top of inbound leads
6. Your interests
More important than where you've been is where you want to go. While you don't have to know where you want to be five years from now (or even one), it's helpful to have goals. Maybe your goal is to be a manager, or a sales trainer. Ambitions and interests play a critical role in hiring managers' personnel decisions.
The modern day salesperson has to be able to do more than just call someone up out of the blue and try to make a sale. They have to boast certain skills and unique traits that help them help today's buyers. When you're putting together your LinkedIn profile and resume for a new job in sales, focus on the unique skills you bring to the table, and make sure your optimizing your profile for SEO.
The door-to-door, cold call mentality is dead. The sales playbook has changed. It's time to change how you apply to jobs to keep up.
Some content in this article was contributed by Mike Renahan.