A promotional pricing strategy is one of the best ways to generate quick demand for your products or services. In most cases, promo pricing is confined to a tight time frame, creating a sense of urgency and giving the impression that consumers will be missing out if they don't buy soon.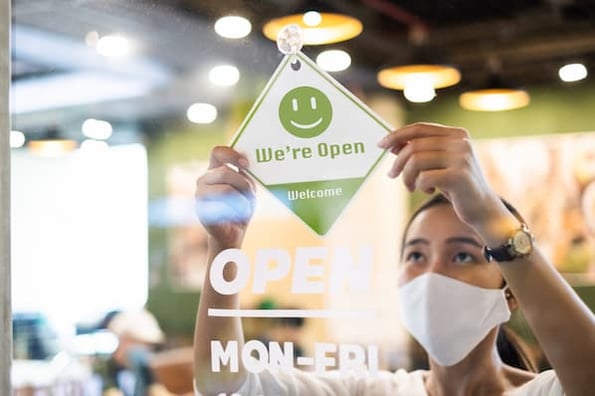 You can use promo pricing to boost sales for your business in the short-term, and generate repeat sales in the long-term.
Let's get a feel for what that term means, some of the more prominent examples of it, and what you need to do to implement a successful promotional pricing strategy.
But first, what is promotional pricing, and how can you implement it?
What is promotional pricing?
Promotional pricing is a pricing method where a company temporarily reduces the price of a product or service in the interest of quickly driving sales. In many cases, those deals and discounts are supported by dedicated promotional materials or marketing campaigns.
When we talk about promotional pricing, we're talking about driving sales with a temporary reduction of your prices. It is a known fact that people love offers. A 25%-off sign can make them notice a product and even see it as a huge opportunity they can't miss. Everyone wants to take advantage of a deal that seems like a one-in-a-million chance.
So, if people want good deals, our best option is to provide them deals they can't resist.
A promotional pricing strategy is one of the best ways to generate quick demand for products or services. Promotional pricing is a quick-hitting, effective practice that's best implemented strategically and in doses. Businesses that constantly undertake large-scale promotional pricing efforts can wind up excessively cutting into profit margins. It also leads their customers to expect lower prices consistently.
When do you need a promotional pricing strategy?
Let's run through a hypothetical scenario. Say your company is in a bit of a tough spot. Your product or service isn't selling as effectively as you'd like it to. Sales are stagnant, and as far as you can tell, consumer interest in your brand is waning.
You realize your business needs a shot of life. So, what can you do? Well, you could try something drastic. You could look into rebranding. You could reevaluate your messaging. You could restructure your entire sales process. But those kinds of actions would probably be overkill.
As I said, you need a shot of life — not a new identity.
If your business hits a wall like that, particularly if you're in retail or ecommerce, you might just need to generate some quick demand and spur consumer interest. One of the best ways to do that is through promotional pricing.
Promotional pricing is a quick-hitting, effective practice that's generally best done in doses. In many — if not most — cases, businesses that constantly undertake large-scale promotional pricing efforts can wind up excessively cutting into profit margins and leading their customers to expect lower prices consistently.
So promotional selling is effective, yes — but you have to take the pros and cons into account.
Here are some of the more prominent benefits and drawbacks of promotional pricing.
Promotional Pricing Pros
Promotional pricing is a good fit for most businesses, but as I said, it's best done in doses. If you constantly run promotional selling periods, then you risk tarnishing your brand image and undervaluing your product.
Overall, however, there are quite a few pros to consider when starting a promotional selling period.
Promo pricing will attract new buyers to your brand.
According to Statista, 62% of consumers try a new store or online retailer during the holidays because of better prices, and 44% try a new store because of coupons or discounts.
One of the biggest pros of promotional pricing is that it can and will attract new customers to your business. If you want to quickly earn new customers, then promotional selling is one of the best and easiest ways to do it.
Promo pricing can get your current customers to buy more.
Promotional pricing not only helps you attract new customers, but it also helps you sell more to your current ones, too. If you sell products that tend to run out (such as household products), then offering a promotional period will give your customers a chance to get a "refill" without paying the full price.
This isn't the only benefit, though. You can get them to try new products, too — products they might want to re-purchase later, even at full price. Your customers get to try something new at a fraction of the cost, and you can get a shot at increasing repeat purchases later.
Promo pricing can help you retain your loyal customers.
When done right, promotional pricing can help you retain more customers and increase customer loyalty. In its State of Brand Loyalty survey, Yotpo reports that 60.1% of loyal customers want "early access to sales," and more than half want "early access to new products."
customers are first. Otherwise, they might consider leaving for another brand that offers a cheaper price and shows them more appreciation.
Promo pricing can get a new product off the ground.
If you've just launched a new product or added something new to your product catalog, there's no better way to increase exposure than by selling it at a reduced price for a limited time. Paired with other strategies, promo pricing can be an essential part of a strong product launch plan.
The best part is that this applies to virtually any product. Whether you've added a new subscription package, a new digital product, or a new physical item to your online store, you can quickly boost sales with a promo period. Otherwise, this new product may not enjoy any exposure at all and fail to reach its highest revenue potential.
Promotional Pricing Cons
While promotional pricing has plenty of pros, it also has some cons that you should consider when planning your next promotional selling period.
Promo pricing does not help you retain your new customers.
Promotional pricing can help you retain your loyal customers, but not the new ones you've earned as a result of your promo period. As I mentioned, promo selling can help you earn new customers in a short time, but there's no guarantee you'll keep them. As a matter of fact, it's likely that they'll churn after the price returns to normal.
A study done by the Institute of Big Data Intelligent Management and Decision shows that promotional pricing can lead to impulse buying decisions. People who might not have planned to buy anything may choose to do so simply because of an advertised discount or bulk price. This is often followed by regret, which can then lead to them returning the products.
While impulse buyers can help you meet short-term revenue goals, they might not help in the long term, and they might even hurt you by initiating returns.
Promo pricing can hurt your brand image.
Cheap products can sometimes communicate a low level of quality, even if you do partner with the most sustainable, most well-appointed manufacturers. It can also make it seem like you're trying to get rid of unsold stock or poorly-made products.
Without question, advertising excessively low prices can make your brand look less "prestigious." So use this pricing strategy with caution and only for certain products, and for a very limited time.
As I mentioned earlier, promo pricing is generally associated with forums like retail and ecommerce, but there are different promotional pricing strategies that can suit virtually any business. Here are some of the more prominent examples of promotional pricing.
Promotional Pricing Examples
Flash Sales
Buy One, Get One Free (BOGOF)
Loyalty Programs
Seasonal Sales
1. Flash Sales
A flash sale is when businesses offer substantial discounts on their products or services within a relatively short time frame. For instance, Amazon annually has Prime Day — a two-day event that offers a wide array of deals, spanning virtually every product category the site covers.
The vast majority of Prime Day deals aren't offered year-round, making that two-day window a specific, exclusive point for those bargains. Since those discounts are collectively isolated and advertised to generate quick demand, they constitute a flash sale and, in turn, an example of promotional pricing.
2. Buy One, Get One Free (BOGOF)
The "buy one, get one free" deal is one of the more prominent examples of promotional pricing. This kind of deal can be advertised through promotional materials like coupons and codes, and they tend to be pretty popular. That's because you're literally getting double value for the price you usually pay for one product. Here's an example from Papa John's:
With this strategy, a business offers an additional, free product or service to incentivize the purchase of another one. The price of the initial "one" in "buy one, get one free" is typically higher than the other, so when you sell using this kind of promotional pricing strategy, you're selling two products. They are proportionally cheaper but still not really half-priced.
That's why you need to be selective in how you choose the products you use with this strategy. Make sure you're selling goods or services that you can still profit from at proportionately lower price points but significantly higher volumes.
3. Loyalty Programs
A loyalty program is a promotional pricing strategy that incentivizes brand loyalty by offering deals and discounts for consistent, repeated purchases.
Customer acquisition is often more expensive and labor-intensive than retaining current ones. That's why implementing a loyalty program can be a savvy, cost-effective move for businesses interested in consistently generating revenue from dedicated consumers. Here's an example from Dunkin' Donuts:
The term "customer loyalty program" covers a wide range of practices. It could be anything from a major airline leveraging a frequent flier miles system to a local sandwich shop giving out punch cards for free sandwiches. This is usually in exchange for a fixed number of visits.
Implementing a customer loyalty program will hinge on the size and nature of your business and the general intention behind implementing the program.
4. Seasonal Sales
A seasonal sale is essentially an extended flash sale and is typically tailored to move merchandise relevant to a specific time of year. A seasonal sale could be a promotion for discounted swimsuits in the summer or popular toys during the holiday season.
Implementing a seasonal sale generally works best for businesses that carry some kind of season-specific product or service. The relationship between product or service and seasonal timing might be the most important factor to consider when coordinating this kind of promotional pricing. If your company is running a campaign to actively promote and move winter coats throughout the month of July, consumers will probably be more confused than interested.
Here's an example of a seasonal sale from Old Navy for back to school clothes:
Promotional Pricing Strategy
Finding the right promotional pricing strategy for your business relies upon some key factors and crucial questions. You have to consider the "why," "how," and "when" of your decision to implement promotional pricing. This can be done in a few steps.
Learn more about what dynamic pricing is and how it can impact your business in this helpful video:
1. Determine why you need a promotional pricing strategy.
The first point you have to address is why you're interested in implementing a promotional pricing strategy. Are you trying to generate some buzz for a new product or service? Are you trying to spur some customer traffic as quickly as possible? Are you trying to unload some extra inventory? Are you looking to incentivize customer loyalty?
It's important to have a high-level understanding of what you want out of your promotional pricing strategy before zeroing in on what will work best for your business.
A plan for moving out-of-season inventory probably won't look the same as one designed to reward customer loyalty. Know what you're hoping to generally accomplish before hashing out the specifics. Once you have that "why" in mind, you can start to determine the "how."
2. Make a plan for implementing your promo pricing strategy.
Here's where you make an actionable solution out of the "why" you figured out earlier, but the overarching reason for your promotional pricing strategy is only part of the equation.
There are some other key factors you need to consider. What kind of promotional budget are you working with? How does your business operate? Are you in conventional retail? Do you sell via ecommerce?
Let's say you want to unload some excess inventory from a smaller, independent retail outlet. In that case, you might want to go with a flash sale for those items and advertise through billboards, flyers, and signs in your storefronts. But if you were running a large ecommerce site trying to encourage repeat business, you might start a customer loyalty program and promote it through paid social media advertising.
There's no one-size-fits-all model for promotional pricing. What works for one company isn't guaranteed to work for another. You need to consider several factors before deciding which specific strategy suits you best, including your business's reputation, industry standards, brand identity, immediate needs, long-term goals, and financial situation.
3. Launch your promotional pricing period at the right time.
Timing is another important factor to consider when determining an appropriate promotional pricing strategy. The "when" in this process can mean a few things — namely, the promotion's duration and time of year.
Promotional pricing strategies come in all shapes and sizes. An ongoing customer loyalty program will obviously last longer than a two-day flash sale. It's important to figure out a time frame that will suit your budget while still giving yourself the space to make good on the "why" you chose at the beginning of the process.
Another key factor with many promotional pricing programs is the specific dates you choose for your strategy to run its course. Certain times of year suit some strategies particularly well.
Promotional pricing periods — specifically flash sales — are notoriously popular on holiday weekends like Memorial Day and Veterans Day. So if you're considering implementing a promotional pricing strategy, always be mindful of when it's taking place.
4. Prioritize your current customers, not your potential new ones.
As I mentioned, promotional pricing can help your current customer relationships, but it can hurt them, too. For instance, if you create a promo selling period right after your highest day of sales, you might be scorning the customers who've paid full price for your products.
That's why it's so important to think about timing and about rewarding your current customers, in addition to attracting new ones. Make the discount exclusively available to them first, then open it up to the public. Your goal with promotional pricing should be to retain and delight your current customers before earning new business.
Cost of Promotions
To ensure your promo pricing is a success, you'll want to — wait for it — promote it. But remember to extend the offer to your current customers first, then to the public.
With that in mind, here are some costs you'll incur when advertising your promo pricing:
Promotional Pricing Tips
Behavioral science professionals have been researching customer reactions to discounts and offers for quite a while, and they have a lot to say. A discount itself has a strong psychological value, but the truth is, there are many details to consider before turning a good strategy into a great one.
1. Post both the old price and the new price.
Do you want people to automatically know how incredible your offer is? Make the comparison between the previous price and the new one clear and easy to find. If people don't know how much they're actually saving, the offer will not have the impact you're expecting.
Disclaimer: Don't use dirty strategies to avoid offering a real discount. That's not ethical or strategic. People will notice it, even if you think they won't.
2. Use percentages to talk about your deal.
When people see that they are spending 20% less than they usually do, that deal is directly perceived as getting their money back in their pocket.
3. Keep the same price for luxury products.
If you have products with high price points and are therefore perceived to have higher quality, don't try to increase its demand by lowering its cost. A promotional pricing strategy is ideal for products that are already affordable but have the potential to be incredibly cheap.
4. Decrease your discounts strategically.
Last but not least, close your promotional pricing season with a strategic decrease of the discounts so people can keep seeing opportunities until you get back to the original price.
All these tips can totally change your promotional pricing strategy game. An effective promotional pricing strategy will be based on how your customers think, and it will use that information to turn your offers into unique opportunities that they can't ignore.
Promotional Selling is the Key to Short- and Long-Term Success
Now you have all the tools needed to build a promotional pricing strategy. Remember, every sales strategy needs to be adapted to your particular industry. This requires quite a bit of research to see what has worked for similar businesses. Also, it's important to have a strong content and customer service foundation to reach the right people and give them a memorable buying experience.
Take the time to understand the various strategies available, look into what has worked well for companies like yours, and thoughtfully figure out prices that will be attractive to consumers without gutting your profits. When you do so, you'll be able to implement a promotional pricing strategy that will serve you well and grow your business for the long term.
Do you think a promotional pricing strategy can be the missing piece for your business performance? Then it's time to put those offers out there!
Editor's note: This post was originally published in August 2020 and has been updated for comprehensiveness.