Help desk support is essential if you want to more effectively serve and retain your customer base.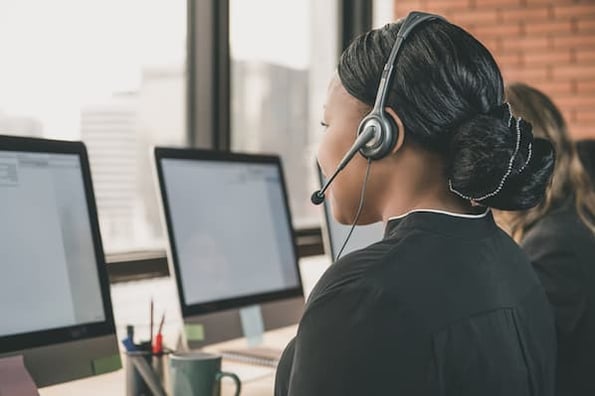 With its wealth of issue management and customer communication features, a help desk tool can help you stay organized as you work toward your customer service goals. And if you think that this technology is only a good fit for enterprise companies with thousands of customers, think again; a help desk software benefits even the smallest of businesses.
In this post, we'll cover the nuts and bolts of what makes a help desk, explain how help desk support works, and share some top help desk examples that might be a good fit for your customer support team.
What is a help desk?
A help desk is a technology system that helps customer service teams intake, manage, organize, automate, respond to, and report on customer questions or issues. Help desks typically include a ticketing system, an inbox, a routing or assignment system for reps, and a reporting dashboard.
If you want to build a customer-centric company that's focused on increasing value and growth for customers, it's important to meet and exceed customers' expectations. The best customer support comes from humans using top-notch technology to help scale the impact of each support rep and the solutions they identify for their customers.
A help desk is one example of those technologies. It empowers your team to provide delightful service that turns your clients into advocates, which will help you become a successful flywheel organization — where customers' success fuels your company's growth.
Prioritizing reactive customer support will earn you goodwill with your customers and help you form productive partnerships with them, and the basic element of excellent customer support is responding to and resolving customer issues.
What is help desk support?
Help desk support is the process of answering customer inquiries, taking in tickets, resolving customer issues, and otherwise providing customer service through a formal, organized software system. Customers benefit from help desk support because of its ability to automatically prioritize issues without rep intervention.
You can compare help desk support with customer service that doesn't use a software system, i.e. in-person customer service.
Some companies provide customer service over email and chat, but don't use a dedicated help desk to organize tickets and customer inquiries. While the end result might be similar — a customer gets help via an online avenue — the process is much more different for reps. They have to organize all the emails, chat conversations, and social media DMs by themselves, decreasing productivity levels and increasing clerical errors.
Help desk support automates this process for both reps and customers. Here's one help desk support example:
A customer submits a ticket.
The ticket pops up in the help desk system.
It's automatically assigned to the next available rep.
The rep replies to the ticket with a solution.
If the issue isn't solved, the customer replies to the ticket.
The ticket is closed.
Here's another help desk support example:
A customer sends an email to the customer support team.
The conversation pops up in the team's shared inbox.
The conversation is assigned to the next available rep.
The rep and the customer message each other back and forth — the customer does so through their email, while the rep does so through the help desk software.
If the issue is resolved, the conversation is archived. If an issue is surfaced, a ticket is created.
With that in mind, let's answer a critical question: What does a help desk do? And how does it help both customers and reps?
What does a help desk do?
A help desk has a certain set of capabilities that help both service teams and customers keep track of an issue and ensure there's a successful outcome for both parties.
To that end, a help desk does the following:
1. It facilitates customer intake.
Customer intake is how customers submit questions and issues to your customer support team. Examples of customer intake methods include:
The channels used will depend on your customers and your industry, but it's advisable to offer a variety of different channels for customers to reach out to you to make sure you're helping them in the manner easiest to them. Otherwise, if you try to get customers to jump through too many hoops, they may grow frustrated and leave you for a competitor that's more accessible.
Now, how does a help desk come in? Without a help desk, these various modes of intake may get lost in the "slush pile" — physically passed along from rep to rep or forwarded from email to email. This is a sure way to lose critical information that will help you effectively resolve a customer complaint.
A help desk keeps the information in one central location, where you can change the priority level of an inquiry and easily escalate the issue to the appropriate party. This, in turn, keeps customers happy because they don't have to repeat information or constantly have to reach out to your team.
2. It keeps all customer communication in one place.

Help desks not only make customer intake easy, they keep all submissions in one unified location, often referred to as a "shared inbox." A shared inbox helps customer support teams manage and collaborate on the responses coming in from customers to best determine a strategy for triaging and responding. Shared inboxes usually involve a way to consolidate and sort messages and assign incoming tickets to specific reps.
Examples of shared inboxes include:
Help desk software typically places all of these into one stream that your team can access and reply to. When customers receive a response, they won't feel like it's a disjointed experience, even if they've used three different methods in the past to reach out to you. This will help you provide a seamless omni-channel service experience and surpass customer expectations.
3. It organizes and routes tickets.
Help desks provide powerful ticket organization and routing features that helps customer support teams stay organized and on track. This is sepcially important when ticket volume gets high — such as during product outages or your busy season. Customer issues frequently involve a variety of different teams to resolve, so sorting, prioritizing, assigning, and tracking tickets helps teams save time and improve responses. Automation is a helpful way to more efficiently route and assign tickets to team members who specialize in certain issues or complaints.
When customers submit a ticket to your company, they might be expecting a long wait time, but with a help desk's ticket organization features, you can pleasantly surprise them by providing a response in less than a business day. The best part is that most help desk tools support canned responses, so you can simply set a response to fire off once a customer submits an inquiry.
4. It compiles customer service data into reports.
Reporting on customer support issues and trends helps service teams optimize their work, incentivize and compensate reps, and make informed team priority and headcount decisions. A help desk's reporting feature offers insights about how team systems and priorities are working. This usually includes dashboards that inform management about ticket resolution time, customer satisfaction, rep productivity, customer experience, and more.
Now that we're all on the same page about what a help desk does, here's our list of the best help desk software your customer support team can use to better serve customers.
Best Help Desk Software
HubSpot's Help Desk Software: Best for Seamless Cross-Team Collaboration
Zendesk: Best for Creating Customer Portals
Happy Fox: Best for Task Management
Freshdesk: Best for Field Customer Service
Intercom: Best for SaaS Customer Onboarding
Zoho Desk: Best for Customer Sentiment Analysis
LiveAgent: Best for Call Centers
Jira Service Desk: Best for IT Ticketing & Support
Help Scout: Best for Email Collaboration
Price: Free; Starts at $45/month for more advanced features
HubSpot's help desk tool is part of Service Hub, a full-scale customer service software designed to help small-to-enterprise businesses provide delightful customer service experiences. HubSpot's help desk tool features:
Customer intake management
Conversational 1:1 communication inbox
Service level agreements
Automation and bots to effectively route, assign, and respond to tickets
Customer service reporting to achieve better service results
Service Hub is particularly powerful when it's used with other tools in the HubSpot CRM platform. By integrating automation and bots with all of your marketing and CRM data, Service Hub helps deliver an end-to-end customer experience that helps retain happy customers. For that reason, we recommend it if you're specifically looking to increase collaboration across your sales, marketing, and service teams.
It's also a great choice if you're intimidated by all the software options out there. It offers plenty of functionality for free, allowing you to get acquainted with a powerful system without paying a dime.
2. Zendesk: Best for Creating Customer Portals
Price: Starts at $19/user/month
Zendesk is one of the most established customer service software companies, with tools that cater to a variety of different small, mid-sized, and enterprise customers. Its help desk tools are super-slick and consolidate all customer data across different platforms in one place.
Zendesk is known for its customer portal feature, where customers can access their previously submitted tickets and add additional responses. If you have a large customer base that constantly submits tickets, then having a portal where they can access their ticket's status is key to keeping them up-to-date without bogging your team down with additional requests.
3. Happy Fox: Best for Task Management
Price: Starts at $39/user/month
Happy Fox offers a powerful help desk that includes ticketing features, canned actions, and task management tools. By focusing on larger companies, Happy Fox effectively empowers bigger customer service teams to scale their support efforts. With this tool, you can automate certain actions, provide consistent experiences, and help customers help themselves.
One of its most notable features is its "task management" tool, which allows you to break down items from a ticket into different tasks. For that reason, we recommend it for companies that offer a complicated product where, if a customer submits a ticket, several steps are required to close the ticket. If you only receive complaints about, say, missed shipments or missing products, then you might not need this feature.
4. Freshdesk: Best for Field Customer Service
Price: Free; Starts at $15/user/month for more advanced features
Freshdesk offers a help desk that brings customer support to all of a company's different channels of communication. It helps unify customer messages and information to give customers a better experience, no matter how or where they reach out for support.
Freshdesk offers a series of field service management tools that makes it a great fit if you service customers in their home or while on the road. You can designate regional service groups, for instance, and take customer signatures — all within the Freshdesk mobile app. This is one of the best help desk options for customer service teams who meet customers where they are.
5. Intercom: Best for SaaS Customer Onboarding
Price: Starts at $74/month for one user
Intercom is perhaps best known for its live chat tool, and its help desk tool is a simple, easy-to-use solution for teams that don't need a long process to work with customers. It includes tools for easy collaboration, as well as automation to scale and improve customer support.
One of Intercom's most notable features is its onboarding tool, which allows you to provide proactive customer service as customers get started with your software. We therefore recommend it for SaaS businesses who would like to minimize roadblocks and customer inquiries as they get started with your tool.
Plus, Intercom integrates with HubSpot — learn more here.
6. Zoho Desk: Best for Customer Sentiment Analysis
Price: Free; Starts at $12/month for more advanced features
Zoho Desk's help desk solution is aimed at increasing individual customer support rep productivity. Its tools help identify insights and trends to help your team make better decisions to resolve customer cases faster.
Not only that, but it includes a smart sentiment analysis tool that allows you to gauge how customers are feeling about your customer service — without you needing to send a satisfaction survey. We specially recommend it if you have a small pool of customers who might not answer your surveys.
If you do have a large customer base, you might be able to get enough responses to paint a picture of the effectiveness of your service efforts without needing a sentiment analysis tool.
7. LiveAgent: Best for Call Centers
Price: Free; Starts at $15/user/month for more advanced features
LiveAgent is a help desk built for small to mid-sized businesses. It's more focused on call center-based teams, but they also support other email inboxes.
Because of its strong call center tools, we recommend it for companies that often provide support over the phone. LiveAgent offers unlimited call recordings and call transfers, making it simple and easy to provide live phone support to your customers.
8. Jira Service Desk: Best for IT Ticketing & Support
Price: Free; Starts at $20/month for 4-15 users for more advanced features
Jira's help desk offers self-service options, ticket automation, SLA management, and more. If your software teams are already using Jira Software, users can link IT tickets to the team's backlog to get to the root cause of problems before they escalate for customers.
Jira is also a fantastic help desk tool for internal IT ticketing within your organization. If your team uses any sort of technology to keep the organization running, then it's essential to provide support in case those technologies time out or fail. Jira's features includes a self-service portal for employees and standard tools such as conversational ticketing and SLAs.
9. Help Scout: Best for Email Collaboration
Price: Starts at $20/user/month
Help Scout's help desk focuses on creating a simple, enjoyable experience for the end-user or customer. Its system focuses less on structure and tickets, and more on internal collaboration among teams to better serve customers. Your service reps can tag each other in email responses, allowing them to collaborate on tickets and other client-facing conversations.
For that reason, we recommend it if your team often works together to answer tickets, customer issues, and customer inquiries. You can even leave private notes for each other so that everyone is up-to-date and ready to reply.
With so many great tools out there, you have no reason not to dive in and up-level your customer support efforts today.
Help Desk Support is a Must for Your Business to Grow
If you want to more effectively retain and delight your customer base, then offering help desk support is essential. It makes it easier for customers to reach your service team, while empowering your support reps to provide the best service possible without sacrificing their productivity. As a result, you'll be able to provide delightful service experiences that will help you grow better.
Editor's note: This post was originally published in November 2018 and has been updated for comprehensiveness.