A WordPress comment plugin provides more features than the native WordPress commenting system, which allows visitors to engage with your blog post in new ways.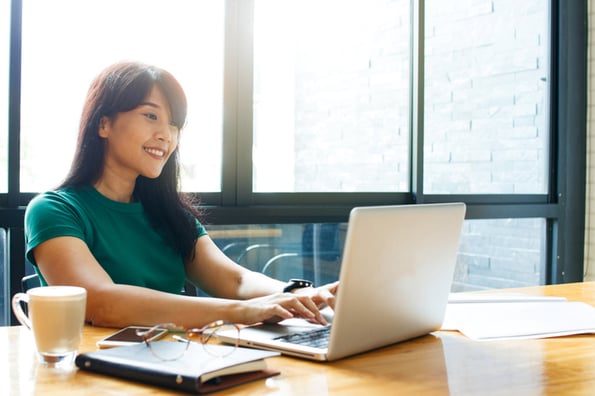 For example, the native WordPress commenting system doesn't allow users to vote or rank other comments, share responses on social media, or get instant response notifications. This leaves plenty of room for improvement in generating user engagement and increasing time on site.
In this post, we'll cover:
When to Use a WordPress Comment Plugin
By using a WordPress comment plugin, you stand to gain a number of potential features that WordPress alone does not offer. These include:
Social media and email integrations
Conversion tools that make comments a lead generation powerhouse
Customization options that up-level the user experience
Back-end features such as robust spam filtering
However, even the best WordPress comment plugins aren't the right solution for every website. Let's take a closer look at when to use this type of plugin.
1. You want to customize the comments section.
The native WordPress commenting system offers a few display settings. You can control how many comments appear on a page. You can control how threaded comments appear. You can control how images, or avatars, are displayed next to comments — but that's about it.
For more control over the look and feel of your comments section, you can use a plugin that provides customization options, like setting a color scheme and changing the text formatting.
2. You want to let users comment from other social accounts.
With the native WordPress commenting system, users can only comment if they're on your website. You can configure settings to only allow users who are on your site and logged in to comment.
Many WordPress comment plugin allow users to comment on your posts through supported platforms, like Wordpress.com, Twitter, and Facebook. This can improve the user experience and increase the chances of them commenting and sharing comments from your site.
3. You want to add social networking features to the comments section.
The best WordPress comment plugins borrow functionality from social networking sites like Facebook and reddit to allow users to like or upvote others' comments (and dislike or downvote comments as well). Some plugins enable users to upload images and videos with their comments and share them on other social media sites, too.
This can increase user engagement and time on page, and also help you filter out negative or unrelated comments.
4. You have time to moderate comments.
Whether you're enabling comments on WordPress or installing a plugin to enhance the native functionality, you'll need to ensure you have the time to moderate these comments sections.
You'll want to look out for spam primarily. Bots or malicious actors may comment spammy links, which are designed to get users to click on them in order to drive traffic to other sites. But you also need to be prepared to respond to negative feedback.
If you don't have the time to invest in moderation, it may be best to skip the comment plugin and disable comments in WordPress altogether.
Best WordPress Comment Plugins
wpDiscuz
Disqus Conditional Load
Jetpack
Thrive Comments
Super Socializer
WordPress Facebook Comments
Below we have collected the best comment plugins and highlighted their best features so you can start to boost user engagement.
wpDiscuz is a popular WordPress comment plugin thanks to its modern look, feel, and minimal impact to page loading speed. In addition to its core speed boost, it operates with a "lazy loading" model, triggering only when a visitor reaches its location on the page.
Additionally, wpDiscuz is great for driving user engagement by allowing visitors to easily comment on posts with supported platforms, like Wordpress.com, Twitter, and Facebook. Once a visitor leaves a comment, they have the ability to rank other comments and enable real-time response notifications, which keeps them coming back to the conversation on your website.
A new feature is the inline questions and feedback, which allows authors to leave questions for readers in the body of a post, where they can provide feedback without having to scroll down to the comments section. This not only makes the reading experience more interactive — it also makes it easier for readers to leave comments.
Pros to Using wpDiscuz
Boosted core and lazy loading for speed
Social media login integrations
Inline commenting
Custom comment layouts
Cons to Using wpDiscuz
Core plugin is free but premium add-ons can be costly
Founded in 2007 and receiving awards since 2011, Disqus is one of the most popular WordPress comment plugins. Since it uses internally created APIs, its functionality goes beyond WordPress, and it can be integrated with other systems.
The Disqus Conditional Load plugin lets you add Disqus to your site to replace the native WordPress comment system — without compromising your website speed. Your visitors can easily log in via social accounts, such as Facebook and Twitter, or create their own Disqus account where they can view their commenting history. Users also have the choice to subscribe to email response notifications.
Pros to Disqus Conditional Load
Designed for performance
Social media and email integrations
Advanced spam filtering with no additional plugins needed
Cons to Disqus Conditional Load
Registration required if social media login is not used
More friction for the user than native WordPress comments
Jetpack is a bulk-module plugin where commenting is just one of over 20 features. It's a great alternative if you're looking to expand your WordPress site in many ways while giving you the option to pick and choose what's installed.
For users, this plugin allows you to keep all your commenting and visitor information within your WordPress database so everything is kept in one platform.
Website visitors enjoy a straightforward experience through the guest login option or with quick social media logins as well. Whichever option they select, your visitors can subscribe to response notifications, and you can have ease of mind as Jetpack filters for spam, too.
Pros to Using Jetpack
Easy-to-use back-end customization with a variety of essential features
Visitor engagement, security, customization and SEO features included
Maintained and frequently updated
Cons to Using Jetpack
Number of features results in bloat that can slow your site
Known privacy issues
Thrive Comments is designed to foster community discussion with your comment section. By offering various comment ranking and filtering options, visitors can easily engage in conversations with each other. They no longer have to do extensive scrolling past long threads to post as Thrive places two "Leave a comment" buttons at both the top and bottom of the comment feed.
If you decide you don't like Thrive Comments, your comments will not disappear if you switch back to native WordPress comments.
To learn more about what is possible with this plugin and how to use it, check out this video by Thrive Themes:
Pros to Thrive Comments
Comment moderation delegation to members of your team
Up- and down-voting
Posting from a variety of social accounts
Subscription options
Variety of conversion-focused elements
Cons to Thrive Comments
Can increase page load times despite lazy load
Thrive Comments' lazy load can be buggy
Super Socializer is a free plugin that combines social login, social sharing, and social commenting tools. With this plugin, visitors can log in to a comment form with their social login instead of having to create a new account. You can configure the plugin to automatically approve comments made by users who log in in this way.
Users can also comment on your website using their social media accounts, including Facebook, Google+, and Disqus. These will appear in different tabs in your comments section.
Pros to Using Super Socializer
Social media login integrations
Auto-approve comments
Social comments enabled
Cons to Using Super Socializer
Some features will be unnecessary if only looking for comment plugin
With nearly 3 billion users around the world, Facebook is one of the most utilized platforms there is. It's likely the majority of your website visitors already have accounts and have used its interface before. For this reason, it makes sense to pull this familiar environment onto your website to make users comfortable in engaging more. Plus, they stay in the conversation by getting notifications from Facebook and are more likely to share your posts on their feeds.
The WordPress Facebook Comments plugin by WpDevArt is a allows you to show Facebook comments on your WordPress site. You can also set the color scheme, background color, and position of this section, and add animation effects to make it match your branding and more engaging.
Pros to WordPress Facebook Comments
Can help drive more traffic to your site from Facebook
Customization options available and easy to configure in free and premium version
Can insert comments anywhere on site via shortcodes
Cons to WordPress Facebook Comments
You must go through Facebook for Developers to get an FB app ID to complete the setup for this plugin
Comments are stored on Facebook, not your site
Choosing the Best Comment Plugin for Your WordPress Site
A comment plugin is a must-have WordPress plugin. But with many comment plugins out there, it can be difficult to pick one. Choose the plugin that most closely aligns with your workflow and goals. Once you select and install your comment plugin, you can increase user engagement on your site and reap the benefits that come along with it.
Editor's note: This post was originally published in Feb 2020 and has been updated for comprehensiveness.