The rise in popularity of food trucks has been a surprising trend to witness.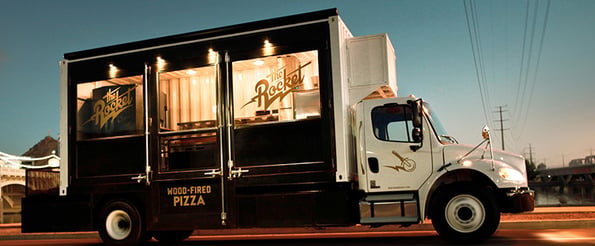 People line up outside of a refurbished vehicle waiting for a decadent bowl of Korean fare or a light, flaky pastry. It's not fine dining. It is eating out with attitude.This attitude is also seen in the branding and designs of the trucks, as this is a key component of creating a memorable dining experience. They need to stand out and reflect the fun, quirky cuisine they serve.
We've gathered some of the best examples of food truck design and branding. Get ready to be delighted by both the aesthetics and menus of these mobile restaurants.
16 Examples of Food Truck Branding
The Chairman
Source: Chairman
This truck brings gua bao -- or bun sandwiches -- filled with braised pork, cilantro, and pork belly to the streets of San Francisco.
Roxy's Grilled Cheese
Source: Roxy's
Boston-based Roxy's serves up a kid favorite with additions to the classic sandwich ranging from guacamole to braised beef to fig jam.
The Rocket
Source: Whiskey Design
The Rocket brings wood-fired pizza to the hungry people of Phoenix, Arizona.
3 Mom's Ice Cream
Source: Behance
If you're in Jacksonville, Florida, and hear the ice cream truck jingle, you better hope it's for 3 Mom's Ice Cream
Curry Up Now
Source: Behance
With trucks in San Francisco, San Mateo, and Palo Alto, Curry Up Now brings samosas and chicken masala to the masses.
Coolhaus
Source: Roaming Hunger
Coolhaus wraps architecturally inspired ice cream sandwiches in edible wrapping and has grown from its Los Angeles base to having multiple vehicles stationed in Austin, New York, and Miami.
TuneIn
Source: Dyanna Csaposs
TuneIn, an radio streaming app, brings out its cartoon-inspired truck for music events and festivals.
Crepes Parfait
Source: Crepes Parfait
This pinstripe vehicle serves both sweet and savory crepes for the people of Washington D.C.
Taceaux Loceaux
Source: Spoon University
This "Day of the Dead meets the last supper" truck roams around New Orleans, providing locals with a place to grab a few specialty tacos on the street.
Gourdough's
Source: GQ
If you're in Austin and need to sleep away the day, stop at Gourdough's for a donut sandwich. Try one topped with friend chicken, honey butter, and maple icing or go for the breakfast donut sandwich covered in jalapeno hollandaise.
Cupbop
Source: Cupbop
Provo, Utah, is the home of this colorful truck, which attracts long lines of people looking for spicy Korean-style dishes.
Dim and Den Sum
Source: Cleveland.com
This truck no longer roams the streets of Cleveland, but its branding remains a favorite.
Tango Mango
Source: Studio Fluid
Tango Mango is a Philadelphia-based, colorful food truck that provides locals with a sweet treat.
Buttermilk
Source: Roaming Hunger
This Los Angeles food truck is now a restaurant that serves late-night breakfast -- the red velvet chocolate chip pancakes are a favorite.
Monster PBJ
Source: CBS
Houston residents can grab this classic sandwich and enjoy its "monsterlicious" imagery.
East Side King
Source: Roaming Hunger
East Side King's colorful truck boasts a menu with a ton of variety for Austin residents.