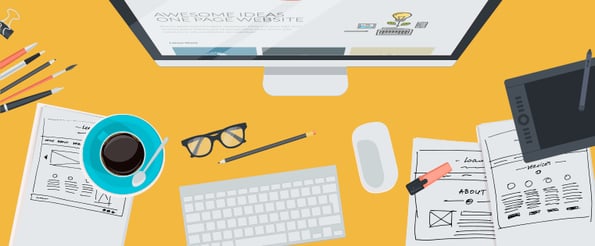 Between meetings, managing feedback, communicating with clients, finding inspiration for their next project, and delivering projects on time, designers have a lot on their plate.
It can be challenging to find the time to actually sit down and do the work.
In addition, many marketers need to be able to mockup an idea, create a visual for sharing, or gain a better understanding of modern design trends. Communicating using visuals is no longer just the domain of the art department.
We've pulled together some of the best sites, apps, tools, and resources to streamline your work, make collaborating easier, get inspired, and even show of your skills. Check it out, and let us know what your go-to design tools are.
Design Communities
Dribbble is the online "show and tell" for designers. Users can upload "shots" -- images or GIFs -- to either a personal profile or a team profile. Other members of the community then provide feedback, ask questions, and debate the person's visual choices.
Users can sign up for an account, add a résumé and links to references and awards, and upload their latest creative work. Other members of the community can comment, "like" the project, and begin to follow specific accounts for future updates.
This group is a place to ask questions, share links, and get advice on how to design and develop for HubSpot's COS.
Web designers submit their site to Awwwards, which vets website designs. If the design meets the team's standards, it will be included on a nominees page. Designs go through a voting process, and based on the results of the community and the hand-selected jury, a user wins a Site of the Day award. They also have a Developer Award every Wednesday, a Site of the Month award, and a Site of the Year award.
Design Blogs & Publications
It's Nice That is updated daily with creative work, interviews with designers, and news.
HOW Design is an online and print publication providing designers with tips and resources on improving your design skills, career, and company.
This site provides ongoing inspiration for those creating logos and brand identities.
The Dieline keeps you up-to-date on the latest trends in product packaging.
The site publishes in-depth, thought provoking articles on web design, development, and content.
Creative Review was founded in 1980 and provides inspiration from the latest work in art, advertising, and design.
Typography Blogs & Publications
This blog covers the latest in type news, and its monthly roundup is a must-read.
8 Faces highlights the best work in typography to inspire font designers.
Friends of Type is a collaborative sketchbook by four talented type designers.
Font Resources
Adobe's TypeKit is a subscription service where you can download fonts or embed them in web projects.
My Fonts provides a large selection of custom web and print fonts.
Google provides a list of open source fonts that are free to use.
This site is a source of free fonts available for commercial use.
Collaboration Tools
ProofHQ is feature-rich program for collaborating on designs and gathering feedback. It has workflow management for keeping projects on track, and it integrates with various file sharing and project management platforms.
This Photoshop plug-in gives you the ability to broadcast your designs to as many people as you want to. You can also use the tool to enable mobile mirroring so you can see how changes in Photoshop affect the mobile interface.
Image via LiveShare PS
With this tool, you can share feedback through notes or by sketching over the design. It also supports feedback on videos and organizes designs by versions so you can easily compare different mockups.
Image via Notism
InVision is a design prototyping tool with a ton of features. Users can upload interactive designs, and share a link with reviewers who can add comments and feedback. It also serves as a project management tool and keeps track of different versions.
Image via InVision
Create wireframes and share them with clients and colleagues using this tool. There's also a desktop version if you prefer to work offline.
Color Tools
Get inspiration for color palettes, and find complimentary hues for your next design.
You can choose a color, and then find analogous, complimentary, compound, or triad color schemes or different variations of the hue.
Upload an image, and this tool from MailChimp will reveal a color palette based on the visual.
This tool helps designers easily find lighter and darker versions of a color.
Templates & Vectors
This site contains HTML templates, textures, Photoshop brushes, Illustrator styles, and tutorials to jumpstart your design work.
You can search from a huge library of free icons and icon font sets.
This resource houses a library of 600,074 paid and free icons.
This blog has a huge collection of free images, templates, and icons available for download. They also do a monthly roundup of new free resources for web designers.

Thousands of contributors have created icons for this site, which you can download for free in exchange for crediting the creator. They also have a monthly membership plan where you can download as many images as you want and use without attribution.
If you need a background for your next design, check out this large collection of patterns.
Search here for PSD templates, especially if you need mobile UI elements.
Design Tools
This Photoshop plug-in gives you the tools to design a website in no time. It has pre-defined modules and design templates you can insert quickly, so you can spend more time fine-tuning the details of your mockup.
Easily create grids for Photoshop with GuideGuide.
Renaming layers in Photoshop is a pain. With this tool, you can quickly update the name of multiple layers.
Image via Renamy 3
LayerHero's Photoshop plug-in lets you generate dummy text for designs.
What tools and resources make designing easier for you? Let us know in the comments!