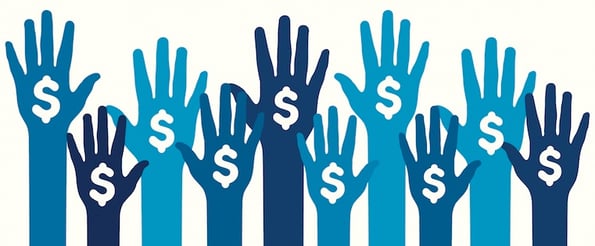 When I was tasked with creating my first SlideShare, I remember feeling especially eager to explore a new medium. I'd grown so accustom to writing blog posts that the change of pace was surely just what I needed.
That's when it hit me: If I needed a change of pace, our audience probably did, too.
"They're going to love this!" I thought. And they did.
The best part? Years later, they still do.
While there's no question that SlideShare is a valuable platform for engaging audiences, many marketers still aren't making the most of it. Sure, views are encouraging, but businesses are fueled by leads, and you should be creating presentations that support this notion.
To help you get started, we've detailed an actionable step-by-step plan for creating a lead generation campaign using SlideShare below.
How to Create a Lead Generation Campaign Using SlideShare
Step 1: Find the Perfect Topic
For any project to succeed, you need to start with a really strong topic -- something your audience wants to know more about.
There are a number of ways to go about this, but here are a few that we've seen success with:
Repurpose. Presented a deck for a conference last month that had people on their feet? Upload it to SlideShare to extend the value to an even larger audience. Had a blog article take off last week? Create a deck using the content from the article as your guide.
Pull from a story. One of the most important things to remember about SlideShare is that it lends itself perfectly to storytelling. Think about a time when you made a mistake that helped you grow in the long run or a valuable lesson you learned growing up that can be applied to the industry you're working in today. Tell that story.
Steal like an artist. If you're really racking you brain for ideas, take time to review some existing SlideShare presentations that you admire to get you thinking. If you really enjoyed Jesse Desjardins' presentation on PowerPoint design mistakes, take that concept and apply it to your specific industry. What critical mistakes are people making in your industry? How can you solve them? Run with that.
Step 2: Write Up the Content
Before you dive into the design of your presentation, focus your efforts on getting the content down on paper. Trying to write the content while you make design decisions regarding fonts and colors can be overwhelming, so it's best to at least start with an outline.
Keep in mind that your outline doesn't have to be the be-all and end-all, as you may find you have to adjust the content to fit the design once you're ready to start plugging things in -- or vice-versa.
During the drafting process, be mindful of your goal: lead generation. For viewers to make it to your CTA or conversion point, you need to keep them engaged. This means making an effort to lead with a few catchy intro slides that encourage the viewer to continue to clickthrough.
Step 3: Design With the Viewer in Mind
If you have access to a design team, that's great news. Now that you've developed the content, you can pass it off to a designer to bring everything together in a way that makes sense, while also creating an end-product that's super sharp.
Planning on handling the design yourself? No worries. Tools like PowerPoint and Canva make it easy for non-designers to achieve professional-looking presentations without a lot of design knowledge. To set you on the right path, here are a few design tips you'll want to keep in mind as you string your presentation together:
Focus on contrast. To ensure legibility, you'll want to select colors for both your font and background that stand out against one another. Committing to only using dark colors against light colors and light colors against dark colors will help you achieve this.
Keep font selection simple. Too many fonts will distract the viewer from the message you're trying to get across. To ensure clarity, stick to using one to three types: one for your headers, one for your body text, and another -- perhaps italicized -- to emphasize certain words or phrases.
Include visuals. SlideShare is a platform for storytelling ... and what's a great story without some pictures? Include images to illustrate what you're trying to say while breaking up text-heavy slides. (Looking for free stock photos? We've got you covered.)
Step 4: Optimize for Lead Generation
This is perhaps the most important step. While it's entirely possible to generate leads from SlideShare, there are a few factors that need to be carefully considered first. To help you lay the foundation for lead generation, focus your efforts on achieving the following:
Keyword Optimization
Can search engines crawl slides? No, they can't ... but SlideShare will automatically transcribe the text from your slides to be placed below your presentation. That said, you'll want to be sure to include target keywords as they fit naturally. In addition, your title, tags, and description all serve as a place for keyword inclusion.
CTAs
While SlideShare prohibits you from using links in the first three slides of your presentation, they are fair game everywhere else. To ensure that you're driving traffic to pages where viewers can convert, it's best to include hyperlinked text or a CTA button to a landing page for a related, valuable offer. For more on how to create links within your presentation, check out this resource.
Lead Capture Forms
SlideShare also offers users the ability to insert forms within their presentation to collect contact information that can then be stored within their account. To analyze this information, users can export it as a CSV file and dig in from there. If you're a HubSpot customer, these leads will automatically appear in your HubSpot account where they can be segmented and scored. Thanks to the integration, customers will also be able to see not only the name of the presentation a lead converted on but also the exact slide.
How to Set Up a Form:
Navigate to the "lead dashboard" in the dropdown menu that appears when you click on your logo.
Select "create new lead form", and give it a name.
Write a description for the form headline -- this should mention what will happen after the visitor fills out the form.
Select forms fields from the list or create custom fields. While more form fields will help you generate higher quality leads, less will help you generate a higher quantity -- it all depends on your goals.
Determine a location for your form. Keep in mind that you want to make sure you give the viewer enough time to engage with the content before you present a form. (We recommend anywhere after slide 10.)
Specify which presentations you want the form to appear on.
Select the "create lead form" button.
When you're ready to kick off your lead generation efforts, check to be sure that your form's "status" is set to "running."
Step 5: Promote & Measure
You're finished ... almost. Now that your presentation is live, it's time to start driving traffic to it. Here are a couple of tips for promoting your presentation:
Include it in a blog post. Write up a simple introduction and embed the presentation below the introduction or use the presentation as a storytelling device to tee up a deeper discussion around the topic to follow.
Share it on social media. Pull quotes from your slides to share on Twitter or capture an engaging visual from the presentation to post to your Instagram with a link back to the deck.
Once your presentation starts to gain traction, you'll want to dig into the outcomes to gather insights that can be used to inform your future strategy.
SlideShare provides users with rich analytics that can be found in the drop-down menu in the right corner of the navigation bar. Aside from the "summary" view -- likes, comments, embeds, etc. -- the platform's analytics will also surface more in-depth performance indicators such as traffic sources and views by country.
As for that lead capture form you included, you'll want to refer to the "leads dashboard." Here you'll find the total number of leads captured by the form, which can then be divided by the total number of views to generate your conversion rate.
For HubSpot customers, we mentioned that the integration allows you to identify which presentations and which slides your leads converted on. It's a good idea to make note of this information and use it to direct your future topic selection as well as placement of the form for your next presentation.
Have you ever run a lead generation campaign on SlideShare? Let us know your experiences in the comments section below.