In 2015, GE ran an amusing ad campaign featuring Owen, a newly hired programmer trying to explain to family and friends why they should be excited about his new job. They were baffled that a programmer would work at what they believed was just a manufacturing company, offering only condolences as he tried to outline the innovative nature of a more modern GE.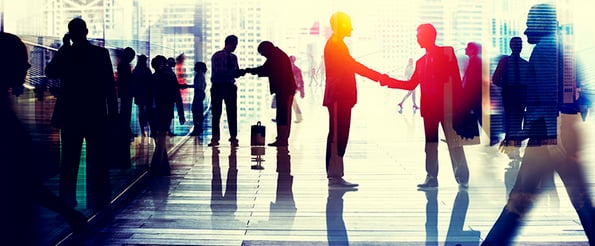 The spot was a clever way for GE to spread the word about its position as a digital industrial company, and not just a manufacturing one. Simultaneously, it helped boost the recruiting of young, tech-savvy developers into the fold. After the ad campaign aired, GE's online recruitment site received 66 percent more visits month after month.
With the exception of GE -- whose goal was to let people know that it does more than manufacture -- the top agencies often offer similar services with little or no variation. Beyond that, what separates the greats is their personalities: their people, their values, their approach to business, and their interactions with their communities.
In today's culture, who you work with is becoming more important than who you work for, and digital marketing is the best way to show prospective employees who you are as an agency, from the bottom up. By aligning digital marketing with HR, marketing agencies have the potential to create a sense of community that draws potential employees, clients, and market influencers closer than ever before.
Blurring the Lines Between HR and Marketing
Before the "Owen" ads brought more attention to GE, recent trends among other companies were already blurring the lines between HR and digital marketing. For instance, leaders are recognizing that employees are the best influencers, and have started leveraging them on social media channels, where employees can share company posts with their networks.
Certain corporate campuses even have designated areas for Instagram moments, allowing people to take photos with specific corporate campus attributes in the backdrop. The trend has spread all the way to the top, with CEOs like Meg Whitman posting pictures of their workspaces to promote more transparency.
By aligning HR's and marketing's methods and goals, you place your agency's HR personnel in a more strategic position to achieve their recruiting goals. It also forces the creation of a single, consistent brand that accurately portrays your agency's values and community.
Using Social Media to Attract New Employees
Most consumers today wouldn't make a large purchase without first researching the brand. Likewise, practical job candidates will likely research multiple agencies' brands before applying or accepting a job at any of them. In fact, company websites are a top resource for candidates on the job hunt. Keep your agency's online representation consistent -- and therefore more attractive to interested parties -- with these five tips:
1) Highlight your agency's culture on social media.
Every social media platform caters to a different need, and understanding the gains of each will help you use social media to its utmost potential. For instance, use Snapchat to tell quick visual stories that showcase the agency's inner culture. Use Instagram to share photos of daily office life, and Twitter to showcase your agency's unique personality and content.
If your agency doesn't have a strong social media presence in 2017, you not only limit your chances of getting discovered by potential job seekers, you also risk turning off candidates in the process of researching your agency. Job seekers want to be able to get a good sense of what working for your agency is like on a daily basis. Without sharing content on social media that highlights this, they could get the impression that you don't value transparency.
2) Build employee advocacy.
In addition to using your agency's social media presence to showcase your teams's culture, it's important to build up employee advocacy. Social media isn't going away, and empowering employees to use it to the agency's advantage isn't difficult.
Encourage employees to share their own insights about working for your agency on LinkedIn, Facebook, Twitter, Instagram, and other relevant social media platforms. Their extended networks will see their posts and spread awareness of your agency's brand. By leveraging your employee's personal and professional networks, your agency has the potential to reach people you wouldn't have otherwise been able to with your business presence alone.
3) Connect with influencers in your agency's niche.
Digital marketing also allows your recruiting team to more easily interact with potential candidates, as well as the most influential individuals and companies in your market. Like them on Facebook, interact with their tweets, and follow the trends that research shows are proving the most successful.
4) Network freely.
Networking is at the heart of social media and digital marketing, so use media extensively to connect and network with potential candidates, clients, and companies that you work with. Capital One, for example, offers another idea of how increased networking boosted HR performance. Just this year, Capital One's CIO attended the Grace Hopper Celebration of Women in Technology, specifically promoting Capital One's digital products and, most importantly, its company culture.
5) Aim to amplify your message.
Connecting and networking with the right influencers also gives you the opportunity to amplify your message to a significantly larger audience. If you build employee advocacy, utilize social platforms to your advantage, and master the art of networking, you'll see your brand spread exponentially every time someone posts, tweets, or Snapchats something about you. Others will see it, too, including the hundreds of thousands of followers your connections will be able to reach.
When employees share content about their company, those shares receive up to eight times more engagement and are reshared up to 25 times more frequently than the content on the brand's page. Research shows that such strong engagement and company culture helps companies outperform their peers in "profitability, productivity, customer satisfaction, employee turnover,""and more.
And by participating in social media and mobile apps, companies like Target have been able to attract and retain top talent while demonstrating its success with digital marketing. Because its digital marketing efforts are so extensive, those seeking new jobs already have an idea of what Target's initiatives are.
GE's engagement campaign, along with those of many other companies, offer a glimpse into how focusing more on value and results can boost an agency's image, performance, and recruitment efforts across the board. Follow their example, introduce your agency's personality to the world, and let top-level talent know who you are and how well they would fit into your agency's culture.