Emotional intelligence has long been discussed as a critical component of leadership.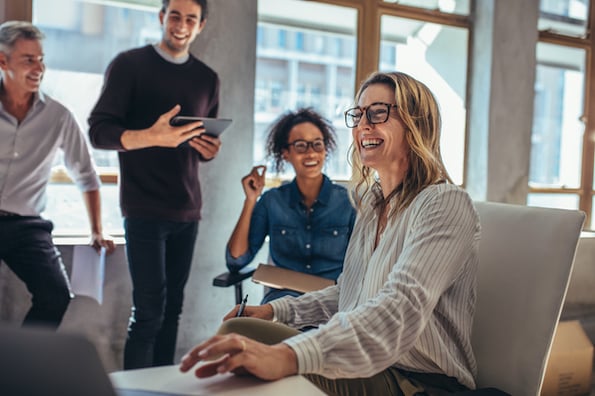 The ability to regulate your own emotions — as well as the emotions of others' — has proven invaluable on an individual level.
Consider, for instance, the supreme importance of having a boss who doesn't cry or yell every time a meeting doesn't go her way.
Alternatively, think about how important it is to have a leader who encourages positive, effective conflict resolution between teams when misalignment or miscommunication occurs.
All of which is to say: emotional intelligence matters.
But Kristin Harper, CEO of Driven to Succeed and author of The Heart of a Leader: 52 Emotional Intelligence Insights to Advance Your Career, takes it one step further, arguing that emotional intelligence can (and should) be fostered by brands, not just individuals.
Here, let's dive into how you can nurture and develop emotional intelligence for your brand as a whole — and why it matters in the first place.
[Note: the italic headings are the questions we asked Harper. The subsequent text is Harper's direct quotes.]
1. How can brands nurture and develop emotional intelligence?
Let's start first with the definition of emotional intelligence for individuals, which is the capacity to be aware of, control, and express one's emotions, and to handle interpersonal relationships judiciously and empathetically.
EI is a combination of self-awareness, self-management, social awareness, and relationship management.
For brands, I define EI using four pillars:
Brand Consciousness: Defining the brand identity including its attributes, values, heritage, tone of voice, and personality in a way that resonates with your target audience and distinguishes itself from key competitors
Brand Management: Providing relevant, predictable brand assets and experiences that delight the target audience, address their unmet needs, and build loyalty
Customer Intimacy: Taking a genuine interest in the challenges, concerns, feelings, perspectives, and unmet needs of its customers and stakeholders to build an emotional connection
Customer Engagement: Activating marketing campaigns while engaging in thoughtful, intentional, two-way dialogues with customers
Whether people or brands, the most effective way to develop emotional intelligence is through unbiased curiosity. Spend time learning, observing, asking questions, and discussing what's on people's hearts and minds. Doing so in a non-judgmental way will increase empathy, emotional intelligence, and naturally lead to more relevant products, services, and advertising.
2. How can a brand learn to measure its emotional intelligence? Are there any quantitative or qualitative opportunities to measure EI in companies?
It's not uncommon for mature brands to measure brand consciousness through equity studies.
In addition to awareness, performance attributes, brand imagery, and purchase behavior, these quantitative studies can also measure customers' feelings and attachment towards a brand and how it changes over time.
However, in a competitive marketplace where consumers are evolving, the pace of business is accelerating, and there is more data than people know what to do with, it's important for brand teams to complement their brain power with heart and intuition on a regular basis.
This is best done through lively, meaningful conversations with your customers or target audience. At Driven to Succeed, we offer online Community Dialogues, where we uncover deep insights around brand perceptions and opportunities for growth.
3. Which brands stand out to you as examples of ones with high emotional intelligence?
The insurance industry's response to the economic challenges caused by COVID-19 is a prime example of brands demonstrating high emotional intelligence.
From Allstate to Nationwide and beyond, multiple insurance brands have adapted to these unprecedented times by issuing premium refunds, deferring payments, and communicating with customers with an on-time message and an empathetic tone of voice.
4. How can emotional intelligence impact a business' bottom line? In other words, why does it matter for brands to try to develop and demonstrate emotional intelligence?
Emotional intelligence leads to empathy, action, and increased market share for brands.
When a brand is in-tune with their customers, they can develop and charge a premium for innovative products and services, deliver more relevant advertising, and engage with customers in a way that is distinct and preferred versus their competitors.
Ultimately, demonstrating emotional intelligence builds loyalty, increases market share and helps to drive top and bottom-line growth.
Kristin Harper is CEO of Driven to Succeed, LLC which provides market research, brand strategy consulting, and keynote speaking on leadership and emotional intelligence. She is also author of The Heart of a Leader: 52 Emotional Intelligence Insights to Advance Your Career.