Do you feel like you and your boss are on the same page most days of the week?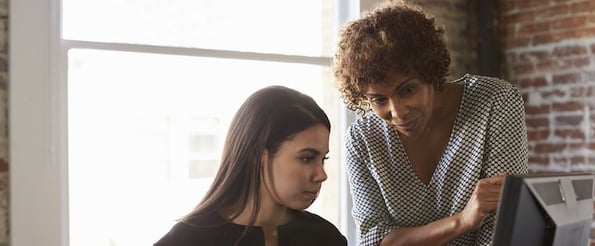 If you nodded "yes" emphatically, that's fantastic. But many readers might have a different opinion. In fact, a recent HubSpot survey revealed that while 70% of executives might reflect positively on their team's marketing strategy, only 50% of individual contributors agree.
As a marketer, it's imperative to communicate effectively with your boss to avoid this executive divide. I wanted to create communication rules that all marketers can follow, so I went straight to the source for some answers and talked to my own boss.
I interviewed Rick Kranz about effective communication with his marketing team. He has more than 30 years of business management experience and was more than willing to share his opinions with us. Read on for his thoughts and key takeaways about communication strategies between managers and employees.
8 Rules for Communicating With Your Boss
1) Start with the bottom line.
I asked Kranz what he thinks is the most effective way for your marketing team to talk to you.
Start with the bottom line. When you speak in hyperbole you end up telling a story that eventually gets to the bottom line. Start with, 'we are getting 50 more leads and here is why...' and avoid, 'So I ran an email campaign and a PPC campaign and had HUGE success. We are now getting 50 more leads.' When you start with the bottom line, I am in a position to then ask appropriate questions like, 'How did that happen?'"
What does this mean?
Don't beat around the bush. Your boss is a busy person and you need to respect that. Give her the point of your discussion first, then go backward if questions are proposed. This will keep your communication streamlined and focused.
2) Speak in numbers.
I asked Kranz if he prefers the bottom line to be in numerical or qualitative data, and if he prefers to hear about the bottom line or have a document or graph to guide the information.
I prefer numbers over words. A lot of CEOs are numbers-driven. Visual data is much quicker to digest, so if information can be visual, please make it so. If you give us a spreadsheet, we're happy, but if you give us a paragraph to read, it can be left open to interpretation."
What does this mean?
Numbers are powerful because they can communicate success (or problems) at a glance. Use them to your advantage when communicating with your boss -- numerical data speaks for itself.
3) Schedule when you communicate with your boss.
Next, I asked Kranz if he prefers discussions with his marketing team to be scheduled in advance.
It's best to schedule a meeting with me. That way, I can plan for our discussion and focus. You don't want my mind to be elsewhere, and if our discussion isn't scheduled, then you're most likely going to end up interrupting my workload, which is inefficient for both of us."
What does this mean?
We all can attest to the fact that writing back and forth via email can get messy, so try not to fill your boss's inbox with email after email from you.
Instead, schedule meetings with your boss to avoid messy lines of email communication and walk-in office interruptions. This will help streamline your communications and save valuable time.
4) Establish the that you have certain "rights" to communication.
I asked Kranz if he limits the number of employees that he communicates with directly.
Right now, I speak directly with everyone at our agency because there is only a handful of us, and that's how our business model works. At companies I have been a part of in the past, with more than 50 employees, I would scale down my communications to about seven people. There isn't a rule for it, it was just more effective that way."
What does this mean?
Do you have the right to speak with your boss? Of course -- we all have that right. But that doesn't always make for effective communication.
If you have concerns you want to address with your boss, but you're not the main point of contact with her, you should bring your concerns to your direct supervisor. This person will address your concerns with you, or take it up the food chain to your boss.
5) Communicate the anticipated results and next steps of your plans to your boss.
Next, we chatted about how Kranz wants to discuss future plans and goals with employees.
Always be able to tell me where we are, where we're going, and how we're going to get there. If we're at point B and you want to get us to point A, then tell me how you plan to do that, and what will happen once that step occurs. Communicate the results of your plan and what the next steps are that I can help you with."
What does this mean?
Communicate your plans effectively by addressing what the plan is, what the results will be and what the next steps are. If you bring these talking points to the table, you'll be organized, and your plan will be well spoken for.
6) Bring problems to your boss's attention right away.
If a problem emerges, Kranz wants his team to bring it to him right away.
Come find me in person, because the problem needs to be addressed right away. Sending an email can delay my response time and doesn't put us in a good position for a problem-solving discussion. Additionally, it's smart to always bring at least one solution to the table. Never give me a problem without a solution, because then you're just passing the buck."
What does this mean?
Don't skulk away when a problem pops up or a mistake occurs. Respond to it proactively, and don't keep your boss in the dark. Communicate your own proposed solutions when you present the problem so you and your boss have a basis to start a problem-solving conversation.
7) There's a right time and place to promote your achievements.
I asked Kranz how he prefers achievements and success be brought to his attention by direct reports.
In a successful business, things are going well on a regular basis. If someone were to tell you every time something good happened, you would have someone running into your office all the time, because good news makes your business run. In my opinion, a monthly review of results would be best. It's easier to digest these results as a report, too. During the review of results, your achievements should be highlighted. Weekly meetings are another good place for everyone to discuss their recent achievements."
What does this mean?
We all love to brag about what we do well, but there's a time and place to do it. Your work will speak for itself if you're bringing in the type of results your boss is looking for. Then, you can get on your podium and share your achievements when you present reports to your boss or allocate time for success stories at the end of a meeting.
8) All business-related topics are noteworthy.
Kranz doesn't believe there are any topics that would hinder effective communication between an employee and his or her boss.
There's nothing my team shouldn't come to me with. We want to hear about how the team is working together and how your work environment is, so anything is open for discussion."
What does this mean:
Speak to your boss about business topics that concern you, or any particular success-related stories. Communicating feedback on what is going on in your business environment is an effective way for your boss to see a full picture of the company from someone else's perspective, so don't hold back.
Communication Is a Two-Way Street
Effective communication with your boss starts with you. You need to approach it a certain way for the conversation to be as productive as possible, so you can minimize the divide between executive and individual contributor perceptions across companies. To learn more about the global state of marketing and sales industries, download the 2017 State of Inbound report today.
What are your strategies for communication effectively with your boss at work? Share with us in the comments below.
Editor's Note: This post was originally published in June 2014 and has been updated for accuracy and comprehensiveness.
Want to learn more about office politics? Check out Want to Be Less Awkward Around Your Boss? Try These 11 Tips.