Imagine this -- you're having friends over for a dinner party, and your recipe (which you found on Google) calls for spiralized zucchini noodles.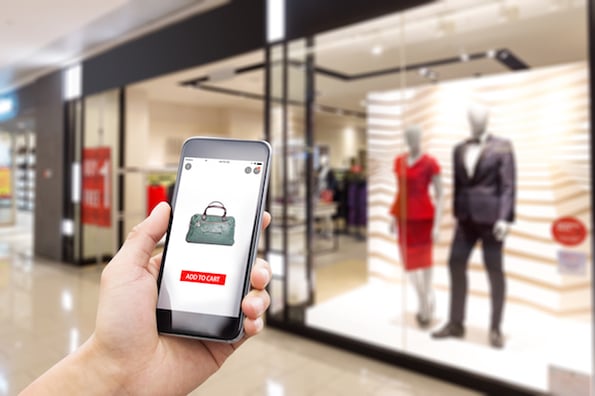 On your smartphone, you Google "spiralizer" and find this:
Among the first results you see are Williams-Sonoma's spiralizer products. You click one, and are immediately taken to the product page on Williams-Sonoma's website, where you can order your spiralizer within minutes.
Admittedly, this type of instant shopping is hardly new. We've seen an incredible rise in ecommerce over the years -- today, ecommerce influences 56% of in-store purchases, and 10% of all U.S. retail sales. That number is expected to grow by 15% each year.
Ultimately, if your product doesn't appear in search engines, you're missing out on a large majority of your potential consumers.
However, you might not realize that Williams-Sonoma is a loyal customer of Google Merchant Center, a platform with tools that allow your business to create smart ads for Google, Google Images, and YouTube, reach your ideal customers globally, and use analytics to get better at reaching people already searching for your products.
If you've never used Google Merchant Center, you might be feeling overwhelmed. Don't worry -- here, we're going to cover all the fundamentals of getting started with Google Merchant Center, to ensure your products are online and easy-to-find for those who need them.
Set Up a Google Merchant Account
It's easy enough to set up a Google Merchant Account -- in fact, there are only four steps before you'll have a Google Merchant Account of your own. Here's how:
1. Go to the sign-up form for Google Merchant Center. Fill in the required information about your business, including which country your business is based, the name of your business, and your website URL. When you're finished, click "Continue".
2. On the next page, read the Terms & Conditions. Check the box marked "Yes, I agree …" when (and if) you agree, then click "Continue".
3. Enter your website URL into the box, then click "Save" and "Finish".
4. This step is optional, but if you don't complete it now, you'll have to complete it later within the Merchant Center dashboard -- if you want to wait, click "Skip". Otherwise, use one of the four offered methods to verify your website URL, then click "Finish".
5. Voila! You've officially set up your Google Merchant Center.
How to Use Google Merchant Center
To manage your shopping ad bidding strategy, create advertising campaigns, and track ad performance, you'll use Google Ads and Analytics -- not Google Merchant Center.
Why, then, should you use Google Merchant Center?
Essentially, Google Merchant Center can help you do three things:
Notify Google you have products to sell
Give Google information to create a targeted ad for your products
Provide Google with information necessary to ensure Google will showcase your products to users who are the best fit for your products
Let's dive into how you can set up your Google Merchant Center to ensure you accomplish all three.
To ensure Google has all the correct information to find your products, create targeted ads, and showcase your products to the right people, it's critical you upload a complete product inventory to Google Merchant Center.
Fortunately, Google Merchant Center allows you to upload straight from their own, pre-designed Google spreadsheet template, making it incredibly easy.
To upload your product inventory, follow these steps:
1. Go to "Products" within your Google Merchant Center, then select "Feeds". Click on the big blue "+" icon to add new products.
2. Fill in Basic information, including the country you want to sell products to, and the language. This will help Google ensure your products appear to your ideal demographic, in both the language and currency most appropriate. Then, click "Continue".
3. Name your feed and choose your input method. For our purposes, I chose "Google Sheets". Then, click "Continue".
4. If you choose to upload with a Google spreadsheet, you can either choose an existing spreadsheet or use Google Merchant's spreadsheet template.
To use Google Merchant's pre-made template, I chose "Generate a new Google spreadsheet". You also have the option to select an upload schedule, i.e. daily or weekly, depending on how often you update your inventory. Then, click "Continue".
5. Within the spreadsheet, fill out the necessary columns, including "id", "title", "description", "link", "condition", "price", "availability," etc. Be as specific as possible, especially in the "description" column, to ensure your products are correctly advertised.
6. When you're finished and ready to import, go to "Add-ons", "Google Merchant Center", and then "Upload sheet".
If you're unsure of what any of these columns mean, such as "id" or "gtin", take a look at Google's Product Data Specification page for details.
It's important to note, what you type into your inventory is exactly what will appear when a user clicks on your product in Google Shopping, so it's critical the information is both specific and accurate. You'll want to make sure information such as "price" matches exactly what is on your website.
For instance, here's how a spiralizer appears in Google Shopping, with a full description, price, and title that matches the information on the product's website.
How to Make Changes to Your Merchant Center Product Feed
If you need to make changes or update your feed (i.e. inventory), you don't have to register or upload a new spreadsheet. Instead, you can use "supplemental feeds", which allow you to provide additional data that can be integrated with your existing data in the primary feed.
A supplemental feed can't be used as a standalone feed -- instead, its purpose is to update existing product data in your primary feed, so you don't have to create a new primary feed every time your inventory information changes.
To create a supplemental feed, go to the "Feeds" section and click "Add a supplemental feed". Follow the prompts and provide information including your supplemental feed name, input method (i.e. Google Sheets, Scheduled fetch, etc.), which primary feed you want to link to, and a scheduled fetch for your product data so you don't need to manually upload it.
Alternatively, you might use Feed rules to resolve errors or help Google Merchant Center correctly interpret your primary feed's data, if it seems it isn't working or needs to be adjusted.
To do this, go to the "Feeds" section, click the feed you want to fix, and select the "Rules" tab. Choose the country to which you want to apply the rule (if you have more than one country of sale), then click "Create Rule".
Finally, select the attribute you'd like to impact, configure your data sources, and click "Save as draft". Then, select "Test changes" to ensure you've made the correct changes to your product feed. If you're happy with the changes, click "Apply". If you don't want to apply the changes after all, click "Discard".
Next, take a look at How to Optimize Your Google Shopping Data Feed.