Bitcoin and similar cryptocurrencies behave like the stock market.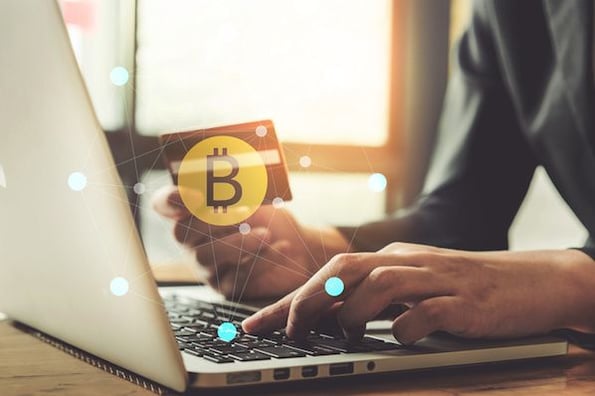 The more people who buy shares of Bitcoin, the higher the currency's price. The fewer people who buy Bitcoin, the lower its price.
However, the source of Bitcoin's value -- and how you buy into it -- is very different than an investment in the shares of a public company.
What Is Bitcoin?
Bitcoin (often denoted "₿") is a digital currency that allows you to conduct business and exchange resources securely, but without going through a bank or central payment entity to perform the transaction. Bitcoin can be sold, traded for a product, or bought into like a stock (which this article will teach you how to do).
Think of Bitcoin like a bartering token, only there's a limited supply of these digital tokens worldwide. Banks and national economies don't generate Bitcoin -- software mines it using a technology called blockchain. Learn more about this concept in the video below.
With Bitcoin being a limited resource, you'd think its value would always be off the charts, but this cryptocurrency is extremely volatile. People can adopt Bitcoin as a means of exchange for many reasons, and as Bitcoin's usage evolves, so will the reasons people choose to buy into it. Just this week, Bitcoin's price increased by more than $1000, reaching $7,450 per ₿1 at the time of writing this article (yikes).
How to Buy Bitcoin Stock
Whether you're looking to invest in Bitcoin for a big sell later, or spend it on various items and assets, there's a universal process you'll have to go through to buy stock in it. Let's dive into that process.
1. Download a Wallet
By "wallet," we don't mean the leather one in your pocket, or even credit card reader apps like Google Wallet. A Bitcoin wallet is an online storage place for all your digital currency. It doesn't just hold your Bitcoin, though. Bitcoin wallets also store your personal "key" -- a unique identifier assigned to every Bitcoin owner, consisting of a long string of letters and numbers that keeps your Bitcoin secure. This is essentially your Bitcoin password.
Your first step in buying Bitcoin is to download a Bitcoin wallet and connect your credit or debit card to it. There are more than a dozen Bitcoin wallets you can download, both to your desktop and as an app on your mobile device. Here are the wallets that work with the most devices and operating systems:
Coinbase, the first wallet app on the above list, also offers a "Bitcoin exchange" where you'll register to buy your first share of Bitcoin. Binance is another cryptocurrency exchange platform that allows you to monitor the current prices of Bitcoin and other cryptocurrencies. We'll talk more about exchanges in the second step below.
2. Register With a Bitcoin Exchange
If there are national stock exchanges like NASDAQ, does that mean there's also a Bitcoin exchange? Yep. Bitcoin trades on a variety of online exchanges around the world, and to start buying and selling Bitcoin, you'll have to register with one of them. Have your email address and credit or debit card information ready.
Don't worry, all of your exchange options recognize the same Bitcoin trading price. Each exchange just caters to a different country or continent, and therefore offers an exchange rate that corresponds with the currency you'll use to buy Bitcoin. For example, while Korean exchanges sell Bitcoin for won (Korea's main currency), U.K.-based exchanges sell Bitcoin for pounds.
Here are some international Bitcoin exchanges you can register with (these exchanges trade Bitcoin for most currencies across the globe):
Although there are Bitcoin exchanges that specialize in just one country, you might find it easiest to register with an exchange that also supplies you with a Bitcoin wallet so you're not submitting your bank information to two separate services. Coinbase is one of those options. After downloading the Coinbase wallet, you can move right over to its exchange to buy your Bitcoin stock and fill your wallet.
Now, let's talk about how to make your first crypto-purchase.
3. Select a Buy-In Amount
Once you've selected the exchange where you want to buy your Bitcoin, navigate to the exchange's "Buy" section and select your buy-in amount. You'll tether your Bitcoin wallet to this purchase a "bit" differently (pun intended) depending on the exchange you use to buy your Bitcoin.
Nervous? Don't be -- you can buy less than ₿1 if you want to. Bitcoin exchanges sell cryptocurrencies down to several decimal places, so if Bitcoin is trading at $7,450 per ₿1, you can invest $1 and receive .00013 Bitcoin. Then, as Bitcoin's trading price increases, so does the value of the Bitcoin you bought.
4. Browse a Crypto Marketplace
With your Bitcoin in hand (or rather, in wallet), you can do one of two things with your purchase:
Spend Bitcoin in a Marketplace
Bitcoin has its very own ecommerce marketplaces where you can trade Bitcoin for products. Products include those that are shippable to your door -- such as jewelry -- and those you can download to your computer, such as Microsoft Office. Remember, no banks are involved in these transactions. The market simply verifies your Bitcoin's individual blockchain and completes the purchase.
Common Bitcoin marketplaces where you can spend Bitcoin include Bitify, Glyde, and even a Reddit community called BitMarket. Keep in mind you can also sell your own products for Bitcoin, making these marketplaces an easy way to build up your Bitcoin investment.
Buy and Wait
Of course, like any good investor, the key to making money on Bitcoin is to buy in and leave it alone. Cryptocurrencies' trading prices can fluctuate hundreds of dollars in a single morning, and watching Bitcoin's value peak and dip every day can drive you nuts.
Bitcoin investors often say that the money you put into Bitcoin should be money you're willing to lose. With that in mind, the best way to enjoy your investment is to let it sit, try selling personal items that could grow your Bitcoin account, and check the Bitcoin price once in a (long) while.