By 2020, there will be an estimated 30 billion devices connected to the Internet of Things (IoT). While many of these products will be cool on their own, imagine how much better they could become with some imagination?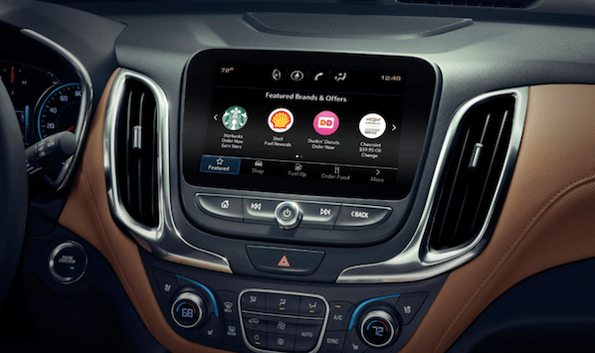 With a little creativity, you can succeed in using IoT to enhance your marketing strategy, or even create a more useful product for your customers. For instance, Tide's dash buttons (included in our list below) allow consumers to surpass the shopping experience altogether, ensuring long-term customer retention. Meanwhile, Uber and Spotify partnered up to make your next car-sharing experience personal and unique.
With IoT products, everything is new -- this largely untouched terrain makes you as much a developer and inventor as anyone. Here are seven IoT marketing examples, to inspire you to investigate all the ways you can use IoT to take your brand and product to the next level. Plus, we've included some DIY IoT project ideas, so you can hone your skills.
Internet of Things Examples
There are numerous examples of Internet of Things (IoT), across industries ranging from automotive to entertainment to healthcare. General Motors uses IoT to allow drivers to order coffee from a touchscreen. Diageo, a leader in the alcohol industry, applies IoT to let customers send personalized messages via a whisky bottle, and Spotify now connects with your Uber driver's car speakers, so music control is all yours.
Internet of Things Examples
When you think of memorable and thoughtful Father's Day gifts, you probably don't often think of whisky. Diageo, a global leader in the alcohol industry with a collection of over 200 brands, attempted to change this for Brazil's Father's Day in 2012. They created an IoT-inspired campaign and embedded a QR code onto each whisky bottle. When the whisky was received, father's could scan the code on the bottle to see a personalized video message from their son.
Diageo's use of IoT enabled the company to trust their consumers to market the whisky themselves, by creatively sharing their own messages with loved ones. Diageo's brand stood out as both innovative and thoughtful, and the results were incredible -- Diageo saw a 72% uplift on the lead up to Father's Day.
Image courtesy of The Digitals.
Amazon's dash buttons, which connect to your wi-fi and link to the Amazon app, allow users to automatically order products when they're running low. In cooperation with Amazon, Tide uses a dash button to help customers automatically order new Tide detergent, which then appears on your doorstep in a matter of days. The process is effortless -- a simple touch of a button.
Tide's dash button is undoubtedly one of the easiest ways to ensure long-term customer retention. In a supermarket, customers might surpass Tide for a cheaper non-brand-specific label, or mull over competitor's similar products. By offering users the option to avoid that burdensome shopping experience altogether, users will likely choose Tide every time.
*Tide isn't the only brand using dash buttons. Check out the complete list here.
Image courtesy of Digital Trends.
It's not unusual for brands to ask customers to tweet something, but the request is not often met with much excitement or vigor, unless the customer feels he's receiving something in return. Using IoT, connecting social media hashtags and product giveaways might be easier than ever -- and a lot more fun.
Allen Solly, a clothing brand, created an interactive shirt billboard in Bangelore, India. As users tweeted #RainingSolly, the computer linked to the billboard would choose a solenoid (the coil wound behind a shirt) to push a shirt off the billboard for a random consumer to win.
Allen Solly found a unique way to encourage consumers to share their brand on social media, while enabling people to engage as a community in person, as well.
Image courtesy of Allen Solly's YouTube account.
Print advertisements and IoT technology probably feel like two different ends of the marketing spectrum -- the past, and the future.
But they might not be. Nivea Sun Kids created a campaign that combines both, by offering bracelet strips in a Brazil magazine print advertisement that parents could peal off and put on their children's wrists. The bracelets had built-in locators, which, when paired with Nivea's mobile app, allowed parents to set a maximum distance their children could wander. If the child wandered beyond the maximum distance, the app notified the parent. The radar also showed if the child was moving closer or further away.
Nivea's creative campaign likely encouraged word-of-mouth advertising between parents in Brazil, and it also showcased the brand as being thoughtful and innovative.
Image courtesy of Nivea Protege YouTube account.
The Internet of Things is a remarkable opportunity to improve a product or marketing strategy, but it's equally critical for enhancing your customer experience and beating out competitors.
Spotify and Uber, two major brands, teamed up to create a more enjoyable and seamless experience for their users. Users can now connect their Spotify account to their Uber app -- then, when they get in an Uber, they can use their Uber app to automatically play their Spotify soundtracks through the car's speakers.
This partnership between products undoubtedly improves the customer experience, which also likely leads to long-term customer retention. If a user is contemplating which car-sharing service to use, and she knows only one will automatically play her new favorite Taylor Swift song, well -- which would you choose?
*You can also play your Pandora station in an Uber with the same IoT technology.
Image courtesy of VentureBeat.
Like I mentioned before, IoT can improve a brand's product, leading to a more effective marketing strategy by elevating the brand's level of innovation and uniqueness. Today, one way to surpass your competition is to integrate your product, in as many ways as possible, with your user's everyday experiences.
Take General Motors, which, in 2017, rolled out the automotive industry's first commerce platform. Using Marketplace, General Motors drivers can now order and pay for their favorite Starbucks coffee, make dinner reservations, and find the nearest gas station, all within the dashboard's touchscreen.
General Motor's Marketplace gives users the opportunity to complete their everyday errands in a safer, more efficient manner.
Image courtesy of GM.com.
One of the biggest hassles of shopping today is finding and locating products in-store, particularly in bigger department or pharmacy stores. Don't you ever wish your phone could direct you?
Now, in partnership with Aisle411 and Google Tango, Walgreens enables users to do just that by offering a mobile app to search and locate products within the store. Additionally, users receive personalized offers and loyalty points via the app, making the shopping process feel a bit more fun.
According to App Annies, Walgreens' app is the third most popular retail app, topped only by Groupon and Amazon.
The consequences of such technology in advertising are abundant. You might use similar technology to create virtual games, where users follow a treasure hunt and receive points or discounts after visiting digital checkpoints. Your app might compel users to visit the store more often, as well, particularly if those mobile discounts are personalized based on a customer's shopping habits.
Image courtesy of Mobihealthnews.com.
DIY IoT Projects
Now that you've seen what your brand can accomplish with IoT, here are some DIY projects to help you hone your skills -- plus, since most of these projects are open-source, you can tailor the product to best suit your own needs.
1. Alarm Clock: Using Rasberry Pi, you can set up an IoT alarm clock and link it to train times and adjust the alarm based on a selected train, enabling you to sleep later if the train is off-schedule. You can also link your alarm clock to various radio stations, so you can wake up to music on a weekend and the weather station on a weekday.
Click here for instructions on building.
2. Smart Mirror: Using a two-way mirror, a display panel, and a few other compenents, you can build yourself a smart mirror that shows you the time, date, weather, news headlines, and anything else you're interested in seeing first thing in the morning.
Click here for instructions on building.
3. Weather Station: For less than $15, you can build yourself your own weather station that monitors temperature, humidity, light index, rain, and other weather-related information.
Click here for instructions on building.
4. Smart Thermostat: If you're not interested in paying upwards of $250 for Nest's thermostat, you might try building one an open-source version yourself for about $70. An IoT thermostat can change the temperature in your house without you needing to get up from the couch, making it a luxurious and fun project to try out.
Click here for instructions on building.
5. Netflix Personal Trainer: You can connect your elliptical or treadmill to your tablet or phone via Bluetooth, choose your favorite Netflix character, and use them as your personal trainer. Your Netflix character can serve up motivation words, and when you pause, your Netflix "coach" will pause, too.
Click here for instructions on building.
6. IoT Remote Soil Moisture Monitor: If you often forget to water your plants, you might want to set up a remote soil moisture monitor, which automatically monitors soil moisture and alerts you if your plants need to be watered.
Click here for instructions on building.