There are few things I look forward to more every year than the release of Mary Meeker's Internet Trends Report.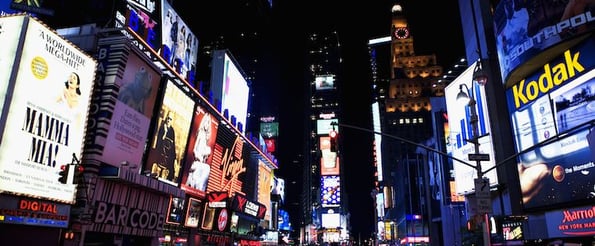 It's clear, it's visually interesting, and most importantly, the results are always fascinating -- with tremendous implications for marketers.
Meeker's report is chock-full of data about how the way users operate online is changing. And man, are things changing. Voice queries are replacing the typical internet search, Netflix and other streaming services are replacing cable television, and social media is overtaking traditional cable TV habits.
Another way the internet is changing TV? Advertising. In her report, Meeker predicts that in 2017, spending on internet advertising will surpass spending on TV advertising for the first time -- and eventually exceed $200 billion.
In this post, we'll dive into how this change is taking place, and what the future of advertising looks like -- in 2017 and beyond.
The State of Internet Advertising in 2017
Here's a visualization of Meeker's prediction -- which also shows the rapid trajectory of internet advertising spend since the 1990s:
As you can see from Meeker's slide, internet advertising spending will exceed $200 billion this year -- beating TV advertising spending for the first time.
The magnitude of this can't be overstated -- the first television ad aired in 1941, and the first internet ad was placed in 1994. It took the internet only 24 years to disrupt and outpace the 76-year-old TV advertising industry -- making it almost three times faster and more agile.
Meeker's report also outlined where the bulk of internet advertising dollars are spent -- and to nobody's surprise, online advertising is growing at an explosive rate on Google and Facebook (20% and 62% year-over-year, respectively).
This data means that the online inbound marketing world is disrupting -- and outpacing -- the traditional outbound marketing world. But it's reflective of other trends and changes, too.
What the Future of Online Advertising Looks Like
The Future of Online Advertising Is Mobile
Roughly half of all internet ad spending was on mobile advertising in 2016:
And that breakdown is no surprise -- because people are spending more time online -- and more time online on their phones -- than ever before:
Meeker's report highlights this trend -- and points out the massive potential for growth in the mobile advertising space. There's an opportunity for $16 billion worth of growth as the amount of mobile online advertising catches up to the time people are spending online on mobile devices:
This gap between time spent on mobile devices and money spent advertising specifically on mobile devices could be indicative of the relatively new mobile advertising space -- advertisers might not yet know how to engage such a new swath of potential prospects.
But it could also be a result of the rapid rate at which mobile ads are reported and blocked, too. As it turns out, internet users -- particularly on mobile devices -- are quick to block ads they're not interested in viewing:
There's a huge opportunity for marketers and advertisers in the mobile online space, but it needs to be carefully and strategically done -- so as not to irritate users enough for them to block those ads. We'll surely continue to see more ads online -- and on our smartphones.
The Future of Online Advertising Is Social
Google is eating up the majority of mobile advertising revenue dollars, but it's followed closely by Facebook. What's more, revenue from ads on Google and Facebook made up 85% of online advertising revenue in 2016:
So, as advertising spending and consumption shifts from TV to online, and specifically to mobile online, keep an eye on where ads start appearing online, too. Facebook online advertising revenue is growing faster than Google ad revenue at 62% year-over-year -- and as it turns out, ads on Facebook drive direct purchases, too:
Mobile ads and targeted pins on Pinterest see high purchase rates, too:
As users continue spending more and more online time within social media apps, advertisers will shift their strategy to create targeted, shoppable ads that live in social media feeds to keep users within apps and mobile devices and to make it easier for them to buy.
The Future of Online Advertising Will Be Closely Monitored
As the rates at which online and mobile ads are blocked by users indicate, many ads are perceived as obtrusive, disruptive, and unhelpful to many people. And it's true -- poor quality ads can drive people away from your site if they create a poor experience for your visitor.
Perhaps that's why Google and Facebook have started taking steps to penalize publishers advertisers that create disruptive, misleading, and otherwise low-quality ad experiences on their platforms in recent years. Mobile and social media advertising offer a lot of opportunity for reward, but marketers and advertisers need to be mindful of the high stakes when they start creating. Pop-ups, overlays, and clickbait could get you penalized and blocked from future success, so stay tuned for more guidance on mobile marketing and social media advertising.
To download and review Meeker's full Internet Trends Report, click here.
Where are you dedicating most of your digital advertising resources? Share with us in the comments below.