In everyday conversation, the definition of marketing firm versus agency doesn't matter all that much -- but, nowadays, most people aren't relying on conversation alone when looking for help from a business.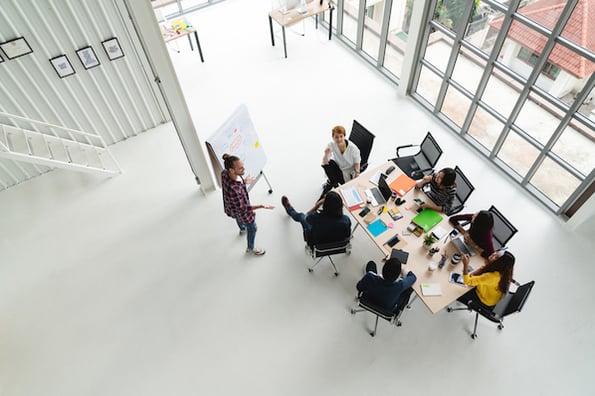 Instead, they're using search engines.
People conduct online research quickly -- in fact, 92% of searchers choose a business on page one of search results. With such speedy decision-making, it's critical you know which search terms will serve you the business most likely to help you succeed.
For this reason, it's vital you know whether you need to search "marketing firm" or "marketing agency". While they sound similar, they typically offer vastly different services.
Here, we're going to explore the difference between marketing firms and marketing agencies to ensure you're able to find the business best-suited for your needs.
Marketing Firms
Consider the term "law firm". I'm willing to bet you associate that term with a group of professionals with a specialized range of services who all work for one company or organization.
A marketing firm is incredibly similar in nature.
In the traditional sense, a marketing firm is a group of professionals who likely specialize in one or two areas of marketing.
PR firms, for example, hire employees who can focus on implementing PR campaigns for clients. A PR firm can help you with needs related to public relations, but it won't have in-house employees ready to handle your SEO needs, or capable of implementing an advertising campaign.
For a more comprehensive approach, you'll want to consider a marketing agency, instead. Let's explore the definition of an agency, next.
Marketing Agencies
A marketing agency offers a broad range of services to help you implement an integrated marketing strategy for all your brand goals.
For instance, you might hire a marketing agency to assess your current marketing strategy and help you create a stronger brand voice or connect to a larger audience. They might use a combination of SEO, social media, advertising, and PR to ensure your business goals are met.
Unlike a firm, a marketing agency is made up of a group of "agents", or individuals who operate under one brand, but typically act independently. Consider the similarities to a real estate agency -- each real estate broker operates under the brand's name, but has clients, goals, and services independent of the agency as a whole.
When seeking help from a marketing agency, you might want to focus your search term further -- for instance, you could search "digital marketing agency near me". A digital marketing agency will have in-house talent ready to help you with marketing related to digital strategies, including SEO, website design, social media marketing, and display advertising.
Alternatively, you might check an agency's team profile page to find out whether individual agents focus or specialize in digital marketing.
If you're interested in hiring an agency, take a look at HubSpot's list of partner agencies to find the right fit for you.