From 1976 to 2000, the average working American took off more than 20 days a year.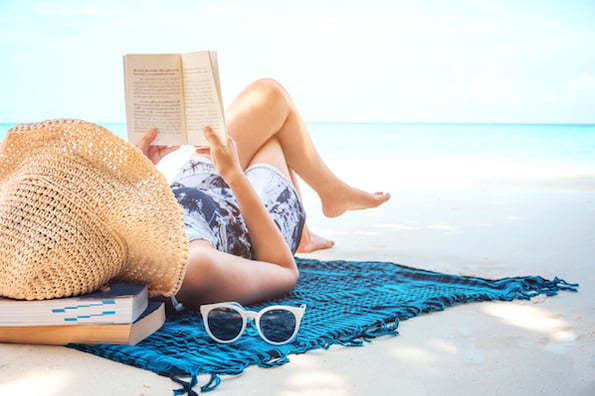 15 years later, that number has decreased to 16 days for the average American.
We all know the importance of work-life balance -- but, unfortunately, we don't always know how to implement formal company policies to give employees' legitimate permission to take time off. And, without company approval, many employees are leaving free vacation days on the table.
Additionally, your employees are unique. While some might want time off to visit the Grand Canyon, others might just want to stay home with a sick child, or catch up on errands.
A lack of time off for employees can impact your company's bottom line, too. In fact, people who use vacation days are more likely to get a promotion or raise. Ultimately, time off allows people to recharge and maintain peak productivity levels, undoubtedly good for your company's long-term growth.
To ensure your company sees optimal success in 2019, we've created this guide to Paid Time Off (PTO), which can help create a culture in which employees feel secure taking the time they need to maintain a healthy work-life balance.
What is Paid Time Off (PTO)?
Paid Time Off (PTO) allows employees to take a certain number of days off, typically based on a certain amount of time they've worked at a company. Rather than giving employees vacation and sick days, many companies use PTO as an all-in-one opportunity for employees to take time off at their own discretion. This helps employees avoid burnout, and allows managers to avert the administrative hassles of tracking where employees are when they're out of office.
Your employees are all unique individuals. Some of them value travel, while others enjoy quality family time. Some want to sit at home with a book, while others want more time to train for a marathon.
Plus, events can often arise that are unplanned -- a sick child, a car that breaks down, or a last-minute dentist appointment.
Our 9-to-5 work schedule is not always conducive to the demands we feel from other aspects of our lives. For this reason, you should consider implementing Paid Time Off (PTO) to allow employees to take care of themselves without fearing financial punishment as a result.
Essentially, PTO allows employees to accrue time-off based on hours worked -- for a certain number of hours worked, an employee earns a certain amount of PTO that is credited to an employee's "bank", typically after a pay period. If an employee takes one day off, they're taking eight hours of PTO.
PTO often takes the place of a company's vacation and sick day policies. Instead of offering separate buckets of time-off for different reasons, you offer PTO as an all-in-one opportunity for employees to take time off at their own discretion.
It's easy to see the administrative and leadership benefits of PTO -- with PTO, you avoid the hassles of tracking why an employee is out, and logging the missed day into one system over another.
Plus, your managers are able to demonstrate trust in their employees.
Your employees are adults -- is it really important whether they took the day off because they were actually sick, or because they simply needed a day to recharge in front of Netflix? Either way, it's time off they've earned.
87% of companies offer PTO plans and 91% offer paid vacation plans to employees based on how long they've worked at the organization. For PTO plans, the average days awarded per year based on employee's length of service ranges from 13 to 26 days.
Unlimited PTO
Unlimited PTO works the same as PTO, except you don't assign a certain number of allotted days to your employees -- instead, you trust them to take any time off they need, as long as they get their work done.
This type of results-driven workplace culture is becoming increasingly popular, particularly in the startup and technology industries.
It might seem like a crazy idea -- why would any company offer unlimited PTO? Wouldn't that just result in an empty office, with a bunch of employees permanently lounging poolside in the Bahamas?
In reality, employees with unlimited PTO typically don't take any more days off than employees with an assigned amount of PTO -- in fact, marketing automation company Salesfusion found that after they implemented unlimited paid vacation, their employees actually started taking fewer days off. The folks at HR Advice have even decided to avoid unlimited PTO because they want to make sure people take enough vacation. Whatever you decide, you don't have to worry about people taking too much time off.
Unlimited PTO can help you attract and retain top talent. Additionally, the impressive benefit can incentivize employees to work harder, and care about their company more.
While you might be wary of some employees taking advantage of the time off, you can mitigate those issues by enforcing regular performance reviews and ensuring each employee continues to hit their deadlines.
Brian Halligan, HubSpot CEO and founder, points out three important elements to implementing a hands-off approach to employee vacation time:
1. The state-of-the-art vacation plan these days is a relic of an era when people worked 9 to 5 in an office, like our fathers did. The internet and mobile devices have enabled our employees to work where they are comfortable (often at home) and the hours they are comfortable (often in the middle of the night).
2. I always thought is was strange when an employee would hand me a paid time off form for a weekday, but never handed me a credit form for the Saturday and Sunday they just put in. Since we are not tracking weekend days worked as credit, the weekday time off just didn't seem fair.
3. We hire very smart people who are very focused on contributing to the growth of our company. We trust that the folks will use "common sense" with regards to taking an appropriate amount of time off.
How to Take PTO
This section likely sounds ridiculous to people from certain European cultures, but for Americans, it's an all-too-familiar problem. There are a few reasons many Americans end up leaving paid vacation days on the table, including a sense of obligation to work hard all the time, and a sense of guilt when a day isn't "productive".
It's time all employees globally understand the benefits of time off -- for instance, working fewer hours correlates with higher levels of productivity in the form of increased GDP (gross domestic product). Additionally, an employee's workplace happiness can help improve team morale.
If your company offers PTO and you're anxious about taking it, consider following these six steps:
Plan your time-off far in advance. Consider when you might need it most -- do you have a month full of conferences, travel, and all-day meetings? Perhaps you'll need a week to recharge after all that. Alternatively, maybe you just need a few days to lay in the sun in mid-January (I know I do).
Tell your manager as far-in-advance as possible. Ask her what she will need you to complete before you leave.
Send out an email to your immediate team with an out-of-office reminder in advance, if possible. Urge employees to let you know what they need from you ahead of time, so you can get your work done before you leave the office.
Set an automatic out-of-office reply to emails, and include an employee or manager's email as an alternative if it's an emergency. Additionally, set your slack, or company messaging system, to "away".
To ensure you finish your work in time, consider blocking time on your calendar as "Busy", so people can't book you for meetings and you can cross tasks off your to-do list.
Trust your team! They will be able to handle the workload just fine while you're gone, and you can return the favor when they're out of office.
Of course, these strategies only work if you plan on taking PTO in advance. If an illness or emergency arises, you understandably can't plan for that. Instead, it's important you keep team members in-the-loop, but remember -- PTO exists for those reasons, as well.
Use your days off to recharge, and let go of any guilt you might feel. You'll be a better employee as a result.