There are a few different reasons you might want to use a portable app, which is software that can run on a computer without being installed.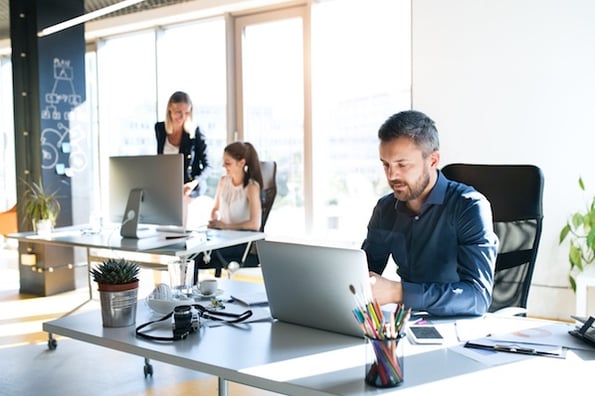 First, if you often switch back and forth between your work and home computer, you can transfer a portable app via USB flash device, portable hard drive, or the cloud from one computer to another. This enables you to work on projects from different devices at your leisure.
Second, the portable app leaves no trace when you remove it, making it handy when you're using a public computer but don't want information stored there long-term. Plus, you can use a portable app on a PC with restricted user permissions, so you'll have no problem getting your work done anywhere.
And, lastly, installed programs take up space on your computer, which could potentially cause it to run slower. By using portable apps, you're clearing up space on your computer and enabling every bit of your downloaded software to run faster.
Whether you're looking for any of these benefits, or simply curious, take a look at our list of the best 13 portable apps for every device and browser.
Are portable apps safe?
Portable apps, like any software, can spread viruses to your computer. However, as long as you follow the same anti-virus protocol you follow for the rest of your computer, including using anti-virus software, scanning your portable drive for viruses, and backing up your system, it is safe to download and use Portable apps.
13 of the Best Portable Apps
Portable Apps for Chrome
1. Google Chrome Portable (Web Browser)
If you use Chrome already, the portable version is identical -- it links to your Google account, offers bookmarks, and supports extensions. Plus, Chrome offers built-in malware protection and auto-updates, so it's a secure choice for browsing the web, checking emails, or anything else you might need to do.
Portable Apps for Firefox
2. Mozilla Firefox Portable (Web Browser)
Mozilla Firefox Portable is identical in function to its non-portable alternative. The portable app employs pop-up blocking and automatic updates, so it's secure. Plus, Firefox Portable ensures your bookmarks and extensions are saved, so wherever you take your portable app, you take those with you.
Portable Apps for Linux
3. LMMS (Linux MultiMedia Studio) Portable (Media Player)
Music creation and production software takes up a lot of hard drive space -- LMMS is the portable alternative, allowing you to create melodies and beats, mix sounds, and edit and add effects to your samples. It also offers instrument and effect plugins. LMMS is open source and compatible with many standards, including SoundFont2, VST(i), LADSPA, GUS Patches, and MIDI.
4. Apache OpenOffice Portable (Office Suite)
Apache OpenOffice app, which is also available for Windows, is one of the most impressive alternatives to the Office suite, offering a word processor, spreadsheet, presentation tool, and more. It supports many different languages including Chinese, French, German, Italian, Portuguese, and Spanish. Best of all, it's free, so you save money by using it instead of the Office alternative.
5. Stickies Portable (Stickie Notes)
I'm willing to bet you already know the usefulness of sticky notes, either virtual or physical -- when you need a quick reminder or to jot down some random thoughts, they can't be beat. The Portable version supplies sticky notes that can store text and images, and you can attach a sticky note to a website or document so you can minimize them until you need it.
Portable Apps for Mac
6. VLC Media Player Portable (Media Player)
VLC is one of the most popular media players around, largely due to its ability to play almost any audio or video format, including WMV, MPEG-1, DivX, ogg, as well as DVDs. Since it can handle files from almost any location, including local drives, network storage, and streams, it's a good idea to download the portable app for any time you're having trouble displaying an audio or video file on your computer. This app is also available for Windows.
7. XMind (Mindmapping Tool)
XMind offers a variety of helpful productivity and decision-making tools for mindmapping and diagramming, including organizational charts, tree charts, and logic charts. Along with brainstorming templates, XMind also lets you create business charts and presentations. It has an intuitive interface and provides easy-to-use templates.
8. Gimp (Photo Editor)
One of the most comparable alternatives to Photoshop, Gimp provides an impressive array of photo-editing tools. Since editing and exporting images takes up a lot of storage space, you might opt for Gimp's portable app version to edit your photos -- plus, it's free. You can use it to create new designs using the paint program, or simply convert image formats. It's also available for Windows.
9. Inkscape (Vectors Graphic Editor)
Inkscape is essentially identical in function to Adobe Illustrator, and is an impressive free alternative. Inkscape portable offers advanced features including alpha blending, markers, and trace bitmaps, and has an intuitive interface. If you're a freelance designer, it's not a bad idea to carry Inkscape portable around on a USB, so you've got the tools for for vector graphics, creating illustrations, charts, and logos at your disposal at all times.
Portable Apps for Windows
10. LibreOffice Portable (Office Suite)
LibreOffice, a notable Office alternative, offers many of the same features as Office including a word processor, spreadsheets, presentations, vector drawing, and databases. It performs most of the necessary functions you'd require from Office, but it's free and you can carry it around with you on an external drive or via the cloud. It supports over ten languages.
11. CCleaner Portable (Software Cleaner)
It seems contradictory to download a large software file just to clear up space on your computer, so it makes sense you'd use CCleaner's portable version to clean up your files and ensure your computer's protected from viruses. Along with clearing up space, CCleaner cleans out cookies and files that could put your privacy at risk.
12. Foobar2000 (Audio Player)
Foobar2000 is a media player that supports most popular audio formats, and lets you rip audio CDs, create playlists, and play natively from within the app. It also touts an easily customizable user interface with advanced tagging capabilities and customizable keyboard shortcuts, allowing you to customize your user experience more than you could with iTunes or Spotify.
13. GeekUninstaller (Software Cleaner)
If you uninstall something using Windows' add/remove button, it isn't completely eliminated from your computer -- there are still junk files or folders left behind. GeekUninstaller permanently rids your computer of unwanted files, including any unintentional residue left over. The app also offers a "Force removal" button for difficult-to-remove programs. Plus, since it's portable, it doesn't contribute to clutter.