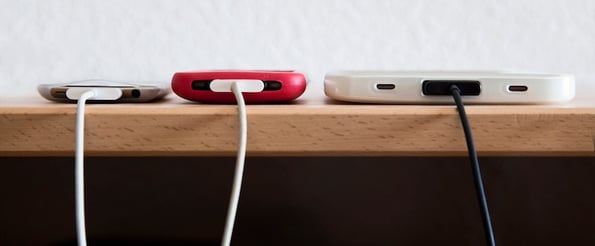 When it comes to preserving phone battery, people have been known to get a little crazy.
In fact, back in July, a Long Island teen actually hopped on stage at a Broadway show in an attempt to charge his cellphone using an outlet he'd spotted. And in an even stranger turn of events back in May, a New Jersey man snuck into a home and hid under a bed for three days to charge his arsenal of four cellphones.
While these situations are, in fact, a little outrageous, it's likely that you're no stranger to the slow, undeniable anxiety that comes with a low phone battery warning. What will you do? How will you get home? What if your boss calls?
To help you take control of your device usage, we've come up with a handful of helpful tips for saving battery life on your iPhone and Android devices. From disabling notifications to adjusting your display and brightness, these tips can help you hang on to your charge for just a little longer throughout the day.
Note: The menu settings may vary depending on your specific device.
12 Tips for Saving Battery Life on Your Phone
1) Disable notifications.
When you're running on low battery, turning off unnecessary notifications can help to save some of that juice. While you may want to leave your text messages or email notifications on, you can selectively disable others to avoid wasting power.
On iPhone, head to Settings > Notifications > Notification Style. From here, you can adjust the notification settings for each app by tapping into them.
On Android, go to Settings > Sound and Notification > App Notifications. Simply tap the app you want to stop, then swipe the toggle button to disable notifications.
2) Activate Low Power Mode.
Even when you aren't using your phone, there's a lot that goes on behind the scenes that can drain your battery. Turning your device on Low Power Mode or Doze for Android will help you reduce this.
On iPhone, go to Settings > Battery > and tap the toggle button to activate Low Power Mode. This setting is designed to temporarily reduce power consumption. By turning this function on, mail fetch, background app refresh, automatic downloads, and some visual effects are reduced or turned off to preserve battery life.
On Android, users can activate Doze mode. Android uses motion detection to learn if a device has been left unattended -- let's say you left your phone at your desk during a meeting. When it recognizes this, the software will back off background activity to save battery.
3) Turn off Location Services.
Believe it or not, your device keeps a pretty close eye on you. In fact, depending on your location settings, it probably knows where you are right now. While these settings can be valuable at times, they do cause your battery power to diminish, so it's best to turn them off when you don't need them.
On iPhone, go to Settings > Privacy > and tap the toggle to turn off Location Services. This service uses GPS, Bluetooth, and WiFi hot spots and tower locations to determine your location. When you don't need this functionality, turn it off.
On Android, go to Settings > Location > and then change the mode to Battery Saving.
4) Adjust background wallpaper.
Many iPhone users debate whether or not Apple's parallax effect is cool or just plain dizzying. Either way, it does suck up battery life, so it's best to turn it off when your battery is quickly draining.
To do so, visit Settings > General > Accessibility and tap the toggle to switch Reduce Motion to "on."
Similarly, Android offers the same parallax feature on some devices, but they also offer moving, live wallpaper for users looking for home screen customization. While some of the options are really neat, they do have a tendency to compromise your battery life.
To adjust your wallpaper settings on Android devices, tap and hold the Home screen to open the Add to Home menu. From here, select Wallpapers and choose from: Gallery, Live wallpapers, and Wallpapers. Note: Many people suggest setting black wallpaper on devices with an OLED screen to get more usage out of the battery.
5) Turn off Background App Refresh.
When your background applications refresh, they use up your processing power, so turning this setting off will help you to hold on to some of that life.
On iPhone, head to Settings > General > Background App Refresh.
On Android, pull down the notification bar for Settings. Then, tap the gear symbol > Data Usage under Wireless and Networks > tap the three dots on the right > Restrict Background Data.
6) Adjust display and brightness.
Ever notice that the brightness of your screen automatically adjusts to your surroundings? While it's certainly a cool feature, it can be troubling when running on low battery. To save power, we recommend you turn it off.
On iPhone, go to Settings > Display & Brightness and disable Auto-Brightness. You can adjust the brightness by sliding your finger along the brightness scale until you reach a level that works for you.
On Android, select Main Menu > Settings > Display > Brightness > and choose either Automatic Brightness or adjust manually using the sliding scale.
7) Check for software updates.
Haven't gotten around to updating your software yet? That could be the answer to your battery life woes. In fact, most software updates contain files that promote better battery life.
For example, Apple's iOS 9 release is said to include "power efficiency improvements" that -- depending on the device type -- can give users an extra hour of battery life.
To check for new updates on iPhone, go to Settings > General > Software Update.
To check for new updates on Android, Settings > About Phone > Software Update.
8) Disable automatic updates.
While helpful at times, automatic updates may be sucking up some of your data and battery life without you realizing it. Luckily, this function can be both enabled and disabled, so you can choose when you want it to come into play.
On iPhone, head to Settings > iTunes & App Store > turn the Updates toggle off. If you only want updates to occur when you're connected to WiFi, tap the Use Cellular Data toggle.
On Android, visit the Google Play Store > Settings > Auto-Update Apps > select "Do not auto-update apps."
9) Force apps to close.
When you exit an app and click into a new one, you're not truly shutting it down. In fact, the app will continue to run even when you're not in it ... unless you force it to shut down.
On iPhone, tap the home button twice to pull up a preview of your recently used apps. Swipe left to find an app you want to quit, and swipe up on the app's preview to close it.
On Android, go to Settings > Apps. From here you can select the app(s) you want to close out by tapping Force Stop. (Note: This function is not available for all apps.)
10) Adjust sync settings.
Depending on your needs, you probably don't need to have all of your apps syncing at all times. While adjusting or turning off sync for an app won't remove it from your device, it will prevent it from being kept up to date with changes you make throughout the day, which can save a lot of battery.
On iPhone, go to Settings > iCloud, then switch the toggle next to each option to turn your iCloud settings on or off.
On Android, open Settings > Accounts. In the top-right corner, tap the three dots and then check or uncheck "auto-sync data."
11) Turn on Airplane Mode.
When you're not using your phone and could use the lack of distractions, turn your phone on Airplane Mode. This setting allows you to turn off the cellular connection, Wi-Fi, and Bluetooth on your phone all at once to save battery power.
On iPhone, go to Settings and switch the Airplane Mode toggle on.
On Android, open Settings > More > Airplane Mode.
12) Identify the source of the problem.
Not all apps are created equal. In fact, depending on your usage habits, some apps suck up a lot more juice than others. However, once you identify the ones hogging all of your battery, it's much easier to limit your usage strategically when you're trying to preserve power.
On iPhone, go to Settings > Battery > and scroll down to Battery Usage to view the percentage of battery used by each app during a specific time frame.
On Android, navigate to Settings > Battery to view the same breakdown of your apps and their exhausted battery power percentages.
What are your favorite tips for saving battery power on mobile devices? Share them in the comments section below.