Few things in human history have been as influential as the written word.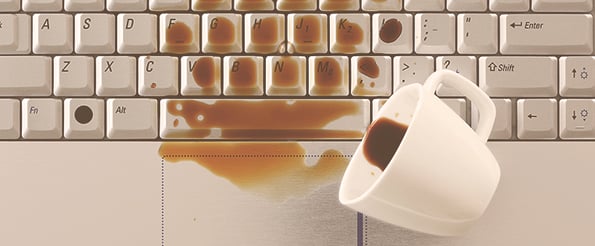 Writing has toppled empires, built global corporations, and inspired millions, if not billions of people. For decades, writers have played a chief role in marketing. David Ogilvy once wrote, "advertising is a business of words."
But will it always be?
After all, the rise of digital has led to big changes in marketing since the days when Ogilvy & company were chain smoking and tossing back martinis between writing 2,000-word print ads.
Some say there's a new sheriff in town. And he's bringing a lighting rig, boom microphone, and green screen.
Video Killed the … Writing Star?
It's no exaggeration to say that video is taking over modern marketing. Just take a look at these numbers:
These trends are great for videographers and others who make a living from the medium, but where do they leave writers?
Apparently, very worried.
In late 2015, a Gartner report predicting that 20% of all business content would be machine-generated by 2018 led to a string of articles proclaiming the death of writing jobs. High profile advocates of writing rushed to the medium's defense soon after, but it didn't curb the worry: HubSpot's recent State of Inbound 2017 report indicated that many marketers who earn a living from writing and editing are afraid their careers will "diminish more and more with [the rise of] video."
So is it true? Will videos wipe out all the jobs and businesses based on the written word?
Not likely. But it will change them.
The reports of writing's death are greatly exaggerated.
Language is the foundation for human communication and has been for tens of thousands of years. Deep-rooted, biological tendencies don't change just because everyone now carries a powerful video camera in their pocket.
Or as Mendelsohn bluntly puts it, "You'll have to write for the video."
Indeed. Like the framing of a sturdy house, every video needs to be built with quality words in scripts and storyboards. The rush to adapt to video content means there are still many people who don't know how to write for videos – a great opportunity for skilled writers that do (more on this in a minute).
Plus, reading really isn't going anywhere. A Quartz study showed that executives still value in-depth, high-quality articles. In fact, they're almost twice as likely to share a long article than any other piece of online content.
Whether it's on a screen or a newspaper, people will likely always want to read a compelling piece of written content. But that doesn't mean writers can kick back, pour up a martini, and coast on the skills they have today.
How Writers Can Adapt to the Rise of Video
"Even if you're on the right track, you'll get run over if you just stand there."
This adage by the famous cowboy Will Rogers applies to lots of fields, especially one presented as many ways as writing. Visual content may be all the rage, but there is still a need for people who can put words together. The key to a successful future is staying on the right track by moving your skills forward.
Here's what you should be focusing on if you're a writer, editor, or business that provides these services to clients:
Learn new and complementary writing skills.
As I mentioned – writing comes in many forms. A veteran journalist used to writing long columns might sneer at the idea of saying something in 140 characters or less, but someone who can write a good tweet commands attention in the digital world.
In many instances, skills from traditional writing styles carry over to new marketing. Those attention-grabbing headlines print journalists create for newspaper articles are distant cousins to the first line of today's Facebook ads.
And remember, images, audio, and video content all require good writing to put them in context. Instagram captions, podcast scripts, landing page copy, training video highlights – the list of places written content is required has actually grown in the age of visual consumption. Even learning how to write one or two of these types of content can open up new career paths and opportunities.
But you also shouldn't be afraid to dig into worlds you're unfamiliar with. If you offer blogging services, why not learn a few facets of technical SEO? Even if you're not a graphic artist, tools like Canva and PicMonkey make it easy to design basic visual content.
I know it's warm and cozy in there, but you can't stay in your comfort zone forever.
Improve your existing skills.
Stephen King wrote in his seminal 2000 book On Writing that a competent writer could become a good one with "lots of hard work, dedication, and timely help." Now that there's zero barrier to entry and companies can find writing talent in a few clicks, being a "competent writer" is the floor. It's hard for writers to stand out these days; creating interesting, quality content is the only way.
To continue King's analogy, you need to work on leveling up from "competent" to "good."
I'm consistently shocked by people who call themselves professionals, then submit content with errors that a high school teacher wouldn't accept, let alone a business building their brand. The rise of global freelancers and the decline of user attention spans has made written content more competitive than ever.
And like any competition, the path to success is constantly working to get better.
Luckily, there are easy ways to improve. I love Eddie Shleyner's idea of simplifying Wikipedia paragraphs to be more concise. You can also try freewriting, an activity that not only trains you to write on cue and identifies your habits, but can kick-start the day's productivity.
Simple exercises like these are easy to find online – but you have to actually do them.
Network with others.
Too many writers cling to the romantic image of being alone at a desk, hunched over a keyboard, deep in thought. Of course you need time to focus, but the best writers and editors work with others.
If you're looking for a job, knowing people can get your foot in the door at your dream company – and once you're in, being a good teammate will help you stay. If you're a freelancer or entrepreneur, talking to other writers, editors, and businesses based around the written word is a great way to hone your skills.
Networking with other types of companies will help broaden your opportunities. Instead of fearing that the new video company down the street is going to put you out of business, knock on their door and see how you can team up on client accounts.
Just remember the cardinal rule of networking: give before you ask.
If you're shy in-person or geographically isolated, the internet gives us a plethora of ways to communicate. Brian Balfour's guide to networking email is jam-packed with tactical ways to connect with people. You can use these strategies to meet potential clients, mentors, and influencers who can all push your career forward.
Be yourself.
There's tons of advice out there on emulating what's already working. Copying ideas is a valuable tactic, encouraged by history's most successful creatives, from T.S. Eliot to Steve Jobs.
But in the words of Jim Morrison, "Where's your will to be weird?"
In a world becoming more and more saturated with writers touting the same abilities, how can you hope to stand out? One way: Bring your own personal experiences, attitudes, and beliefs to the table. They are the only thing no one can copy. As usual, Gary Vaynerchuk nails this idea in a recent Instagram clip where he boils it down into "planting your f****ing flag" instead of trying to "go to where the world is."
You don't have to be completely transparent, but if you have strong views or opinions based on your experiences, using them in your writing can separate you from the ever-expanding crowd. Draw from sources like your previous jobs, personal interests, and cultural heritage to find unexpected inspiration.
And don't be afraid to go against the grain with a contrarian opinion. In January of 2014, as content marketing was growing in popularity, Mark Schaefer wrote a blog post about why it wasn't sustainable, introducing the idea of content shock. It spawned thousands of views, responses from some of the biggest names in the industry, and helped elevate Schaefer's status as an authority in digital marketing.
Video has permanently altered the marketing landscape. But as a writer – or any other skilled worker – if you're willing to put in the effort, push the boundaries of your comfort zone, and continuously learn new professional skills, go ahead and pour yourself that martini. You're going to be fine.