Do you ever find yourself mindlessly scrolling on your phone -- just tapping away at your various apps to see what's going on?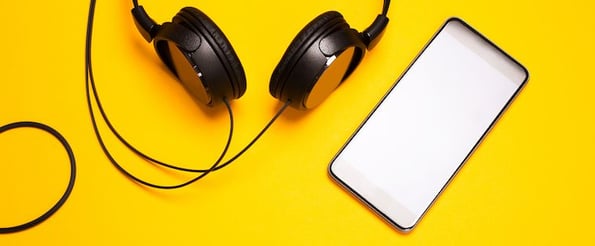 It's my go-to method for killing time when I'm commuting or waiting for my TV show to return from a commercial break. And I've found that when I'm bored, I'm more likely to breeze through the content I'm consuming without really looking at it. Do you know the feeling?
The name of the game when it comes to producing exceptional content on social media is to be eye-catching. Literally -- your content needs to jump out from busy social media feeds to make me stop my scrolling and read, watch, or click on it.
To that end, we wanted to help you learn from mistakes we've seen on Snapchat that don't make us want to click to learn more. Read on for common problems -- and solutions -- for making your Snapchat Stories as compelling and clickable as possible.
8 Snapchat Mistakes You Might Be Making
1) Your Stories are too long.
The problem: Your Story is made up of too many images and videos.
The solution: Keep your Story to 10 Snaps or fewer, and make them impactful.
Clicking is hard work.
Well, it's not exactly grueling labor, but Snapchat users don't want to spend a ton of time clicking through a myriad of Snaps to get to the meat of what you're trying to communicate. If your message can't be quickly told, it doesn't mean it's not an important message -- it just might not be the best fit for an ephemeral Snapchat Story.
Here's a Snapchat Story from Netflix (@netflix). It's made up of 10 Snaps that effectively tell a story without taking too long or boring the viewer:
2) Your Stories are too short.
The problem: Your Story is so short as to be uninformative.
The solution: Make sure your stories have enough context to make sense.
Don't go overboard with being concise, either. Make sure you're posting enough Snaps that your Story is just that -- a clear narrative. Use text, emojis, and narration to provide context for the viewer so your Story is memorable and helpful.
Here's an example of a short and sweet Snapchat Story from the United States White House (@whitehouse). The Story is only made up of two Snaps, but text and filters provide enough context for the viewer:
3) You post Stories too frequently.
The problem: You're posting Snapchat Stories too often.
The solution: Post more impactful Stories at a lower frequency, and spread out Snaps throughout the day.
All social media platforms are different, and you should post on them differently. What works on Twitter won't work exactly the same on Snapchat, and we recommend that you plan to post only once or twice per week on Snapchat.
Additionally, the more recently you've posted a Snap to your Story, the higher your brand's name sits on the "Recent Updates" list. So when you plan out your Snaps for a Story, don't post them all at once. Spread them out over the course of the day so absentminded scrollers (like me) see your brand's name at the top of their feed whenever they log in.
4) Your Stories offer no way to engage.
The problem: Your Snapchat Story doesn't include a call-to-action.
The solution: Include prompts to reply, take a screenshot, or visit a website.
If you're using Snapchat for a brand, make sure there's a call-to-action for your viewer to drive your goals. We suggest asking viewers to interact from within the Snapchat app by replying to Snaps, screenshotting images, or tuning in for more news at a later time. You can drive viewers to your website by asking them to screenshot a URL, too. Just check out this example from NASA on Snapchat (@nasa) that drivers viewers to its website:
5) Your Stories are too similar.
The problem: All of your Stories features the same people or themes.
The solution: Source content from other team members, and brainstorm creative one-off events to keep your Stories unique.
We know it's hard to spice up your Snapchat Stories if you're a one-person social media team. To help diversify your content and keep intriguing your visitors, invite your team members to submit pictures and ideas, and ask other people to "host" Snapchat Stories from time to time. You can plan out unique content for company events or social media holidays, too.
6) Your Snaps aren't creative.
The problem: Your Stories are simply point-and-shoot images.
The solution: Use drawings, stickers, emojis, filters, and lenses.
Snapchat is far too fun to keep things simple. Instead of just shooting and posting raw photos and videos, make sure to explore the different creative features to make your content more unique.
Use creative features in moderation, and don't go too overboard. Geofilters, emojis, and lenses are fun ways to make a selfie more interesting, add context to a Snap, or to show the lighter side of your brand's personality. Just look at how Refinery29 (@refinery29) does this with emojis and drawings in its Snapchat Story interview:
7) Your Stories require sound.
The problem: Viewers have to turn up the volume to get the message of your Stories.
The solution: Use text and writing so videos can be consumed with or without sound.
Most videos on social media are watched while users are scrolling through their feeds, where videos auto-play on mute unless the user clicks to turn up the volume.
What does this mean? Your videos on Snapchat must be compelling and communicative, even without sound. Use captions, doodling, emojis, and filters to make your images say 1,000 words -- without your followers needing to plug in headphones. If you need lots of text or narration to get your point across, that doesn't mean it's a bad story -- it just might not be the best fit for Snapchat. Consider a post on another text-based social media platform, like Facebook or Twitter, instead.
Here's an example of a thorough Snapchat Story from Sephora (@sephora). It's narrated if you turn up the volume, but viewers still get all of the information they need just from watching:
8) You aren't recording important Story metrics.
The problem: You're only recording Story views and screenshots
The solution: Track Story clickthrough rates to analyze how viewers like your Snaps.
Snapchat's analytics leave something to be desired for marketers wanting to track growth and engagement. As it is now, marketers can only track the number of story views and screenshots their Snapchat Stories earn, and these numbers must be recorded manually within the 24 hours before a Story disappears.
Another valuable metric that isn't as self-evident? Story clickthrough rate change.
If you post a Snapchat Story made up of 10 separate Snaps, analyze how many views your first Snap received compared to your last Snap. If the number of views drops over the course of your entire Story, that's a sign followers are tapping through the first or second Snaps -- and then navigating away.
You can roughly calculate this by subtracting your last Snap's number of views from your first Snap's number of views. So for example, if your first Snap earned 100 views, and your final Snap only earned 80 views, your clickthrough rate declined by 20%.
Analyzing this, in addition to your number of views and other engagements, will give you an idea of who's watching your Stories from start to finish. If you observe a lot of dropoff between your first and last Snaps, that's a sign you need to experiment with shorter Stories or different content to keep followers paying attention.
Happy Snapping
These are just a few ideas for how to create compelling and engaging Snapchat Stories for your brand. We suggest referring back to tip #3 often and analyzing how your followers engage with your content. If you aren't getting many screenshots or clickthroughs, your Snaps could be falling victim to people like me -- the mindless tappers.
For more ideas on how to create engaging Snapchat Stories for your audience, read our Snapchat for business guide, and learn more from our experts in the video below:
What are your hard and fast rules for brand Snapchat Stories? Share with us in the comments below.