To all the conference-goers out there, we'd like to pose a question. What's your mission?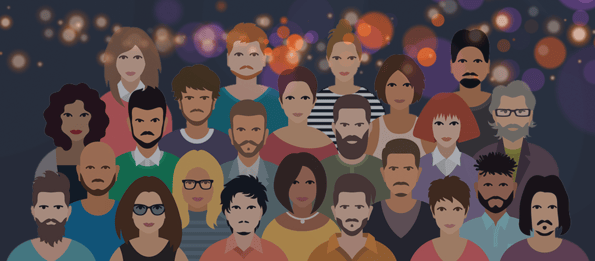 With so many benefits of attending and goals to focus on during a conference, choosing just one can be a tall order. And with INBOUND 2019 around the corner, you might be asking yourself: Should you network, and make connections with smart people? Or should you stick to learning, and diligently take notes during the breakout sessions?
Whatever it is that you're hoping to accomplish, we've carved out personas for the 15 types of conference-goers you're most likely to meet or embody. We've all met at least one, and understanding them can help you figure out your goals for attending.
So which type of conference attendee are you? Check out the list below to find out.
1
5

Types of People You'll Find at a Conference
1) The Networker
Source: Giphy
Mission: Meet smart people.
The networker aims to meet and make lasting connections with other industry professionals. Chances are, they have a lot of connections on social media and have connected to attendees through the conference hashtag ahead of time.
The networker is likely to be found chatting up multiple groups of people during happy hour, handing out business cards or making real-time LinkedIn connections. But if this conference-goer sounds like you, just make sure you're up-to-date on your networking game -- common mistakes are easier to make than you might think.
2) The Sponge
Source: Giphy
Mission: Learn everything possible.
The sponge attends conferences to soak up every ounce of knowledge that he or she can. You'll probably see this person juggling a laptop, smartphone, and notebook, all while diligently taking notes -- or live-tweeting -- from each.
But for the sponge, the struggle is real -- how can you possibly decide which sessions to attend? I mean, they're all just so great.
3) The Innovator
Mission: Be inspired.
We all know the type. They watch TED Talks on a daily basis. Their favorite book, collectively, is Water Isaacson's Steve Jobs. And they -- or you, for those of us who can relate -- fall into the "innovator" category.
Innovators attend conferences in hopes of striking a creativity streak. Entrepreneurs, thinkers, and problem solvers would fall under this bucket -- people who seek inspiration for their next brilliant idea or invention.
4) The Collector
Mission: Accumulate a stockpile of free swag.
Also known as the "Trick-or-Treater," this person hops from sponsor exhibit to sponsor exhibit collecting unnecessary amounts of free swag. I mean, sometimes all you really need in life is a free koozie. Oh, and a sticker. And a pen. And one of those squishy stress ball things.
Sure, this person might've come to a conference to learn and bring back information to their team, but they're definitely not going to skimp on the free stuff while they have a chance. You'll likely see this attendee arrive with a half-full carry on suitcase ... and then leave with an over-stuffed mess that won't fit into the airline's luggage sizer.
5

) The Superfan
Mission: Meet the keynote speakers.
The superfan is also super active when it comes to conference-related social media activity. This person never forgets to include the speaker's Twitter handle in hopes that he or she will retweet or reply -- for example, tweeting with event's hashtag that they're "so excited to meet @speaker." Not that we've ever done that, or anything.
And if there's a chance to meet the speaker at the conference -- like a book signing, for example -- the superfan is first in line with every piece of memorabilia he or she can find. Again ... not that we've ever done that ...
6

) The Escape Artist
Mission: Get of work.
The Escape Artist is really looking for a Get Out of Work Free card without using any vacation time. Sure, they might learn a thing or two and meet a few interesting people, but playing hooky is their main mission. You'll probably find The Escape Artist popping into a few talks, jotting down a few notes, and then leaving early to enjoy the sunshine or slipping away to their hotel room to take a nap.
Pro Tip: If you relate to this mission, remember that you can get a break from your day-to-day job while still bringing back a ton of value for your team. If you need ideas for how to get the most out of your conference experience, take a look at this blog post.
7

) The Job Seeker
Mission: Get a job.
Job seekers tend to have a few different goals when attending a conference, depending on which stage of the job hunt they find themselves. When a job seeker is in the awareness stage, for example, he or she might attend an event to listen and learn about the various companies, opportunities, and people they'd like to work with.
But if this person is beyond that stage, he or she may have already made connections with people ahead of time via LinkedIn or Twitter. In that case, the job seeker is likely looking for opportunities to give these folks an elevator pitch in person, along with a resume or portfolio. And believe it or not, there are non-intrusive ways to start that conversation -- check out some ideas here.
(Are you on the hunt for a new job? Download these handy resume templates.)
8

) The Deal-Maker
Mission: Establish a business partnership.
It's easy to mistake a deal-maker for a networker. They're similar, in that the latter attends a conference with the goal of creating business partnerships. But that could be for a number of opportunities, like co-marketing or co-branding, sponsorships, speaking opportunities -- it's a long list. (Download our free co-marketing guide for helpful tips.) In fact, this person might want to take a tip from the networker's book -- make lasting relationships first, then do business after the conference.
9

) The Blogger
Mission: Produce high quality content.
The blogger attends a conference specifically on behalf of, well, a blog, or to obtain fodder for some other form of content. He or she is likely found listening to keynotes and breakout sessions, while writing down an outline or quotes on a laptop. (Holler.)
If you do meet a blogger at a conference, stay on your toes -- he or she might be wearing a wire. Just kidding. But, they might try to write down some quotes from your conversation (with your permission, of course).
10

) The Teacher
Mission: Relay knowledge to teammates.
Okay, so maybe we don't mean "teacher" in the conventional sense. Rather, this person is the one you send to the conference to return with the best takeaways.
Like the sponge, the teacher takes excellent notes, and then relays them back to the team. If you have a company wiki, he or she will likely create a page on there with the lessons and best practices from the conference, or even give a presentation upon return.
11

) The

Frugal

Tourist
Mission: Vacation for free.
One of the great benefits of attending a conference is that your company will usually pay for your flights and hotel room. The Frugal Tourist understands this strategy all too well and will optimize her trip to include a bit of sightseeing while she's there.
A word to the wise: This probably shouldn't be your sole mission for attending a conference, but hey if you can tack on a vacation to the end of a super productive week ... go for it! We're all about that work hard, play hard lifestyle. Just make sure you use good judgment and bring back a ton of value for your team before you start beach hopping on the company's dime.
12

) The Thought Leader
Mission: Stay successful.
Thought leaders, though not synonymous with them, are often also the conference speakers. They're experts on a given topic, and that's why they're at the event: To talk to a crowd about it.
They've probably written books and countless blog articles on the same topic, and have high numbers of followers on social media. And if it seems like they're buzzed, don't get the wrong impression -- public speaking can cause a rush of adrenaline, so they're likely just riding that momentum.
13) The Spy
Mission: Gather competitive intelligence.
There are people who attend events like conferences to evaluate a competitive landscape. They come equipped with important questions, such as:
What does the competition's presence look like at this conference?
What are they doing right?
What are they doing wrong?
Where is there unexpected competition?
Then, this information is compiled, analyzed, and turned into a plan of action. Attending a conference as a spy is actually a popular sales enablement tactic -- it can provide your team with sound bites that might help them later close more deals.
14) The Salesperson
Mission: Make a sale.
And speaking of sales enablement, there are many people who attend conferences with a singular goal: Sell their products or services.
Similar to the deal-maker, this person is there to, well, close deals. But there's a difference -- salespeople are usually only interested in selling their company's core products and services, and not in things like building strategic partnerships. This interaction could happen during the conference, or sometime after it ends, when a prospect has had time to consider a deal.
15) The Partier
Mission: Have fun.
We conclude with the inevitable conference partier -- the person who takes advantage of every social aspect, entertainment portion, and free drink available.
We all have a little bit of a partier in us -- many of us find that it helps us to break the ice during otherwise awkward or uncomfortable silences. But let's lead with some of the more constructive missions on this list -- it'll make your conference experience both fun and productive.
Whatever your conference-going persona, we can't wait to meet you. Be sure to grab your tickets for INBOUND 2019, and say hi to us there.
Editor's Note: This post was originally published in August 2014 and has been updated for accuracy and comprehensiveness.