Experiencing virtual reality is like watching a TV show -- the quality of your TV has a huge impact on the quality of your viewing experience. You don't want to watch an HD show on an old television set that's been collecting dust in your basement since the beginning of the decade. You want to watch it on the newest LED flat screen TV.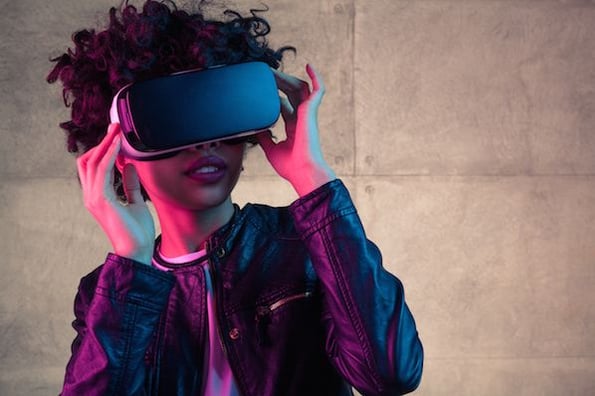 The same logic applies to virtual reality. When you experience virtual reality, the better the headset, the more immersive the experience. But the top-flight VR headsets are also the most expensive ones and only work well with high-end gaming computers, which makes them even less affordable and less convenient to use.
Depending on your financial situation, it could be smarter to buy a slightly lower-end headset that's compatible with other internet-connected devices, like smartphones, video game consoles, or standalone, for a significantly reduced price.
Each of the headsets below hit a certain threshold of quality but all have different prices, so it's possible to find an affordable, high-quality VR headset. Read on to find the one that's right for you.
10 of the Best VR Headsets for PC, iPhone, Android & More
The Best Virtual Reality Headsets for PC or Playstation
Available On: PC
Price: $499
With a vivid resolution of 2160 x 1200 pixels, precise controller and headset tracking, and an 110-degree field of view that surrounds your peripheral vision, the HTC Vive offers a true first-person VR experience.
The HTC Vive is also powered by SteamVR, which gives you access to over 1,500 games, automatic game updates, and a network of other headset users.
To fully immerse yourself in a game or app, all you have to do is plug your HTC Vive into a Windows laptop or computer that has advanced enough graphics.
If you're a VR power user who wants a leading, high-end headset, the HTC Vive is probably your best choice.
Available On: PC
Price: $799
The HTC Vive Pro has all the capabilities of the HTC Vive, but it's enhanced by a richer screen resolution of 2880 x 1600 pixels, 3D spatial audio, and 24% more face gasket surface area to maximize user comfort.
For advanced VR users who don't mind spending a pretty penny on one of the most sophisticated headsets on the market, the HTC Vive Pro is a great option.
But to go through the most immersive experiences with this VR headset, HTC recommends hooking up the Vive Pro to a powerful Windows computer with graphics of NVDIA GeForce GTX 1070/Quadro P5000 or above or AMD Radeon Vega 56 or above.
Available On: PC
Price: $399
The Oculus Rift is one of the lightest and most comfortable VR headsets, has hundreds of games and experiences, and even has the highest rated touch controllers of any VR headset according to IGN, the leading video game console review website.
But out of all these sophisticated features, it's most advanced and useful one is called Dash, which harnesses the power of both your PC and the Oculus platform to create your own digital command center. Using Dash's intuitive touch interface, you can manage your desktop apps and VR library with just a wave of your hand.
If you're a veteran VR user who wants to get the most bang for your buck, the Oculus Rift is the ideal headset.
Available On: PS4
Price: $299
Even though the PlayStation VR has a lower panel resolution, a narrower field of view, and a smaller library of games (around 200) than the other tethered VR headsets on this list, it still boasts a simple user experience and a better collection of games since its made by Sony, a video game and video game console company.
For instance, instead of having to buy a high-end computer to use your VR headset, you can just connect the PlayStation VR to your PS4 or PS4 Pro. You can even use your regular PS4 controllers to play most of the PlayStation VR games, if you don't want to buy Move Motion controllers.
Sony's stockpile of data and expertise from developing insanely popular video game consoles and countless video games also enables them to turn some of the most classic video games like Doom, Skyrim, Resident Evil, and others into immersive experiences.
If you're a serious gamer who wants a more active and realistic playing experience, the PlayStation VR is probably the best option for you.
The Best Standalone Virtual Reality Headsets
Available On: Standalone
Price: $199
Not only does the Oculus Go have over 1,000 VR apps, streaming services, games, and 360 degree experiences, but it also lets users immerse themselves in virtual reality without being tethered to an expensive computer, video game console, or mobile phone. The headset is the only thing you need to browse, download, and experience its games or apps.
Oculus offers a mobile app that can help you discover and download the highest rated and recently released VR apps, games, and experiences too.
If you're a VR user who wants to enjoy a better immersive experience than a mobile headset can provide, but you don't want to pay the hefty price for a more powerful, tethered VR headset, the Oculus Go is your best option.
Available On: Standalone
Price: $399
The Lenovo Mirage Solo is the first standalone VR headset powered by Daydream, Google's own VR platform. With Google's powerful motion-sensored technology called WorldSense, you have six degrees of freedom, which means you can lean, duck, jump, move, and tilt your head without having to set up any external sensors. The Mirage Solo can sense all your motions as well as the position and depth of any nearby objects.
Another perk of being powered by Daydream is that the Mirage Solo gives you access to over 250 Daydream virtual reality apps. So if you're willing to sacrifice the Oculus Go's app selection for more range of motion and a better immersive experience, the Mirage Solo is the headset for you.
The Best Virtual Reality Headsets for Mobile Phones
Available On: Any Galaxy Smartphone
Price: $129
Powered by Oculus, the Samsung Gear VR gives you access to over 1,000 games, apps, and 360-degree experiences on the Oculus platform, which allows the VR headset to boast a larger collection of apps than any other mobile VR headset on the market.
To let you freely roam your virtual environments, the Gear VR also uses your smartphone as a screen. But even though smartphone screens aren't as vivid as tethered or standalone headsets' screens, this mobile VR headset can still immerse you in a virtual experience with its 101-degree field of view and a built-in gyro sensor and accelerometer that can accurately align the app's visual display with your head movement.
The Samsung Gear VR is your best choice if you want to buy a high-end mobile VR headset.
Available On: Android
Price: $99
Available on ten different types of Android phones while offering users hundreds of VR apps, games, and 360-degree experiences, the Google Daydream View is one of the best VR headsets for Android users.
The Daydream View can also connect with Chromecast, so you can stream your virtual reality experience on the TV for your family and friends to enjoy with you. Another one of the Daydream's benefits is that its made of soft, light, and breathable material, which makes it incredibly comfortable to wear.
If you're an Android user whose looking for a high-end mobile VR headset, the Daydream View is probably your best option.
Available On: iPhone and Android
Price: $29
The Merge VR Goggle might be the most comfortable VR headset on this list. They're made out of spongy foam that can form to your face and feature adjustable lenses to protect your eyes. Merge VR Goggle users also have access to Miniverse, which is an app that offers hundreds of VR games, apps, and 360-degree experiences. If you're a casual VR user whose looking for an affordable upgrade from the Google Cardboard headset, the Merge VR Goggles are probably your best bet.
Available On: iPhone and Android
Price: $15
Even though Google Cardboard is the most basic virtual reality headset on this list, it's also the most accessible, easiest, and cheapest way to experience virtual reality. All you need to do is assemble the cardboard headset and slide your smartphone into the case, and you can enjoy an assortment of third-party VR apps. If you're a VR newbie, the Google Cardboard VR headset is the best way to test drive the new technology and see if you want to continue using it.