Between developing a scalable sales process, collecting data, and helping your team sell, it can be hard to properly track your sales team's performance.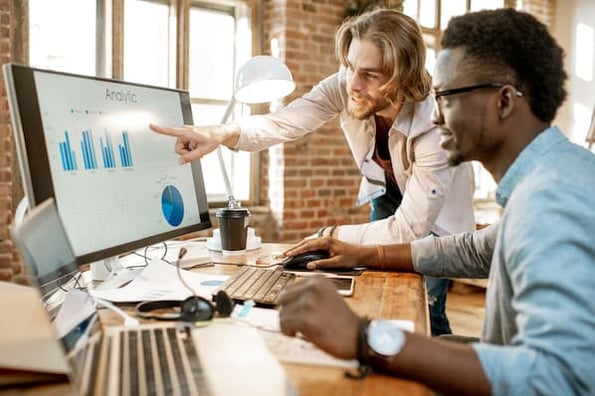 However, bad data and reporting could result in fewer sales, a decrease in customer satisfaction, and poor decisions. In fact, your sales team could be wasting time chasing poor leads due to bad data.
According to Gartner, organizations believe poor data quality to be responsible for an average of $15 million in losses per year.
So, how can you avoid this?
Below, you'll learn how to avoid bad data and collect accurate data on your sales team's performance.
What is Bad Data?
Bad data is data that is inaccurate or inconsistent. For sales teams, bad data fails to give you an idea of how your sales reps are performing. Data can be incorrect for a multitude of reasons, including missing data, poor sources, human error, dated information, and duplicate data.
Our data shows that 27% of salespeople spend over an hour a day on data entry work instead of selling, meaning critical time is lost to administrative work and your data is more likely to succumb to human error.
According to Dan Tyre, a sales director at HubSpot, "The key is to find 'Goldilocks data' — that is data that is not too simplistic, not too complex, but that shows enough pertinent information with a big enough sample size so that you understand trends. Sometimes this is easy to identify and fix because salespeople fall into the same potholes all the time and it's obvious. Sometimes it's harder because it's not a consistent trait or issue."
Below are a few signs that your data could be inaccurate:
Accounting for seasonality: There are several factors that can impact your data, including holidays or vacation quota relief months. If you don't factor that in, your data can be skewed.
Expecting similarities: Each year is different, so expecting similarities year over year can be a mistake. Be careful about comparing current data to past data.
Not having one source of truth: If there are multiple places that data is tracked, that can create confusion. Without having a single source of truth, it will be hard to analyze your data.
Human error: If your teams have to manually enter data or create data visualizations, human error can be expected.
Lack of resources: Higher-ups may not want to spend money on reporting software, however collecting your data shouldn't be a manual process. Sales expert David Fisher says, "It's common to analyze incomplete or small data sets and then jump to the (usually wrong) conclusion. For example, if you are analyzing call data that only comes from one representative or from one week, you don't have enough information. Make sure your sample size is big-enough and encompasses all the data sets you need."
Time management: If you spend more time fixing problems and get stuck in the day-to-day tasks, it can be hard to find time to analyze and use your data to improve your sales team performance.
Eric Quanstrom, CMO at CIENCE says, "The biggest key to avoiding bad data is the age-old saying, 'Garbage-in, garbage-out.' Having proper structure in place is imperative for data input and collection. Quality assurance of some sort matters. The ultimate goal here in a sales organization is trust, and the dictionary definition of trust is reliance on the truth of someone or something. Reliance on inaccurate data will produce a vicious cycle of unintended consequences — not the least of which will be poor decision-making based on flawed data."
To avoid bad data in your reporting, Tyre also recommends using professional technology (like HubSpot's Sales Hub), benchmarking, throwing out outliers (the best and the worst), and looking at industry benchmarks. Importantly, don't rely solely on data — listen to live calls and recordings, and provide continuous training for your team.
Bad Data Visualizations
One of the first steps to analyzing your data is to create data visualizations or a sales dashboard. This dashboard could track metrics such as revenue, conversion rates, opportunities and prospects, sales qualified leads, average sales cycle, deals closed, and more. Below are a few examples of what not to do for your data visualizations.
Bad sales cycle data
Image source: Data Pine
In this example, the data compares the sales cycle of three different sales reps. While this isn't inherently incorrect, you should never compare a ramping sales rep to an experienced one. Tyre says, "Don't expect all reps to ramp at the same rate — salespeople who have different learning styles should get it with a little bit more time."
If you want to compare sales cycles, you should ensure that you're comparing reps with a similar amount of experience who are working on similar deals.
Bad sales seasonality data
Image source: Piktochart
In this chart, which is tracking sales progress versus goal, seasonality or month-to-month holidays and changes are not accounted for. Data visualizations should be making equal comparisons, not comparing apples to oranges.
When you create a sales progress versus goal chart, be sure to account for seasonality and take the information with a grain of salt.
Bad sales data visualization
Image source: Advanced Visual Systems
This data visualization not only features poor data, but the data is incomprehensible. Choosing the right chart and understanding how to put together a visualization is important when analyzing data. This example also uses dated technology. With more advanced resources like Tableau, this data could be presented in a way that it's useful.
In order to ensure your data is accurate and reliable, conduct data cleansing and data audits. It might also be worthwhile to look at software and a CRM that can track data for you automatically.
Want to learn more about cleaning your data? Check out our blog, "Six Ways to Keep Your Data Clean."