The number one mistake I see across LinkedIn profiles -- which between prospecting, reviewing client's profiles, and networking is a lot -- is writing your profile for the wrong audience. It's a problem unanimous across the board, from entry-level SDRs to seasoned executives at bleeding-edge companies.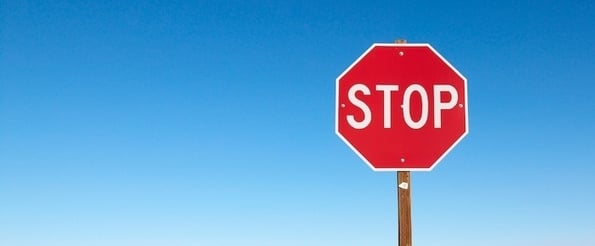 Oftentimes, viewing your LinkedIn profile is your buyer's first interaction with you, so make it a first impression that adds value. By the time a buyer actually speaks with you're they're over halfway through the buying cycle.
The #1 Mistake Sales Reps Make on LinkedIn
Far too many sales reps write their profiles as if they're searching for a job, not to deliver value to prospects and customers.
Take a look at your profile and a few of your coworkers, past or present. It won't be long before you see someone highlighting all of their accolades. Here's what a typical sales rep's profile includes:
#1 rep on the team with 130% quota attainment
50% increase in sales year-over-year
Added 24 new logos (first on the team)
President's Club attendee three years running -- 105% of quota
This is great if you're searching for a job or speaking with recruiters, as they'll be your primary audience. But once you get a job, copy all of your accomplishments elsewhere and update your profile to what matters to your audience which in sales is your prospects and customers.
Having a profile that highlights your sales achievements shows your buyer two things:
You only care about yourself.
You're a shark.
Neither of these qualities make you particularly desirable to work with.
Another major mistake is your LinkedIn profile's length. It's hard to admit, but your buyers don't want to read your full autobiography. Limit your summary to your biggest and most relevant achievements, and what you've worked on in the past 12 months or so.
How Sales Reps Can Optimize Their LinkedIn Profiles
1) Write your profile for your audience.
Depending on your role, your audience may vary. If you're an SDR or account executive, you're audience will be prospective customers. If you work in account management or client success, your target audience will be your existing customers. You want your profile to showcase what's most important to them. This could be awards your company has won, client success stories, and product updates.
Are you networking at an event like INBOUND and adding many new connections each day? Make sure your profile is an efficient reminder of who you are and what you chatted about. Include a quick description of your company and flagship solution, and if you're wearing a company logo tee shirt at the event, add a company logo tee shirt profile picture.
If you're an executive, tailor your LinkedIn profile for investors, board members, or top talent you're trying to recruit. If you have a hiring message in your profile tagline, sell your company as a great workplace, and yourself as a great leader.
If you're raising a round of capital and are meeting with executives, prominently display your KPIs over the past 12 months, and direct investors to recent announcements in your media room, such as landing a new flagship client.
A quick and often overlooked way to tailor your LinkedIn profile is having relevant recommendations. It's the fastest way to add social proof and something that can be carried with you for the rest of your career.
One of the quickest ways to add recommendations to your profile is to write some of your own and ask that they return the favour. I always take a few minutes to write reviews of my champions, decision makers, and anyone else I've had a meaningful interaction with during the buying process.
2) Use your profile to build credibility.
Since The Challenger Sale was published, the number of consultative commerce teaching style reps has skyrocketed. While anyone can claim to be a credible expert in their field, some people are more credible than others.
If you're waiting until after you've met your prospect to start building credibility, it could be too late -- modern buyers are 57% of the way through the decision making process before they contact a sales rep. Using your LinkedIn profile to establish credibility will help build rapport with your buyers even before your first meeting.
In the same way, tailoring your profile to your audience builds trust with buyers. Creating an effective personal brand isn't something that happens overnight, but it doesn't have to be a huge time commitment either. All of the following things go a long way toward bolstering your reputation:
Publish a post once a week on something big that's happening in the industry or with your company. This is as easy as republishing a blog post that you frequently send to clients on your profile.
Recommendations from buyers and clients.
Featured guest blogs or talks you've given. Every sales rep should aim to publish one blog post a year, and represent their company or lead a workshop.
Consistently posting relevant information to your buyers. The key here is to keep posting consistently. I recently had an acquaintance reach out to me and say they've been seeing my posts more and more frequently. The reason? I've been posting more (and more relevant) content on LinkedIn recently.
3) Finish your profile.
The most important thing a sales rep can do on LinkedIn is maintain a complete, updated profile. A great profile includes the following elements:
Recent, up-to-date, professional-looking profile picture
Compelling headline that's more than your current position
Public profile URL
A clear, concise summary (This isn't your autobiography. Keep it to your largest accomplishments in the past 12 months and a call-to-action.)
Up-to-date company website
Twitter profile
At least three relevant posts shared a week
Highlights including any media coverage or speaking appearances at each position
A good LinkedIn profile is a must have for any seller in 2016. It may take some time to get right and updated, but it is well worth it.