We all crave a sense of belonging. That's why we join sports fan associations to cheer on our favorite team or sign up for local book clubs to discuss the latest mystery novel. We enjoy rallying together around a common interest, and this translates to online businesses as well.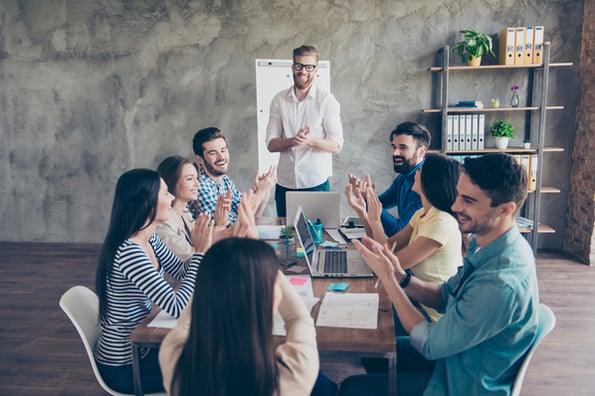 Membership sites are an effective way to create an online community around your brand. You can offer members exclusive content, premium swag, and first dibs on new products. You can get people excited about a new topic or an innovative technique.
But how do you build a membership site? A Google search unearths several different methods, from building an entirely new website to purchasing expensive platform software. Luckily, it's possible to create a flexible, powerful membership site using WordPress.
In this post, you'll learn more about membership sites and the tools you'll need to create one for your business.
What is a membership site?
A membership site is an online platform that gives exclusive access to gated content or community for its members. These sites might have a fee, be completely free, or be a combination of both. Either way, members can only gain access by logging into the site.
Benefits of Building a WordPress Membership Site
A membership site may be uncharted territory for your business, so it's important to get team buy-in before dedicating time and energy to build a membership site. Here are a few benefits a membership site can offer your business.
Recurring Revenue
Membership sites offer an opportunity to provide your customers with premium content. You can charge a monthly or annual fee for access to exclusive videos, unpublished checklists, expert discussions, and other valuable content.
Brand Authority
Thought leadership is key to attracting more customers because it compels them to engage with your brand. With a membership site, you can build a tribe of individuals who believe in your brand. You can host weekly chats and share unique content. As you gain members' trust, they are more likely to purchase your products.
Customer Education
You can use your membership site to educate your customers about your products and to get feedback about new product releases. You'll have direct access to a community of customers that can help you learn more about their needs and, thus, increase customer retention.
Key Features of a Membership Site
Quality Content
User Accounts
Ease-of-Use
Payment Processing
Emails
Security
Social and Feedback Channels
Performance Tracking
SEO
Premium Content
At the core of any membership site is content worth paying for. Your offers should serve to get visitors past your paywall, and to keep them engaged once there. Be sure to continue to provide value to all customers to keep them interested in your business. Consistency is key here — customers will value the usefulness of your content over how much you produce, as long as you release it on schedule.
Also, while different memberships on your website might offer different types of content (or simply more of it), the quality of what you're offering should always be high. Provide an exceptional product on all levels of your membership site so all subscribers feel valued.
Restricted Page Access
When limiting content to certain groups on your website, you'll need a way to show people only what they've paid to see. Most membership sites do this by limiting access to certain website pages which contain the exclusive content. How you choose to restrict pages will depend on the structure of your membership levels, which can be either tiered or separated.
On a tiered membership site, content is organized hierarchically. Users pay more money for more content, and higher membership levels allow access to all content on all levels below.
On a separated membership site, there's no overlap in content between levels. Each level offers its own exclusive content, and users might have the option to stick to one level or subscribe to many.
The process of restricting pages based on levels might seem complicated, but a comprehensive WordPress membership plugin will take care of the backend work. Keep in mind the distinction between tiered and separated membership when choosing a plugin, as some might only allow for one system.
Users also need the option to upgrade as easily as possible, or to downgrade. If either is too difficult, you risk customers dropping memberships altogether. And remember, levels determine which content you present, not the quality of the content.
User Accounts
If content is hidden on your site, visitors will need accounts to find it. At the very least, your membership site will need pages for signup, login, and profile display. Users should also be able to modify everything they need in their accounts, including profile information, subscription level, email preferences, login credentials, contact information, and payment information.
Ease-of-Use
In addition to your content, your membership site itself is also a product. Therefore, your membership site should deliver a quality user experience (UX).
UX is a broad and continually evolving topic, but here are some straightforward ways to start enhancing your UX and reduce complexity on your membership site:
Set up a "home base" for each user, where they can access their ungated content and options to configure their profile settings.
Make all user options clear and available throughout your site via a menu feature.
Offer a getting-started guide or tutorial to help new users navigate your web pages.
Create a help center for common questions and website functions, and offer customer support for more specific issues.
Provide an easy option for users to upgrade their membership. Design these prompts in a way that isn't pushy, but makes the conversion easy when the user wants it.
Adding user-friendliness to your membership site requires much consideration and effort beyond what plugins can do, but the results are absolutely worth the investment. For even more ways to enhance the UX of your site, see our tips on improving user experience.
Payment Processing
Give your membership site an easily accessible pricing page that lays out all features and charges for each level. Take a look at Dribbble's pricing page, for example:
For processing payment, use a secure, reputable WordPress plugin that accommodates different payment options. Most popular WordPress payment plugins integrate with services like PayPal or Stripe. Because the information being shared here is so sensitive, it's a good idea to count on a service that specializes in this area.
Emails
Emails will serve two main purposes on your membership site: notification and strategy.
Notification emails confirm or alert members about important account events like a signup, password change, transaction, or account renewal. Most WordPress membership plugins will automate these email deliveries for you.
Strategic emails serve to offer content recommendations for leads and subscribers. These recommendations should be curated to retain your subscriber base, convert leads to customers, and encourage paying members to upgrade. Personalize your recommendation emails for customers based on subscription type, time spent with your service, and preferred content.
Your preferred membership plugin might offer email scheduling, or you might opt for a separate plugin to handle them. If you're new to building an email marketing strategy, our Ultimate Guide to Email Marketing is a great place to start.
Security
Proper security is crucial for any website built with WordPress, especially those which handle and store user profile and payment information. To start, you should obtain an SSL certificate, set up one or more WordPress security scanner plugins, and install updates as soon as possible.
For a comprehensive list of steps you can take to protect your WordPress membership site, read our Ultimate WordPress Security Checklist.
Social and Feedback Channels
Many membership sites provide a way for customers to share their experiences on your website with each other and with you. Comment sections, reviews, and forums are all effective ways to encourage discussion about your content while keeping users on your site. Directing members to another location like a social media site will negatively impact your site traffic and SEO authority.
In addition to social tools, there are many ways to incorporate feedback opportunities into your WordPress site, such as contact forms, surveys, and exit polls. Your brand itself can even engage in comment section threads, forum discussions, and Q&As on your website to connect more with subscribers.
Ultimately, listen to what customers want. Ask them what they like and dislike, and consider it when planning new content releases. They'll appreciate it.
Performance Tracking
Alongside customer feedback, site metrics are vital to understanding how your content is doing. Tracking website activity shows you what members want so you can make more of it. For example, members might prefer one content type or medium over another, or perhaps you're not retaining customers at a high enough rate at a particular level.
To stay on top of important numbers like acquisition rate, cancellation rate, content engagement, and website traffic, a tracking plugin is a must. We recommend trying out MonsterInsights or ExactMetrics for actionable metrics reporting.
SEO
Hiding parts of your website behind a paywall presents a challenge for SEO, since search engines might not be able to crawl these restricted pages to determine the purpose of your side. To work around this, include relevant keywords in the copy of your public facing-pages, including your homepage, about page, and pricing page. You can also create free content containing relevant keywords in order to both generate conversions and help out the Google search bots.
For other strategies to drive up organic search traffic on your WordPress membership site, check out our Ultimate Guide to SEO.
How to Build a Membership Site With WordPress
Make a content plan.
Set up your WordPress site with a secure host.
Install a WordPress membership plugin.
Create your site's pages and post.
Test your new membership site.
Launch your site.
1. Make a Content Plan
First, determine how you structure your membership level, what content you plan to offer for each level, your pricing, and how frequently you intend to release content. Having your plan in place will make the actual site creation a breeze. Don't build the bridge as you're crossing it!
2. Set Up Your WordPress Site With a Secure Host
If you haven't already, take the time to create your WordPress site on a reputable, secure hosting platform, or move your existing site to one.
It's also a good idea to keep your website on maintenance mode from this point until launch. Maintenance mode hides all your main site pages and posts, and puts an under-construction page on your base URL encouraging visitors to come back soon.
3. Install a WordPress Membership Plugin
Here's where the magic happens. A membership plugin handles just about all the heavy lifting for you in terms of limiting access to pages, providing page templates for you to try, and creating the infrastructure your membership site needs. There is a wealth of membership plugins out there. Here are a few options:
Memberpress is an all-in-one WordPress plugin for building and managing membership sites. It helps users set up required site pages, process payments, track website performance, and a lot more. Memberpress also offers users strong security and customer support.
Image Source
WP-Members takes the guesswork out of building a membership site. This plugin lets you restrict specific content for registered site members only and doesn't require any modifications to your theme. The plugin notifies you of new member registrations and holds any registrations for your approval. The premium version even offers a MailChimp integration to grow your email list.
Image Source
MemberSpace features many essential tools for membership websites and integrates easily with WordPress. With MemberSpace, administrators allow access to specific website pages based on user actions like logging in or submitting a form.
Image Source
S2Member is a well-known WordPress membership plugin with multiple custom capabilities. Beyond restricting posts and pages, the tool lets you build member-only access to downloadable files and streaming audio and video. If you upgrade to the Pro version, you get the reCAPTCHA feature to prevent spam registrations and coupon code configurations for high volume memberships.
Paid Memberships Pro is a comprehensive membership subscription plugin for WordPress. It handles the full member experience from new registrations to cancellations. Customize your membership site with unlimited pricing levels, six payment gateways, and members-only content restrictions. You also can extend the functionality of your membership site with add-ons, like affiliate tracking and auto-renewals.
The Membership & Content Restriction plugin is your solution for creating subscription plans, accepting member payments, and restricting access to premium content. You have complete control of editing subscription details and adding (or removing) members. With the Pro version, you can sell group memberships, accept recurring payments, and drip content to your members on a schedule.
4. Create Your Site Pages and Posts
Get all of your content ready to be shown to the world. Use this time to spruce up your content and appearance, and to set up all other helpful plugins for enhancing your site's user experience, security, email automation, and analytics.
5. Test Your New Membership Site
Before launch, be sure to test that everything is working. Run through every common action a user could try, including creating test accounts, modifying account settings, upgrading and downgrading levels, and making a payment. Lastly, ensure all plugins are working in harmony with each other (though if you keep all plugins updated, this shouldn't be much of a problem).
6. Launch Your Site
Now that all is in place, it's finally time to take your WordPress membership site live. Deactivate maintenance mode, start promoting, plan more high-quality content, and grow your subscriber base.
Examples of Membership Sites
Sometimes the best way to get the creative juices flowing is to get inspiration from those who are actually doing it. Take a look at these amazing examples to help develop plans for your own membership site.
Skillshare is an online learning platform that offers classes in art, business, technology, and lifestyle. Skillshare offers a free plan, a premium plan, and a plan for teams. For paid plans, members can enroll in a monthly or an annual subscription. In addition to its broad array of course offerings, Skillshare emphasizes its community of teachers and lifelong learners.
Smart Blogger offers its members high-quality online courses through its membership site, Serious Bloggers Only. For a one-time fee, members get access to more than 30 mini-courses about mastering the skill of blogging. There's also a private Facebook group to support the community.
Image Source
Created for designers, Qpractice is a membership site to help design professionals pass the National Council for Interior Design Qualification exam. Members enroll in a monthly plan to get access to a series of lessons with videos, live webinars, and worksheets to help them ace the test.
16Personalities is a resource for receiving in-depth and practical information on the 16 personality types. The membership site, referred to as Academy, is free to anyone who takes their personality test. Members join a like-minded community and get customized content about their personality types.
Membership sites are the new engagement tool. Get your members pumped by sharing exclusive content on a regular basis. And don't miss out on the opportunity to build brand authority along with recurring revenue for your business.