The creation of mobile devices has made multitasking close to ubiquitous in the modern world. Between social media, live streaming, and digital news, it's hard to imagine a time of day when we aren't tempted to look at a screen while we're doing something else at the same time.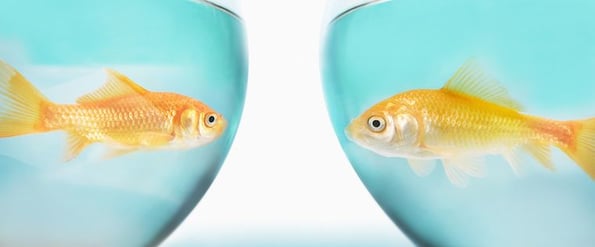 Because of this phenomenon, it should come to no surprise that the average human attention span has fallen to just eight seconds -- shorter than that of a goldfish.
What's more, 59% of people share articles on Twitter without even reading them, and more than half of all pageviews are under a minute in length. It's clear that people aren't reading as much as they used to, and content creators need to adapt their strategy to that reality.
In this post, we'll discuss strategies and resources marketers can use to create content that will generate clicks, shares, and most importantly, more readers.
The Current State of Content Marketing
Back in September, Content Marketing Institute (CMI) and MarketingProfs released their annual B2B content marketing survey results, revealing that 70% of respondents plan to produce more content in 2017 than in 2016. However, while content production continues to rise year over year, content engagement saw a 17% drop in 2016, according to TrackMaven.
This dip could be a reflection of decreased content quality, as proper planning and research tend to fall by the wayside when marketers ramp up their output. But it could also be attributed to that attention span shrinkage we mentioned earlier. After all, today's readers are more likely to skim blogs, long-form written content, and podcasts rather than thoroughly consume them, according to data from HubSpot Research.
What's a marketer to do? Let's dive into our strategies for defying the goldfish attention span, without sacrificing the quality of your content.
How to Create Content That Gets Consumed
You already know that content creation is an integral part of the inbound marketing methodology. It attracts visitors to your blog, cultivates brand awareness, and helps you generate leads for your organization. But what about page views? Here are our strategies for making sure you're not just creating into the void, but are actually producing content that gets consumed and shared.
Write quality content
We know, this one seems like a no brainer. But with 30% of marketers reporting that they don't have clarity around what content marketing success looks like, it's an important issue to stress.
It's estimated that bad writing costs businesses close to $400 billion per year in inefficiency and productivity loss. And it could also be costing your organization if you're generating content that isn't driving any results. So before you start putting fingers to keyboard, implement a few processes to make sure you're writing quality content that's also useful to your audience.
Here are a few ideas:
One of the easiest ways to create content that your audience will read? Ask your audience what they want to read about. Conduct social media polls and surveys to find out what topics and content types your subscribers are interested in, and brainstorm ideas based on their feedback.
For example, The Muse publishes content for job seekers about career growth, and they ran a poll asking their Twitter followers what would improve their workday.
We're curious: What would make your workday a whole lot better? #career #poll

— The Muse (@dailymuse) October 4, 2016
Sure enough, shortly after the poll closed on Twitter, they published this article based on the results:
Clever, right? Experiment with social media polls and ask for engagement from your followers. Encourage your audience to engage with the poll to generate content ideas and more participation on social media, and see what ideas you come up with based on the results.
Invest in thought leadership
When setting your blog editorial calendar for the months ahead, ask yourself: Are there any topics that someone in the organization, such as a founder or executive, is uniquely qualified to write about?
That's thought leadership -- and it's not as difficult to incorporate into your strategy as you might think it is. In fact, there are a lot of small steps you can take to incorporate more thought leadership into your current editorial.
Here are a few ideas:
At HubSpot, we frequently partner with influential organizations -- like Trello -- to create content that reflects our combined expertise. By collaborating with the folks behind Trello to put together a comprehensive guide for using the project management tool in your marketing campaigns, we demonstrated our ability to provide credible, helpful tips -- straight from the source:
Brainstorm other organizations in your industry and determine a mutually beneficial way you could collaborate. Whether that's guest posting, cross-promotion, or working together as in the example above, keep bringing new ideas to the table that your audience can't help but read.
Create visual content
Your audience wants to see more visual content, and it performs better, too: readers spend more time looking at images than words on a web page, and images promote greater memory recall than text alone.
There are a variety of different types of visual content that you can create to draw attention and promote greater readership, and our blog has a number of step-by-step guides to creating eye-catching infographics, videos, and more.
Vox does a great job of providing written and visual content for its readers. On any given day, it might publish a data visualization, a long-form article, and a video featuring different angles on the same topic -- in this case, the Women's March on Washington -- to match different people's content preferences and to keep things fresh for its audience.
Data Visualization
Long-Form Article
Video
The lesson? Don't automatically default to writing a blog post simply because it's a medium you're comfortable with. Experiment with creating visual content to tell data-driven stories your audience will click, and hopefully share, too.
Meet the reader halfway
Follow the Golden Rule: Treat your reader as you'd like to be treated. Most of us are busy people, and busy people on the internet like to skim-read content. Luckily, you can make it easier for readers to consume your content all the way through with different formatting, layout, and coding choices.
Here are a few ideas:
Use headers and bolded text to break up sections and paragraphs so readers can maintain focus.
Use bullet points and numbered lists to draw the eye to a new format and pay closer attention. (See what we did there?)
Include summary and takeaway sections in your written content to help readers remember what they've been reading about and maintain their interest.
Even better, help the reader understand how quickly they'll be able to read a piece before they get started. Check out how Medium does this in an example from ThinkGrowth.org, HubSpot's Medium publication:
(For more examples of publications that produce easily consumable content, try reading this blog post for inspiration.)
Publish on a variety of channels
Another challenge to getting people to thoroughly consume your content is they just may not have found it yet, and that's where off-site content can come in handy. Audiences vary across different platforms, and it's easier for your content to get discovered, and then read, if it's published in more places than just your blog.
Medium is one example of where you can publish different content to attract a broader audience. You could create original content for a Medium publication, or repurpose old content by turning text into an infographic or video. As HubSpot Vice President of Marketing Meghan Keaney Anderson notes:
On the open web, people are searching, but on Medium, people come to spend time reading. This leads to much higher engagement on Medium and it's this engagement, not search behavior, that fuels further discovery."
Social media platforms also offer a variety of features for publishing original content. For example, you can publish live video on Facebook, ephemeral messages on Snapchat, photos on Instagram, and blog posts on LinkedIn. To ensure you're publishing on these channels at the most optimal time, check out this guide from ClearVoice on when to publish content on social media for different industries.
Getting Started
We know this is a lot of information, but competition is getting stiff, so experimenting with how you create content now will pay off in the future. If you need help getting started, here's our list of free tools to make awesome content.
What's your favorite type of content to read? Share with us in the comments below.