In any industry, a competitive analysis is an important component of your marketing strategy.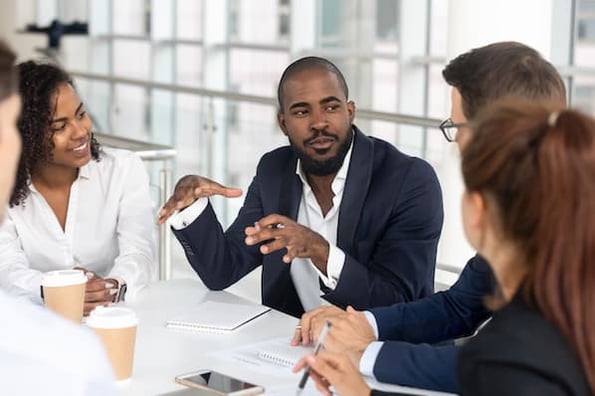 However, particularly if you're a small business, beating the market leader can feel impossible. Fortunately, with the right approach, you can actually benefit from having a well-known product in the same niche.
Christine White, an Acquisition Marketer at HubSpot, says to run a competitive analysis you'll need to "identify gaps in the market, develop new products and services, uncover market trends, and market and sell more effectively."
At Chanty -- a simple Slack alternative -- we've learned you can actually capitalize on the name of your rival to get into the populated market.
Here, we'll show you six steps you can use to increase leads by the thousands while standing out against industry-leading products or services.
1. Check if people are looking for alternatives.
If enough people are searching for alternatives to your big competitor, then the onion is worth peeling. Use SEO tools like SEMRush or Ahrefs to identify the demand for these types of keywords.
Below is an example of search volume and keyword difficulty for "slack alternatives" — a keyword phrase that has become a game changer at Chanty for converting visitors into customers at 10%.
Moreover, look for comparison keywords. Queries like "Slack vs Flock" have been working well at Chanty in terms of conversion. If the leader in your industry is a well-known product, people will be looking to compare this tool and its lesser-known alternatives.
2. Write a high-quality human review.
With the right keywords in mind, you can create a piece of valuable content. If you Google for your competitor's alternatives or comparisons, quite often you'll see automated reviews on platforms like G2 Crowd, GetApp and Capterra. While they could be helpful at times, these are also hard to comprehend and, most importantly, lack human touch.
You can do better than this. Do your homework, take your time, and actually use alternative products to experience all the pros and cons. At Chanty, we wrote a series of high-quality, in-depth reviews and comparisons of our main competitors. We've made these posts honest, unbiased and helpful to our readers. When choosing where to put this content, a landing page or a blog post, we prefer the latter. I'll explain why later in this post.
Below is an example of an alternatives blog post we published, comparing Slack, our biggest competitor, to seven alternative products:
3. Mention your product in a blog post.
The purpose of this review is to convert visitors to customers. Your competitors are doing you a big favor — the comparison and alternatives keywords are at the bottom of the funnel. This means people searching for them in Google are already looking for tools like yours.
With this approach, you can sidestep lead nurturing. People visiting these blog posts can become customers right away. To ensure conversions, include sign-up prompts, CTAs, and explain how your tool fits into the picture in your introduction.
Below is an example of one of our introductions and sign-up CTAs in a blog post:
For instance, for comparison posts we mention our team chat and highlight how it compares to the tools in the post.
Additionally, make sure to balance the amount of self-promotion and keep your mentions humble – your readers will appreciate it. See an example of a reader commenting on this balance, below:
As a result, you can convert visitors who haven't considered your product before reading the post. See an example, below:
4. Promote your content to rank higher on Google.
Putting together a review is just half the battle. The most important thing is to rank on Google. You can achieve this by attaining backlinks to your blog post. Backlinks are when other sites link directly to yours.
There are a few ways to attain these. The one that worked the best at Chanty has been the staircase guest blogging strategy. The staircase guest blogging strategy is about writing high-quality content for third-party blogs while gradually increasing the quality of the platforms for which you are writing (climbing the stairs).
Help-A-Reporter-Out (HARO) has also been a great source of backlinks at Chanty. However, there are quite a few other backlink building strategies a SaaS company can use.
As you get backlinks to your post, you'll see your Google rankings going up. You can also experiment with your meta title and description to attract more clicks with your search snippet. On top of that, you shouldn't neglect the rest of the SEO basics, of course. You don't want to slow down your efforts with things like poor mobile optimization or excessive web page loading time.
Earlier, I recommended publishing your review or comparison as a blog post rather than a landing page. The reason for that is simple -- it's easier to get a backlink for a blog post compared to a landing page. Many blog editors don't accept links to product landing pages, but don't mind keeping links to blog posts.
Below, you'll see our growing number of referring domains as we've used these strategies to attain backlinks:
5. Guest post on top tier platforms.
Finally, your post got to the top of Google -- it's time to unwind and relax, right? Not quite. Ideally, you want people to see your brand in every Google search result for the alternatives keyword.
How can you make that happen? This is when guest posting on big platforms comes in handy. To do so, you can use the staircase guest blogging strategy we've followed at Chanty, I mentioned above. Generally, the better domain authority of the platform, the higher it will rank on Google. Writing new posts for big platforms covering the target keyword is more effective than trying to convince editors of existing alternatives posts to squeeze Chanty into their list. However, you should still consider reaching out to those existing lists.
Sometimes getting on alternatives lists that rank on the top five of Google can be as easy as sending one email.
Below, you'll see how Chanty is featured in five of the top six Google results for "slack alternatives":
6. Be friendly with your competition.
Your competitors will pick up on this strategy after they see you doing it. All of our competitors started coming up with the same types of posts.
In fact, keyword difficulty of one of our major keywords has grown from seven to 22 in just two years. That's why it's important to be the first one who implements this strategy. When you notice your competitor's articles, reach out to them and suggest cooperating. You can include their tool in your list if they do the same for you. This results in a win-win, with more leads for both products.
For instance, below, our competitor mentions Chanty in their alternatives blog post:
Ultimately, having a big competitor in your industry can work in your favor. It means there's already an established market for the kind of product you've decided to build.
At the same time, there are always customers who aren't satisfied with the existing market solutions. So, if people are looking for your rival's alternatives, you have an opportunity to suggest your product. All you have to do is show up on Google. At Chanty, this strategy alone drove more than 10K teams to our business.